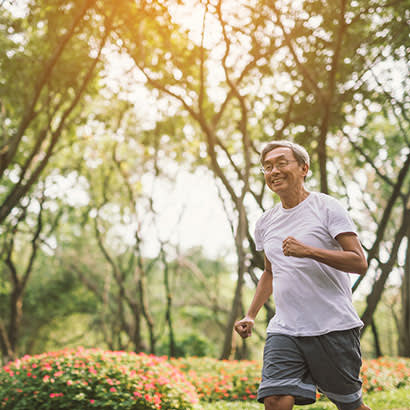 For an enhanced digital experience, read this story in the ezine.
We have all been living in unprecedented times that have called for new ways of daily living from the way we interact and spend time with our family, friends and neighbors, to the way we recreate and maintain healthy lifestyles. Coupled with the fact that many of us are still coming to terms with new ways of being, there is uncertainty, fear and anxiousness about when things will get back to "normal." This has been particularly troubling and challenging for many older adults and people with serious underlying medical conditions, who are at an increased risk for potentially severe complications if exposed to COVID-19. Given this, it is now more crucial than ever before that we help older adults maintain a healthy lifestyle.
While a healthy lifestyle is important at any age, it is especially important for older adults, because data tells us that at least 60 percent of older adults suffer from one chronic condition, and at least 80 percent suffer from two or more chronic conditions. Putting this into perspective, additional public health efforts to help those already suffering from chronic conditions manage their illnesses and efforts to prevent or delay the onset of chronic conditions are critically warranted.
A Role for P&R
The Centers for Disease Control and Prevention recommends that older adults engage in health-promoting skills and behaviors, such as physical activity and healthy eating, good sleeping habits, staying socially connected, and seeking regular healthcare screenings to improve and maintain good health.
With older adults being particularly urged by public health officials to 'shelter in place' and practice physical distancing in efforts to reduce potential exposure, it has been challenging to establish new routines to maintain a healthy lifestyle. But for the past several weeks, park and recreation agencies across the country have stepped into new roles, offering open spaces as places of refuge, and reinventing program offerings to continue to meet the most pressing needs of the community — most notably in the areas of physical, social and nutrition health needs.
Addressing Physical Health Needs
Staying physically active is an important part of a healthy lifestyle that can prevent, delay or manage chronic diseases, make it easier to perform activities of daily living (e.g., getting in and out of a chair or bed), and preserve physical function and mobility for older adults.
To continue efforts to help older adults maintain a physically active lifestyle, park and recreation professionals have begun offering home-based and virtual physical activity resources that range from the sharing of existing resources (e.g., YouTube videos, Go4Life, SilverSneaker On-Demand), to the development of new resources. For example, Newport Parks and Recreation, Oregon, has provided existing YouTube resources, while the town of Lincoln Parks and Recreation, Massachusetts, created a webpage dedicated to home-based programming that includes exercise videos produced by recreation instructors for adults and youths. Other agencies have developed virtual recreation centers and are using technology platforms to offer live virtual programming. The great thing about virtual programming is that it also presents as a solution to reach populations that are often hard to reach (given that the capability to take advantage of remote programming exists), especially in rural communities.
Addressing Healthy Eating Needs
Having reliable access to healthy meals is also an important determinant of healthy aging. For many people, accessing a healthy meal at a congregate meal site or getting a home-delivered meal is the only option to get a hot meal for the day. Furthermore, most older adults who rely on these meals are often low-income, live alone and lack proper transportation. To fill the gaps, agencies like Lewisville Parks and Recreation, Texas, are delivering shelf-stable meals that will last for several days, while other agencies are providing grab-and-go and drive-thru meal pickups.
Addressing Social Health Needs
Many older adults today are lonely and socially isolated, both of which are associated with higher risks for chronic conditions and mental health issues. Conversely, people who engage in meaningful, productive activities with others tend to live longer, boost their mood and have a sense of purpose that helps them maintain their well-being. For example, City of Patterson Parks and Recreation, California, has kept the lines of communication open with the older adults they serve, outreaching and ensuring that they are hearing a friendly and familiar voice.
There is no denying that local park and recreation agencies across the country have stepped up in the midst of a crisis to fulfill the needs of older adults in their community. In the words of Maxwell Maltz, "Close scrutiny will show that most crisis situations are opportunities to either advance or stay where you are."
Cheers to parks and recreation still making older adult health and well-being a national priority in our new normal!
Lesha Spencer-Brown, MPH, CPH, is Health and Wellness Senior Program Manager at NRPA.