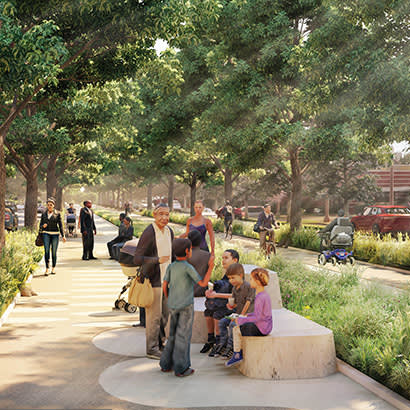 In Part 2 of an ongoing series, Chouteau Greenway's new Framework Plan offers a blueprint for social equity and economic prosperity
Since welcoming nearly 300 St. Louisans to an open house for the Chouteau Greenway project in February 2019, Great Rivers Greenway (GRG) has continued to engage the community by encouraging substantive discussions between city officials, business owners and community stakeholders to determine the overall look, feel and eventual name of this $250 million greenway development. The public-private partnership spans 15 miles and 20 neighborhoods, with the goal of connecting communities and unifying different populations.
The greenway plan aims to link Forest Park through the downtown area to Gateway Arch National Park, and Fairground Park to Tower Grove Park. What's more, the expansive project will encompass north and south connections to the city's culturally diverse neighborhoods, parks, business and art districts, employment centers, transportation hubs, and myriad cultural and educational institutions. St. Louis' Chouteau Greenway represents one part of an overall network of greenways under development throughout Missouri's second-largest city.
While the first installment featured in Parks & Recreation's May 2019 issue focused on GRG's initial public relations strategy and community outreach efforts, the following provides insight into the project's next phase — the Framework Plan.
A Greenway by Any Other Name
"This isn't just about building a greenway, it's about using the greenway as a catalyst to promote job and wealth creation to increase the population in the city of St. Louis and to ensure that we look at the entire process and project with an equity lens," affirms Susan Trautman, CEO of Great Rivers Greenway. "So, the questions became: How would we do that? How would we make sure that we had voices at the table that had never been at the table? And, how would we ensure that we were comprehensive in our thinking and our planning?"
Building on the work and guidance from a Steering Committee and four Working Groups over several months, GRG unveiled the Chouteau Greenway Framework Plan in December 2019. The plan focuses on four main topics: Alignment (feasibility of possible routes), Design & Identity (look and feel of the greenway), Economic Growth (the greenway as a catalyst for opportunity) and Equity (equitable outcomes in project and process).
GRG also reached out to the community at large, asking for citizens to help give the greenway an official name. Community members were urged to submit suggested names via text or online by January 31, with a scheduled February meeting to narrow down all the name submissions. At this writing, a name is yet to be determined. For now, the project identifies simply as Chouteau Greenway.
Progress Begins with St. Louisans
Full transparency with community members remains key to the planning process. The Framework Plan Engagement and Outreach phase followed the open house. The engagement team participated in 25 community meetings, ward meetings, events and festivals to foster healthy dialogue around equity, governance, economic development, as well as design, development and construction for the project.
This helped to guide Stoss Landscape Urbanism as the team began contemplating the overall vision and aesthetics around the greenway and incorporating economic and equity principles based on collective citizen input.
Chris Reed, founder and director of Stoss Landscape Urbanism, recalls: "We were...very aware of the big challenges ahead and big aspirations [that] the client — the city and the people of St. Louis — would have for the project. It's not every day that you get a project where the client tells you this project has to make significant impact on issues of social and racial equity within the city."
For the past several months, the Stoss team has worked in concert with the Steering Committee and Working Groups on the Framework Plan.
According to Reed, GRG was "very careful to get people at the table who hadn't been at the table before." He says the agency looked carefully at all the demographics of St. Louis, such as age, race, gender, location, socioeconomics, etc., "and put together this amazingly diverse group of people...." What's more, the Stoss design team has not only participated in meetings, but also in "Feedback & Fun Fests" to get to know community members better, while assessing their wants and needs that would ultimately inform the design.
Equitable Design Meets Economic Development
Social equity remains at the forefront of the Chouteau Greenway project, with community members serving as the standard-bearers of inclusion through urban renewal. "When we [began] this project…we had learned from many other great city projects about the importance of addressing displacement from the start," Trautman says.
"We knew in order for this project to be truly equitable, we needed to move into North City to make investments in African American neighborhoods that hadn't seen investments in many decades," Reed notes. Within the Framework Plan, there are 26 equity strategies, which have action plans underneath them.
"One strategy tool for creating environments that everyone feels welcome is the importance of art and, particularly, art by people of color," says Trautman. A significant number of residents drove that point home during the community engagement process. The goal is to give each neighborhood near the greenway its own identity by celebrating its history and culture through art installations.
This call for action from St. Louis residents prompted the formation of the Artists of Color Council (AOCC). The group comprises eight diverse local artists representing different forms of media. The AOCC will assist the design team in developing a series of art strategies for the Chouteau Greenway project.
Breaking Down Racial Barriers
When it comes to the question about where specific projects will begin, Reed admits he doesn't quite have an answer. "What I can tell you is [that] the project is very resolute in going both east-west and north-south — and doing that simultaneously," he asserts.
Reed says the team is focused on tearing down racial barriers in the city and, in particular, breaking the Delmar Divide. The term refers to African American neighborhoods situated north of Delmar Boulevard and represents the dividing line that stretches east and west through St. Louis City and St. Louis County. Its historic past is plagued by racial segregation and economic inequality.
What's more, Reed notes that the Stoss team has been very careful in making sure the greenway's design has a clear, physical identity "as it passes through an incredibly diverse set of neighborhoods and industrial areas in downtown and in all of these different kinds of places…." He adds that it's very important for people to understand that when they see it, they know right away that it's Chouteau Greenway.
"The other thing we did is really think about open space programming and ancillary projects that might…create nodes of activities to complement some of the other activities, amenities and destinations that we're connecting, but also to invite new audiences to different places within the city," Reed says.
For example, one of the most significant projects is proposed at the west end of the mall downtown that leads to the Arch. "We're proposing with artist Damon Davis, the Mill Creek Valley Project — which memorializes, in an open space, the African American community that was torn apart for highway construction and redevelopments during the 1950s," he explains. "And in doing so, we're giving African American history an equal place…to all the other histories that are represented on the mall."
Investing in the Greenway
Since embarking on this ambitious project, Trautman admits that the easiest part so far has been the transportation component of the plan. "Great Rivers Greenway can build, maintain and operate a green line, but it's going to take critical partners to address affordable housing, recreation and vacant land," she says.
Trautman notes that within a quarter mile of the greenway, "we're likely to have the most investment and the most return on investment." Working with their partners, the GRG team has identified vacant lands and thought about what could be done in the short run. "Maybe it's an orchard, farmers market, playgrounds or a quality open space area to be defined by the community," she says. "But, we continue to work with affordable housing partners, institutional partners, schools, colleges, health organizations."
Where Do They Go From Here?
Now that the Framework Plan is complete, Trautman says: "The next step is to really break the project and geography up into the neighborhoods and work much more closely with the residents who live there."
Reed says the order of the projects is something that his team and GRG continue to work through. "There are still a lot of questions to be answered because even though we've developed ideas about design and economic developments and where the greenway might go, there are still many, many rounds of community engagement to happen and that's going to take a while."
While GRG and Stoss agree that more planning and community discussions are needed before moving full steam ahead on constructing the Chouteau Greenway, they remain laser-focused on bringing equitable design to the people of St. Louis.
To hear Susan Trautman, CEO of GRG, talk more about the Chouteau Greenway project, tune in to the March bonus episode of Open Space Radio on your favorite podcast app. Episode releases Thursday, Feb. 27.
Vitisia Paynich is a Freelance Writer based in Southern California.