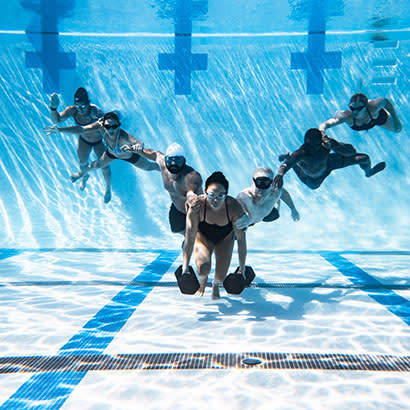 "Go Deep. Live Empowered." This slogan, which belongs to the Underwater Torpedo League (UTL), speaks to the program's tactics and goals to build water confidence nationwide through a newly developed, water-based sport.
Played in teams of five, the game takes place completely underwater. The object is to deposit the pool torpedo into the opposing team's goal. Players can move the torpedo forward by swimming with it, handing it off or passing it to another team member while submerged. Once the game is initiated, the torpedo must remain underwater and the player in control of the torpedo cannot break the surface — doing so results in a penalty drop for the receiving team.
The game was created by UTL founder and former U.S. Marine Prime Hall and his fellow service members as a survival training tool in the military to teach C02 tolerance and breath-hold work. Now available to the public, "[the] program is geared toward a warrior class of people, with specific goals to create positive and lasting shifts in water confidence, mindset and fortitude," says Rick Briere, master instructor trainer for UTL. Currently, the program takes place in Southern California cities, including La Jolla, Oceanside, San Clemente, Irvine and Los Angeles. Recently, the founders launched an expansion program to bring UTL to cities all over the United States, with the first successful launch in Miami.
An additional aspect of UTL is Deep End Fitness (DEF), a training and conditioning program for UTL and other water- and nonwater-based sport and activity groups, such as surfers, ocean lifeguards, MMA fighters and NFL players. According to the DEF website, DEF is "a revolutionary fitness program for both advanced and beginner water enthusiasts alike — where participants gain underwater skills and confidence that can be applied to their everyday lives."
As for who is welcome to join, Briere says it is open to "anyone who is looking for mental and physical growth. It is tailored so that people with limited to no swimming background or water confidence can [participate in] the program and develop the necessary skills to progress further within the community."
When it comes to the future prospects of the program, Briere is confident it is headed toward a national platform and beyond. "My hopes moving forward are that DEF and UTL become an international phenomenon," he says, "with the ultimate goal of DEF becoming an Olympic training tool, while UTL develops into an Olympic sport."
To learn more about UTL, visit the UTL website.
Lindsay Collins is Associate Editor for Parks & Recreation magazine.