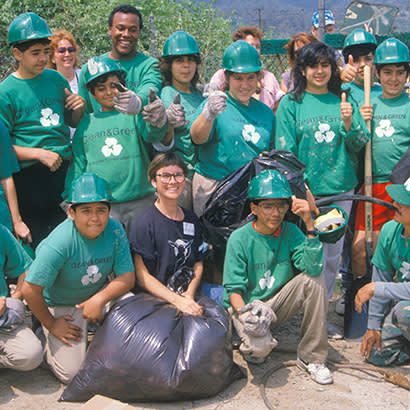 Jasmine Poole had never considered a career in conservation. That all changed after she served in Limitless Vistas, a conservation corps in her native New Orleans, Louisiana. "My service made me realize everything and everyone has an impact on the earth, no matter how small or big," says Poole. "I gained practical knowledge and developed skills that will benefit me throughout my life."
In 1933, during the height of the Great Depression, President Franklin D. Roosevelt created the Civilian Conservation Corps (CCC), a federal jobs program that engaged 3 million unemployed young men in building America's park infrastructure. The "CCC Boys" planted billions of trees, built campsites and constructed thousands of miles of trails.
Today's Service and Conservation Corps
Though the CCC disbanded at the start of World War II, the spirit of the program continues in modern service and conservation corps, like Limitless Vistas in New Orleans. In addition to developing park infrastructure, today's corps intentionally focus on developing a new generation of conservation professionals in hardworking young people like Poole.
"My life has been influenced by my corps experience by making me a better leader," she says. "It has made me more responsible, knowledgeable and more aware of my surroundings."
The Corps Network, the National Association of Service and Conservation Corps, has a membership of more than 130 corps across the United States. Most of these organizations — including Limitless Vistas — are local nonprofits. Some corps, however, are managed by state government or educational institutions. Many corps operate through a combination of funding streams, including AmeriCorps grants, foundation grants and money earned in exchange for the work corps perform on public lands. Collectively, corps annually engage 25,000 young people in conservation-focused service projects.
The types of projects corps complete varies from place to place. Corps partner with local government, nonprofits and park agencies to complete projects that are relevant. In New Orleans, Poole has participated in projects ranging from cleaning up a brownfield site, to conducting wildlife population surveys, to building boardwalks and treating invasive species. Young people in other parts of the country have different project responsibilities.
In Los Angeles, the LA Conservation Corps partnered with city park managers to engage corps participants — or "corpsmembers" — in transforming an illegal dumping ground into an ADA-accessible path with native plants and exercise equipment. In Syracuse, New York, Onondaga Earth Corps works with local agencies to engage young people in tree planting, park beautification and installing rain gardens. In Baltimore, corpsmembers with Civic Works manage an urban farm, install resource-efficient retrofits in low-income homes and lead volunteers in turning abandoned lots into parks and gardens. In 2018, corpsmembers across the United States collectively restored more than 1.4 million acres of habitat, constructed or improved more than 10,700 community spaces, and built or repaired nearly 14,000 miles of trails.
Through their service, corpsmembers gain hands-on job experience and interact with professionals at park agencies. They also earn certifications related to their projects. For example, corpsmembers might become certified in pesticide application, wilderness first aid or chainsaw operation. During their term of service, which could last a few months to a year or more, corpsmembers earn a stipend. In some corps, participants also have the chance to earn an AmeriCorps Education Award.
The Next Generation of Corpsmembers
Growing up in a city, Poole had limited outdoor experience before becoming an AmeriCorps member with Limitless Vistas. Her job experience was from working as a hostess at a restaurant. Encouraged by her brother, also a corpsmember, she joined the program to try something new, build her résumé and save money for school. This is not uncommon.
The young people who serve in corps represent different abilities, life circumstances and ethnic, cultural and socioeconomic backgrounds. In 2018, roughly half of all corpsmembers identified as a person of color, about 30 percent were low income and about 43 percent were women. Some young people join a corps with the goal of building skills toward a career in resource management or outdoor recreation. Others join to earn money and find a fresh start. For some corpsmembers, their service might expose them to their first experience camping, hiking or boating.
No matter their motivations or where they serve, all corpsmembers develop skills in leadership and problem-solving. Corpsmembers typically serve in crews with up to 10 young people; this necessitates learning how to communicate, resolve conflicts and work well with others.
Helping maintain our parks, lands and waters also helps corpsmembers develop or deepen an appreciation for the outdoors. Serving in a corps is not for everyone, but experiencing the satisfaction of a hard day's work at a park can be transformative.
"We faced strenuous physical challenges. Tree clearing is especially tiring," admits Poole. "You and your crew have to wade through muddy water with fire rakes, an ice cooler, weed whackers, backpacks and all your personal protective equipment. Our work was hard, but we learned to rely on each other and build each other up."
Poole's hard work paid off. She was honored as one of The Corps Network's 2019 Corpsmembers of the Year, giving her the chance to travel to Washington, D.C. During her visit to the nation's capital, she had the chance to meet Louisiana Senator Bill Cassidy, whose office invited her to intern in D.C. After spending an exciting summer on Capitol Hill, Poole returned to New Orleans to continue giving back to the land and water.
She is now a crew leader at Limitless Vistas, participating in GulfCorps, a multi-corps partnership to engage local young people from Texas to Florida in restoring Gulf Coast ecosystems. Every day, Poole guides other young people in maintaining the parks and habitats of the Louisiana coast and bayous. Across the country, corps empower thousands of young people, like Poole, to pursue a career and a lifestyle focused on stewardship of our lands and communities.
Hannah Traverse is Communications Manager at The Corps Network.