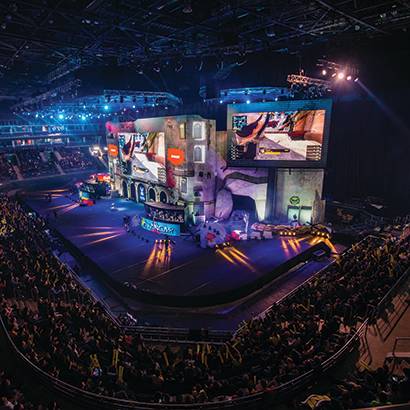 In my work consulting with park and recreation agencies nationwide, I am constantly asked about trends and what's the next big sport/offering that agencies should provide in their communities. In years past, it used to be lacrosse while, recently, we hear a lot about rugby and pickleball. "What's pickleball?" — you ask. Well, that's a conversation for another day and another article, but suffice to say, it is a fast-growing sport nationally.
The one sport that I have scarcely heard anyone cite is esports (electronic sports), which, incidentally, is the fastest-growing sport genre nationally and globally. eGaming is a generic term to describe amusement or recreation using a standalone video game, desktop computer or the internet with one or more players, while esports comprises organized, multiplayer gaming events played in a competitive environment, often by professional gamers. What's more, spectators watch esports in person or via online channels, such as YouTube and Twitch.
Esports by the Numbers
In 2019, global annual esports revenues crossed $1 billion — a steep rise from $130 million just seven years ago, according to Newzoo: Esports Insider. A report from Goldman Sachs, titled "Esports: From Wild West to Mainstream," projects total esports monetization will reach $3 billion by 2022. To put that in perspective, the NBA's 30 teams combined generated $7.4 billion in 2017. Recognizing the potential of this genre, that same year, the NBA, in a joint venture with Take-Two Interactive, introduced its own esports league, titled NBA 2K League, and the Wall Street Journal estimates this sponsorship to be valued at $1.1 billion over seven years.
Along with that, Newzoo's 2018 Global ESports Market Report projects an estimated audience of more than 550 million viewers by 2021, which translates into a 200 percent growth in viewership in merely five years since 2016. This is a vast market with different genres, including, but not limited to:
Fighting games (e.g., Street Fighter, Mortal Combat, etc.)
First-person shooter (Counter-Strike: Global Offensive; HALO; Call of Duty)
Multiplayer Online Battle Arena (MOBA) (e.g., League of Legends, Defense of the Ancients 2 – DOTA)
Racing (e.g., Kart Racing Games, such as Mario Cart, Need for Speed Series)
Real-time strategy (e.g., StarCraft II)
Sport games (EA Sports FIFA; Madden)
The MOBA format is among the most popular since it allows for a high number of participants and viewers alike. Overall, some of the most popular games include League of Legends, Overwatch, Fortnite, Defense of the Ancient (DOTA) 2, Starcraft2, NBA 2K, Madden, etc.
At the collegiate level, in 2018, more than 300 varsity programs and college clubs competed in the League of Legends collegiate division. More than 30 colleges and universities offer substantial scholarships for their varsity athletes. These colleges range from Boise State, Idaho, to the University of Akron, Ohio, and from the University of California, Berkeley, to Hawaii Pacific University. The Peach Belt Conference became the first NCAA conference to sponsor esports tournaments and other conferences, including the Horizon League, have already followed suit. The NCAA Board of Governors is also looking into this, as is the International Olympic Committee, which is weighing the potential of esports as an Olympic Sport.
The Moment of Zen: When a 16-year-old from Pennsylvania, who goes by "Bugha," wins more money at an esports tournament (Fortnite) than Tiger Woods does winning The Masters or Novak Djokovic does winning Wimbledon, you know that esports is the future.
Why Should Park and Recreation Agencies Get into Esports?
Connect with hard-to-reach audiences.
Besides being the fastest-growing genre, esports has a primary target audience that is critical to park and recreation agencies: teens and young adults. Virtually every agency struggles with programming for teens, who are notoriously hard to attract for structured programming or offerings besides traditional sports. In addition, per the National Alliance for Youth Sports Poll, 70 percent of kids stop playing sports by the age of 13, while, in contrast, 90 percent of kids ages 12–17 play video games.
This is where offering esports and eGaming can help agencies attract an audience that may not otherwise show up at their recreation centers. The evolution of esports and eGaming from a single-player, solitary activity to a multiplayer, immersive social experience can be helpful in allowing these audiences to create their own place to hang out or socialize in a safe, structured environment…at your recreation center.
Provide physical activity and (multigenerational) socialization benefits.
As a father of two kids, a 6-year-old and (almost) 2-year-old, I, too, am concerned about the lack of physical activity the current generation gets daily. With an increase in childhood obesity and nature deficit disorder, I am hesitant to recommend anything that may simply create an increasingly sedentary environment simply in another location.
However, there are companies, such as MassVR (based in Chicago), that provide a team-based, virtual-reality experience where participants are physically active and run, jump and move, while being engaged in a multiplayer game. Chris Lai, founder of Mass VR, shares insights in his TEDx talk about this immersive gameplay format that not only promotes physical activity, but also increases opportunities to socialize in, what he calls, a "Mom-approved" environment.
These benefits are not reserved simply for teens or youth, but also extend to a varied and multigenerational audience. An October 2018 study by CommonSense.org reveals that 31 percent of Fortnite-playing dads and 17 percent of Fornite-playing moms play, at least occasionally, with their child, and 39 percent of teens reveal that playing Fortnite helps them bond with a sibling.
Brodie Sutton, a 34-year-old engineer in the semiconductor industry in Virginia, has been an avid gamer for more than 25 years. Along with following gaming influencers on YouTube or Twitch, he also plays Massively Multi-Player Online (MMO) games, such as War Thunder with friends across the country. Sutton says, "It is incredible to see how increasingly immersive and interactive these gaming opportunities have become. They have not only helped build new friendships across geographies, but have also provided learning opportunities in several areas, including math, reading, strategy and critical thinking."
Maximize facility utilization and revenue generation.
Another challenge many park and recreation agencies deal with is having unused or under-used facility spaces, especially at non-prime times. Offering eGaming nights or esports tournaments could be another way to use existing capacity, bring in a new audience and cross-promote existing offerings that they may not be aware of. Fort Lauderdale, Florida, has a local Esports Club that offers a STEAM (Fortnite) Summer Camp, which combines gaming with cognitive health and physical wellness activities.
These activities can all drive incremental revenues, ranging from facility rentals, to participant fees for camps or tournaments, facility membership or sponsorships.
The Moment of Zen: The average age of a League of Legends player is 21.2 years compared to 29.2 for a Major League Baseball player. If you are looking for a way to connect with teens and youth while generating incremental revenue over time, esports may be just be that solution.
What Can Park and Recreation Agencies Do?
Focus on esports in your program offering or future strategic direction. An initial start for agencies would be to create a program area focused on esports that's like other traditional sports offerings or camps. Excelsior Springs, Missouri, for example, has an esports and gaming program, offered as a part of its Youth Enrichment program area, with a recreation coordinator (who is herself a gamer) to run those programs. The Boca Raton Recreation Services Department in Florida, recently created a core program area focused on esports, while Durango Parks and Recreation Department in Colorado, and Virginia Beach Parks and Recreation Department in Virginia, include exploring opportunities to offer esports as a part of the future direction in their master plan and strategic plan, respectively.
Identify an existing facility space. Fort Lauderdale, Florida, plans to open its first electronic video gaming center this year. This center is an existing 2,137-square-foot building that will be rented for three years and operated by the park and recreation department. The video games offered by the city will be "age-appropriate" city officials say, and will incorporate "STEAM" activities (science, technology, engineering, arts and math), as well as homework assistance and promotion of healthy lifestyles.
Build dedicated esports spaces in future facilities. Esports Stadium in Arlington, Texas, at 100,000 square feet is the largest dedicated esports facility in North America. While that may not be realistic for park and recreation agencies, one could emulate the example of Westerville, Ohio, a National Gold Medal agency that is designing an esports room in its renovated community center. This would help the agency stay on top of future trends and potentially help drive incremental revenue through a combination of memberships, league play, camps, tournaments, special events, etc.
The Moment of Zen: For park and recreation agencies looking to enter this vast and seemingly unknown world of esports, the best thing you can do is treat this as just another program area and take the first step.
What Does the Future Hold?
As I see it, esports will be one of the biggest growth stories of the coming decade. The previously referenced Goldman Sachs report reveals that the total online population globally in 2018 was 3.65 billion, of which only 5 percent were esports viewers. This is a huge untapped market that is anticipated to generate increasing revenues in the future, particularly from media rights and sponsorships.
As viewership grows, so will the focus on esports athletes and high performance to ensure sustained success. Taylor Johnson is the chief performance engineer for Statespace, a New York-based neuroscience and artificial intelligence gaming company and a sports-performance expert in the NFL and the esports world. Johnson says, "I see the overall landscape evolving to provide a greater balance between gaming and being active, with people being more creative about blending gaming camps and sports camps." His company also is expanding into digital therapeutics to help gamify rehabilitation for patients, and he sees that work complementing the health and wellness benefits that park and recreation agencies provide their communities.
Globally, the fast food chain Fairwood has opened Fairwood Esports, which is Hong Kong's first restaurant and entertainment concept, where patrons can dine and game at the same time. Locally, Esports Arenas, North America's first dedicated esports facility, opened Esports Arenas within Walmart facilities, including in Roseville, California, and Spokane Valley, Washington.
With incremental growth leading to more than 500 million viewers and $3 billion in revenues globally in the next few years alone, it is only a matter of time before esports will be on par with traditional sports in participation and viewership.
The Moment of Zen: Esports will be a disruptor to the traditional model of park and recreation offerings and agencies will have two choices: You can either be the force for change or you will be forced to change.
Conclusion
While all these statistics and trends tell an important tale, the story that most resonated with me was one I heard from Nate Williams, director of Excelsior Springs (Missouri) Parks and Recreation. On March 9, 2019, the park agency hosted an esports tournament to play Smash Bros on the Nintendo Switch.
One of its participants was a child with special needs. When the tournament concluded, the participant's mother approached the staff and told them how she could never cheer on her son since he didn't play any of the traditional sports. However — thanks to the agency's esports offerings — for the first time that day, she got to see her son play and cheer him on like all the other moms do.
With this single act that offered a child a chance to compete, if not on the traditional field of play but a virtual one, esports just helped make a case for true inclusion and how it positively impacted that child (and his family's life). At the end of the day, isn't that what parks and recreation is all about?
Join Neelay Bhatt, vice president of PROS Consulting Inc., for his presentation on "Esports 101: Just What the Heck Is Esports and Why/How Should My Agency Participate in It?" Wednesday, September 25, 2019, 10:10 a.m. – 10:30 a.m. at the Baltimore Convention Center or listen to the podcast "eSports at the Rec Center?".
Neelay Bhatt is Vice President at PROS Consulting Inc.