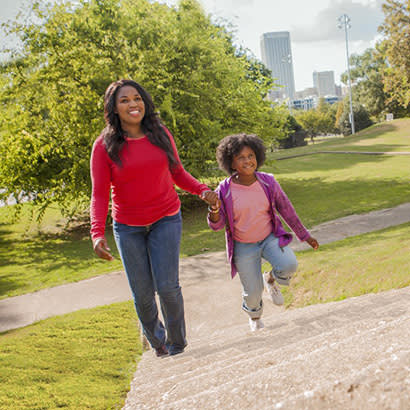 The Centers for Disease Control and Prevention (CDC) recently launched the Active People, Healthy Nation (service mark) initiative to help 27 million Americans become more physically active by 2027. Park, recreation facilities and public health agencies can work together toward achieving this ambitious goal.
Physical activity has many benefits.
The new Physical Activity Guidelines for Americans, 2nd edition reinforce that physical activity is one of the best things people can do for their health. Through regular physical activity, people can feel, function and sleep better and prevent or delay many chronic diseases, such as heart disease and cancer. Adults need at least 150 minutes of moderate-intensity activity (e.g., 30 minutes, five days a week) and two days of muscle strengthening a week to achieve substantial health benefits. The new guidelines also highlight that even short periods of physical activity can have health benefits. Sitting too much is detrimental to a person's health, and the guidelines encourage adults to increase physical activity and reduce sitting time. However, many Americans do not obtain enough physical activity for health benefits.
Parks and recreational facilities can help Americans increase their physical activity.
Parks and recreational facilities offer easy and accessible opportunities for physical activity while having fun with family and friends. People are more likely to be physically active in parks that are well-maintained, safe, located near their homes and offer facilities that support physical activity. Free or low-cost access to a range of indoor and outdoor facilities can help families be physically active together. Community park and recreation facilities can promote physical activity for people of all ages and abilities. Families and young people often visit parks or recreational facilities for play or for structured activities, such as soccer or tennis. Older adults prefer parks with trees, birdlife, benches and spaces where they can engage in group activities, such as Tai Chi or walking clubs.
Improving community design so people can safely walk or bike to local parks also can promote physical activity. Safe and comfortable routes that offer protection from cars can make it convenient for families with children, young people and older adults to get to nearby parks. Parks located close to public transit can be accessed by people who cannot drive (i.e., youths or older adults) and residents of communities without access to parks within walking distance. Residential proximity to parks varies by state and county, and only 39 percent of the U.S. population lives within one-half mile of a park. Increasing park access for all Americans will require multisector collaboration and commitment.
The CDC supports the use of park and recreational facilities as one way to increase physical activity.
The CDC's Division of Nutrition, Physical Activity and Obesity funds states, universities and community organizations to implement proven community-based strategies to increase healthy eating and active living. The CDC encourages partnerships with park and recreation facilities to implement these strategies. To increase physical activity, the CDC supports connecting activity-friendly routes to everyday destinations, such as parks.
CDC-funded public health programs have collaborated with park and recreation facilities to increase physical activity. For example, South Los Angeles established community plans for 18 new parks and adopted zoning and land-use policies for increasing access to parks via walking, biking and other active modes of transportation.
Opportunities to create a more active America, together.
Parks, recreation facilities and public health agencies can use their partner networks, resources and skills to support Active People, Healthy Nation (service mark). Active partnerships between local parks, recreation facilities and public health agencies can increase access to existing physical activity opportunities through shared or open-use agreements, flexible operating hours and affordable membership. Cross-sector partners working to improve walkability through policy, zoning and master planning can help to increase and sustain equitable park access and quality.
Communitywide outreach can help support Americans to meet physical activity guidelines by raising awareness about physical activity opportunities offered by local parks. Messages, signage and images that promote park-based physical activity are available to communities at low or no cost through resources, such as the State and Community Health Media Center.
Evaluating efforts to connect neighborhoods with local parks through safe and convenient routes can help improve strategies for increasing equitable access to parks. Public health agencies, parks and recreation facilities also can share lessons learned from implementing and evaluating programs, such as Safe Routes to Parks or the 10-Minute Walk to increase park-based physical activity.
Data that connect park and trail planning to public health goals can highlight the positive role and impact of parks on community health. Collaborating to collect and analyze data on park access and use may help with making strategic decisions about what is needed to improve park access, facilities and use for health benefits.
Conclusion
Public health agencies, parks and recreation facilities can leverage their complementary strengths and resources to improve walkable access to safe and convenient park and recreation facilities. Creating equitable access to parks in underserved areas also can be a shared goal. Public health agencies, parks and recreation facilities working together can help build a physically active and healthier America.
Note: The findings and conclusions in this report are those of the authors and do not necessarily represent the official position of the Centers for Disease Control and Prevention.
Additional resources available here:
Qaiser Mukhtar, Health Scientist, Heather Devlin, Lead Health Scientist, and Janet Fulton, Branch Chief, work with the Physical Activity and Health Branch, Division of Nutrition, Physical Activity, and Obesity National Center for Chronic Disease Prevention and Health Promotion, Centers for Disease Control and Prevention.