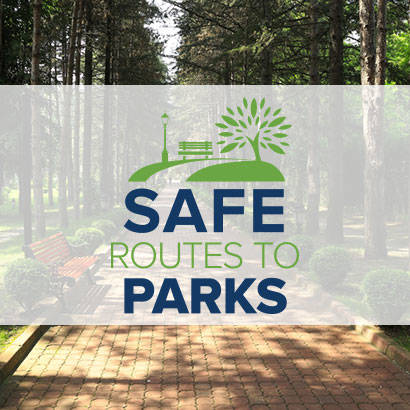 Complementary Comprehensive Frameworks
Applicable to all phases of the Safe Routes to Parks initiatives and can be used as a complement to the framework and your desired outcomes.
Engage
Partner with community organizations and community members during all stages of the process.
Open or Close

Community Engagement

Open or Close

Partner Coalition

Collaboration Multiplier
Framework: Selecting and engaging partners, identifying activities to achieve a common goal, detailing partner perspectives and contributions, and leveraging expertise and resources.
Contents: Brief
Source: Prevention Institute

Developing Effective Coalitions: an eight step guide
Framework: Engaging individuals, organizations and governmental partners
Contents: 32 page and 2 page versions
Source: Prevention Institute

Self-Assessment Toolkit for Partnerships
Toolkit: Choosing, creating and carrying out a partnership
Contents: 102 pages
Source: Engage: East Midlands, local UK planning organization

Creating and Maintaining Partnerships
Toolkit: Creating a partnership among different organizations
Contents: In depth
Source: Community Tool Box, University of Kansas Work Group for Community Health and Development

Partnerships for Parks
Guide: Key considerations when planning, developing and assessing partnerships
Contents: 36 pages
Source: The Urban Institute

Planning and Public Health Terms for Planners & Planning Terms for Public Health Professionals
Fact Sheet: Definitions of public health and land use planning terms
Contents: 4 pages
Source: American Planning Association

Plan4Health Peer Learning Network
Online Tool: Networking for planners and public health professionals
Source: Plan4Health, an APA Project

Breaking Down Barriers - Parks and Recreation Connecting with Public Health
Article: Park and recreation professionals working with public health professionals
Contents: Brief
Source: Parks & Recreation magazine

Making the Case: Parks and Health
Toolkit: Communicating with elected officials and the public about the importance of parks for public health
Contents: Links to 6 resources
Source: National Recreation and Park Association

Columbus, OH
Case Study: Creation of a Chronic Disease Prevention Advisory Board
Source: Plan4Health, an American Planning Association Project
Assess
Understand community priorities based on data and community input.
Plan
Develop priority areas, set goals and specific actions, identify policy improvements, and integrate into agency and jurisdiction plans and policies.
Implement
Put plans into action and ensure that those actions are based on best practices in engineering, design and programming.
Sustain
Ensure that efforts are continued, integrated into agency functions and are positively affecting the community.