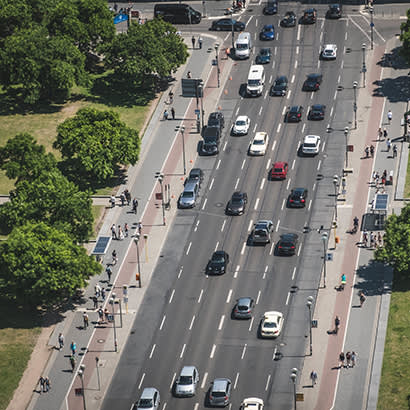 Congress can help create safe routes to parks
Parks are an ideal place for kids and adults to get physical activity, but only if they can safely get to the park. Even when a park is nearby, the street infrastructure around the park — such as the speed and volume of traffic and whether or not there are sidewalks, crosswalks and bike lanes — determines whether people feel comfortable walking, biking or rolling to the park. When there is not safe access to a park, people are less likely to visit regularly and get their minutes of physical activity.
Parks across the country are partnering with their local government agencies to prioritize active transportation projects that will create sidewalks, paths and crossings that connect parks to neighborhoods and key destinations. However, these types of improvements can be costly, and communities need more funding to create more safe routes to parks.
Congress Scrutinizes Transportation
Every five years or so, Congress considers changes to federal transportation laws that can make or break these types of active transportation improvements. Traditionally, transportation is very focused on funding roads and bridges, with a much smaller amount reserved for transit, biking and walking. The current transportation law, called the FAST Act, expires in September 2020, so Congress has already started work to examine federal transportation programs and funding levels to identify changes.
The Safe Routes Partnership is working with partners, like NRPA, to push Congress to direct more funding to active transportation projects. While there are many different pieces of legislation we are supporting, our top two priorities are as follows:
Helping Local Governments Build More Active Transportation Routes - The Transportation Alternatives Program (TAP) provides competitive awards to communities large and small for biking, walking and rolling improvements. Our recommendations for improving TAP are outlined in S. 1098, the Transportation Alternatives Enhancements Act. Senators Ben Cardin (D-Md.) and Roger Wicker (R-Miss.) head this bill. The legislation proposes increasing funding for TAP by 40 percent, allocating more of the funding for rural areas and big cities, and providing technical assistance to help local governments apply for TAP awards and get their projects built more quickly.
Making Active Transportation Safer - Travel has become more dangerous for people who walk, bike and roll, and fatality rates are at their highest since 1990. Yet, state departments of transportation spend a tiny fraction of their transportation safety dollars on making active transportation safer. H.R. 3040, the SAFE Streets Act, would ensure that local governments with above-average active transportation safety risks would be able to access transportation safety funding to put in sidewalks, crosswalks, bike lanes, lighting, traffic calming and other proven safety improvements.
Congress Has a Ways to Go
In July, the Senate Environment and Public Works Committee passed S. 2302, America's Transportation Infrastructure Act of 2019 (ATIA). We are pleased with the attention ATIA gives to active transportation. The bill includes $2 billion more in funding for TAP over five years, plus nearly all our recommendations to make the program even more accessible to local governments. It also includes a new program created by Senator Tom Carper (D-Del.) that would potentially direct $200 million more to active transportation safety projects. While ATIA still needs to make its way through three other Senate committees before it can be considered by the full Senate, the active transportation provisions are very strong.
The U.S. House of Representatives has been holding hearings and listening to recommendations from members of Congress and constituents, and we anticipate seeing their transportation legislation early next year. We hope the House transportation bill will build on the Senate's and include even stronger provisions for biking, walking and rolling.
Congress has a long way to go and a lot of negotiations before we see a transportation bill become law. But, we are optimistic that the next transportation law will include significant strides forward, allowing communities across the country to create more safe routes to parks.
Margo Pedroso is Deputy Director at Safe Routes Partnership.