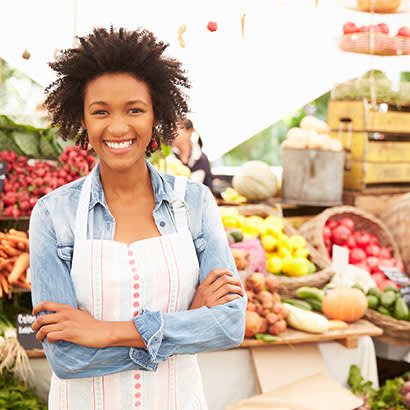 Where healthy food, education, entertainment and community engagement all meet.
Over the past four years, NRPA Research has focused its energies on two goals: developing data and benchmarks that help agencies make optimal decisions on operations, programming and spending and identifying insights that make the case for greater, more stable funding. One way we deliver on the latter is conducting studies that highlight the diverse offerings of local park and recreation agencies. Our most recent such study, Farmers Markets: Parks and Recreation Connecting Communities to Healthy Foods, released this month, looks at the role of farmers markets hosted by park and recreation agencies in local communities.
From centrally located markets in urban communities to main streets in small rural towns, Americans are visiting farmers markets more than ever before. For many people, farmers markets are a fun, family weekend tradition. For others who lack access to healthy food options, they are a critical source of fresh fruit, vegetables and healthy protein. In all communities, farmers markets are a place to bring family, friends and neighbors together through education, entertainment and community engagement.
Local park and recreation agencies play a significant role in bringing this service to many communities. They are well-suited to leverage their role as both trusted providers of health and wellness opportunities and partners in efforts to expand local agriculture initiatives in all communities. One in 5 park and recreation agencies in the country manages a farmers market, according to the 2019 NRPA Agency Performance Review.
Farmers markets are often held on local park and recreation agency property, but that does not mean the agency operates the market. In fact, only half of park and recreation agencies that host farmers markets on their property manage these markets. For the other half of agencies, a separate entity, such as a local nonprofit, a private company or another local government department, manages markets hosted on their property.
But, even if park and recreation agencies host and manage farmers markets, most work closely with third parties on these events. Specifically, 4 in 5 agencies partner with third parties to ensure these markets are a success. Nonprofits are a frequent partner, working with 44 percent of park and recreation agencies that host farmers markets. A third of park and recreation agencies cooperate with each of the following partners:
Farmers/rancher organizations (36 percent)
Other departments/agencies of the local government (35 percent)
Community development organizations (34 percent)
Local extension offices (32 percent)
Farmers Markets Offerings
Farmers markets bring a wide variety of fresh and nutritious food to their communities. Not surprisingly, virtually all farmers markets feature fresh fruits and vegetables. Other typical farmers markets offerings include baked goods (88 percent), organic foods (85 percent) and artisanal products (77 percent). Farmers markets also bring a variety of protein products to local communities, including:
Nuts and other non-meat protein (73 percent)
Meat (66 percent)
Dairy products (61 percent)
Since farmers markets are often the only source of fresh, healthy food options in underserved communities, it is critical that they accept all payment options, including those used by residents who receive government assistance. Two-thirds of farmers markets hosted by park and recreation agencies accept some form of supplemental nutrition benefit. Vendors at 56 percent of park and recreation agency-led farmers markets can accept Supplemental Nutrition Assistance Program (SNAP) benefits, while a third of farmers markets accept WIC (Women, Infants and Children). Less common are agencies that are able to process benefits from the Senior Farmers Market Nutrition Program (21 percent).
Park and recreation agencies face a few challenges that prevent them from more widely accepting supplemental nutrition benefits from their residents. These include vendors at the farmers markets being unable or unwilling to do so (43 percent), a lack of equipment needed to process these payments at the point-of-sale (26 percent) and a lack of knowledge about how to accept the benefits (26 percent).
Beyond Healthy Food
While fresh produce, baked goods and protein are primary attractions at farmers markets, the selling of food is by no means the only draw that brings attendees to the markets. Farmers markets can also be a place to entertain and educate residents, while building a broader sense of community.
For example, 62 percent of the farmers markets park and recreation agencies host support arts and cultural events, while 37 percent of agencies provide intergenerational/family activities at their markets. Just over half of these farmers markets offer educational opportunities, such as library services and health screenings. Similarly, 38 percent of agency-hosted farmers markets teach residents about healthy eating through nutrition education and cooking demos. Forty-three percent of farmers markets assist in enrolling patrons in the Supplemental Nutrition Assistance Program (SNAP) and/or WIC benefits programs.
Conclusions
Farmers markets are a staple in many communities throughout the United States. These markets afford thousands of people with the ability to access fresh, local produce, among many other healthy foods. They support the local economy, bring the community together and help families build and reinforce traditions based on healthy living in the heart of their cities, towns or counties.
I encourage you to read the Farmers Markets: Parks and Recreation Connecting Communities to Healthy Foods to gain a better understanding of parks and recreation's role in bringing farmers markets to their communities. The report concludes with a series of tips, including government grant opportunities, to help agencies that are considering starting or expanding farmers markets. This is good news, as there is no better partner than parks and recreation to bring the many benefits of farmers markets to your town.
Kevin Roth, Ph.D., is NRPA's Vice President of Professional Development, Research and Technology.