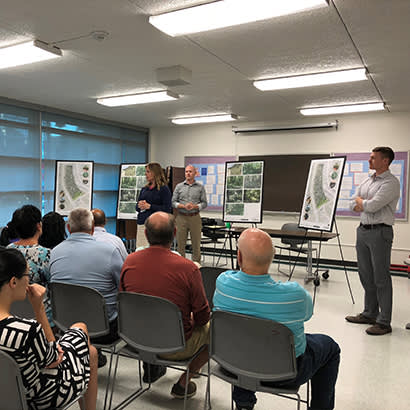 NRPA resources help agencies increase engagement, equity and inclusion
Park and recreation spaces are a hub for all kinds of community interactions. So, it just makes sense that all people, no matter their differences, should be engaged in these spaces. NRPA provides the tools that park and recreation professionals need to implement equitable and inclusive community engagement that ensures fair and just decision-making power and that results in welcoming, culturally relevant park spaces that provide multiple benefits.
NRPA Hosts Community Engagement Training
A group of 36 professionals gathered on September 23, 2019, to engage in a lively discussion about community engagement, inclusion and equity. NRPA hosted the educational training and brought in Holly Madill, director of the National Charrette Institute at Michigan State University, and Dionardo Pizaña, diversity, equity and inclusion specialist for Michigan State University, to lead the discussion. Read more about the workshop in the blog, "NRPA's Community Engagement Training: Delving Into Equity and Inclusion."
The session built on a foundation of information and best practices described in NRPA's Community Engagement Resource Guide: Creating Equitable Access to High-Performing Parks. This guide provides a roadmap to implementing community engagement strategies around the planning, design, construction, maintenance and activation of park projects and park plans. It specifically addresses barriers that could hinder the ability of park and recreation agencies to collaborate with community members. In addition to tips and best practices, the guide takes readers through the engagement process using the themes of internal assessment and planning, building trust with communities, community engagement strategies and evaluation.
Community Engagement and Equity Efforts in Los Angeles
The training and the guide shared lessons learned from real-world experiences. Clement Lau, departmental facilities planner for the Los Angeles County Department of Parks and Recreation (DPR), attended the training and describes how his county's Parks Needs Assessment is featured as a case study in the guide. "The guide is great, and I have shared it with my colleagues here," he states. "This will help us as we develop formal community engagement policies for our department."
In 2012, DPR began working on plans that focus on six of the most park-poor areas in the county and made sure community engagement was a key part of the process. It started with a detailed data analysis and public input collection, which helped identify park needs and opportunities in each community. Building on the work of the community park plans, DPR then completed the Los Angeles Countywide Parks and Recreation Needs Assessment. This was the county's first such comprehensive assessment, involving an extensive community engagement process, a broad-based coalition of partners and an equity-based approach to determine park needs. The Park Needs Assessment informed the development of a funding measure, which will help fund park projects across the county in perpetuity. DPR will continue to engage the public in the planning and development of park projects to ensure that they meet community needs, Lau says.
Taking Engagement to the 'Next Level' in West Virginia
"The Community Engagement training offered in Baltimore this year will help take our current engagement to the next level," says Terri Burhans, director of Ranson Parks and Recreation (West Virginia) and another training event attendee. Ranson Parks and Recreation Commission envisions making its Ranson Civic Center a space for recreational activities, as well as a space that educates and inspires, providing job-readiness programs and science, technology, engineering, art and math activities.
"The NRPA Pillars are the guiding principles that we use when designing events," Burhans says. "It takes special events and elevates them to events with purpose. It guides our work to have a broader impact on the vibrancy of our city."
The Ranson Parks and Recreation Commission develops partnerships to assist with community engagement across its wellness, access and conservation programs. According to Burhans, its free walking program, Ranson Walks, engages more than 400 people in the community, who have walked more than 4,000 miles in the past year. Other partners help the agency host blood drives, healthy cooking demonstrations, an annual lunch with Santa, tree planting events and a block party to connect local kids to mentors and information about healthy lifestyles. By partnering with the Ranson Community Gardens, the agency provides more than 2,500 pounds of fresh organic produce to the community each year and hosts a monthly garden market at the community center. What's more, the agency now has a permanent year-round supply closet to provide kids in the community with school supplies.
Iowa City Explores New Engagement Strategies
During the training, six case studies were presented and discussed in breakout groups to put community engagement skills to the test. Juli Seydell Johnson, director of Iowa City Parks & Recreation, presented on a project that Iowa City is working on to increase participation in swimming lessons by children from minority, recent immigrant and underserved neighborhoods. Barriers to participation include transportation to swim centers, adult caregivers' attitudes concerning swimming and availability for lessons, language barriers, religious and ethnic dress and grooming practices, and access to swim supplies. The agency plans on conducting additional focus groups and outreach events to guide its strategy for engagement.
"NRPA has supported our efforts to address racial and social equity by making it a national topic and priority," Seydell Johnson says.
Every week during warmer months, the agency hosts free events focused on activating neighborhood parks. It also tailors outreach efforts to neighborhoods where community members have not been accessing services. "We continue to explore outreach and engagement strategies so that all residents feel welcomed and invited to participate in our many programs and services," Seydell Johnson says.
Jennifer Fulcher is NRPA's Communications Manager.