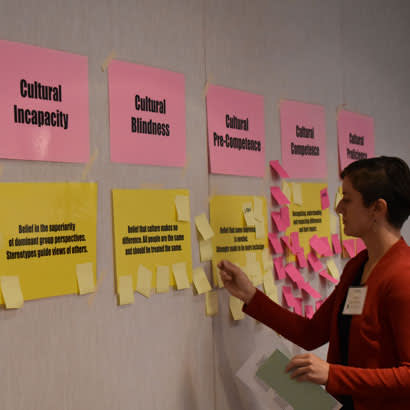 Behind a set of unassuming conference room doors, 36 professionals took part in a lively, engaging discussion on community engagement, inclusion and equity on September 23, before the 2019 NRPA Annual Conference officially began. The group met to talk about the importance of and strategies for opening park and recreation programs to every single person in communities across the country. The training was led by Holly Madill, director of the National Charrette Institute at Michigan State University, and Dionardo Pizaña, diversity, equity and inclusion specialist for Michigan State University.
Pizaña asked those in the room to gather in seats set out in a large circle. "This work is about process as much as it is about content," he said. What's more, sitting in a circle allows a level of vulnerability and openness that can be important for certain conversations and enhance connection.
Even though every park and recreation site features its own unique programs and circumstances, the community engagement processes can be applied anywhere to build trust, transparency and connection, according to Pizaña. Intentional things have happened throughout history — and continue to occur — that create barriers in communities, so intentionality is needed when implementing processes to overcome these barriers.
Participants were asked to think about their own backgrounds and share personal experiences related to culture, bias, equity and inclusion. They discussed the expansive nature of culture, as well as the areas that they as individuals, and their agencies, stand on the cultural competency continuum, which spans from cultural destruction to cultural proficiency.
"Problems come when we deny that issues exist," Pizaña said. "One of the ways that I get more inclusive, working toward equity is just being curious with somebody," he explained. "To get to a different place, we need to be intentional about processes to build understanding about those in our communities. And, when we start a project, we gain trust by being transparent and making sure processes are open to everyone."
Equipped with this inspiration and background knowledge, attendees presented six real-world case studies about park and recreation projects that encountered difficulties with community engagement. Madill led an afternoon session where the attendees worked in groups to draft solutions to each design problem. This exercise allowed participants to put what they learned about diversity and inclusion to work, giving them real-world skills to take home.
Pizaña explained that working to be more inclusive, more equitable, more honest and more genuine about struggles around these issues are "the most important work we ought to be doing in communities."
NRPA's Community Engagement Resource Guide provides park and recreation professionals with a roadmap to implement equitable and inclusive community engagement strategies around the planning, design, construction, maintenance and activation of park projects and park plans.
Jennifer Nguyen is NRPA's Communications Manager.