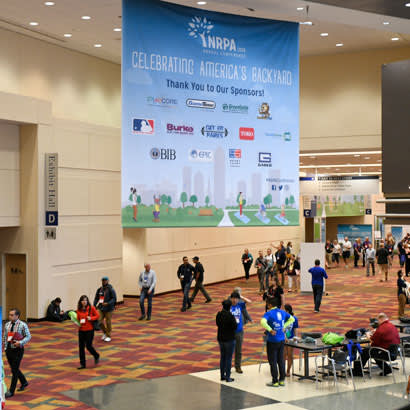 A record number of park and rec professionals — approximately 8,000 — traveled to Circle City (Indianapolis), to join us for the 2018 NRPA Annual Conference. This year's theme, "Celebrating America's Backyard," highlighted the fact that parks are the gathering and recreation areas in local communities and was brought to life in the NRPA booth, which featured picnic tables, Adirondack chairs, a large inflatable movie screen and a faux ice cream truck delivering real ice cream! Over the course of four days, attendees had the opportunity to participate in pre-conference and mobile workshops, 12 learning tracks consisting of nearly 300 education sessions, two general sessions and keynote speakers, an exhibit hall showcasing the products and services of more than 450 exhibitors, an opening reception at Bankers Life Fieldhouse and numerous networking events.
Inspiration
Tuesday's Opening General Session, set in a theater-in-the-round style, began with remarks from outgoing chair of the NRPA Board of Directors Leon T. Andrews, Jr. Andrews reminded attendees about the challenge he posed to members when he took the helm at this event last September: to "step up, show up and speak up," to go beyond traditional expectations. He had them "speak up" by taking out their cellphones and, using the new, interactive advocacy initiative NRPA introduced to help save the Land and Water Conservation Fund (LWCF), texting PARKS to 52886. On a map of the United States, visible on large screens, attendees could see, in real time, how they were literally "showing up" across the country. He thanked NRPA President and CEO Barbara Tulipane, CAE, for being a "no-nonsense visionary and inspirational leader for NRPA." Tulipane, whose leadership has helped elevate the level of awareness about parks and recreation's impact on communities, recently announced her retirement after 10 years as CEO.
Andrews then officially passed the mantle of leadership to the 2018–2019 NRPA Board Chair Jack Kardys, president of J. Kardys Strategies. Kardys recently retired as director of the nationally accredited and Gold Medal Award-winning Miami-Dade Parks, Recreation & Open Spaces Department (MDPROS) and served as president of the Florida Recreation and Park Association (FPRA). He urged attendees to keep thinking big as they make the difference for health, happiness and prosperity in their communities and offered this quote from Chicago's Daniel Burnham: "Make no little plans; they have no magic to stir men's blood and probably themselves will not be realized. Make big plans, aim high in hope and work."
In her remarks, Tulipane expounded on the top five things she has learned as NRPA's CEO and president for the past 10 years:
Parks are one of the last places of tolerance and acceptance.
Parks and rec are the cure for isolation, loneliness and depression.
Parks are going to save our planet.
Parks and rec must embrace a spirit of innovation.
Parks are complicated and recreation programs are essential, and park professionals make it happen.
She also announced the four recipients of NRPA's new Best in Innovation Awards in park design, health and wellness, conservation and social equity, and the overall Best in Innovation Award winner, the Los Angeles County Department of Parks and Recreation for its "Parks After Dark" program.
Tuesday's keynote speaker, Peter Kageyama, is the author of For the Love of Cities: The Love Affair Between People and Their Places and Love Where You Live: Creating Emotionally Engaging Places. Kageyama, also known as the "city love guy," gave numerous examples of the way cities can give their residents "loves notes" through small gestures that have oversized impacts (like the note tucked in with a bouquet of flowers instead of only the flowers) and make for livable, highly desirable places where people want to be. A senior fellow with the Alliance for Innovation and a national network of city leaders, dedicated to improving the practice of local government, he is passionate about "bottom-up community development and the people who are making change happen."
Wednesday's keynote was truly an exercise in creativity. Attendees helped self-described "Musician with a Message," SaulPaul, compose an improvisational song from words members of the audience called out — amazing, gratitude, positive, synergy, unstoppable and supercalifragilisticexpialidocious, to name a few. An award-winning recording artist and founder of a nonprofit organization that helps at-risk and underprivileged youth discover and develop their artistic and entrepreneurial skills, SaulPaul spoke about civic responsibility and how you can make a difference in your own life and your world.
Exploration
The inspiration and enthusiasm generated by both Kageyama and SaulPaul keynotes was evident in the energy level on the exhibit hall floor. In this supersized playground, attendees could peruse and try out cutting-edge technology solutions and the latest in playground equipment, athletic gear, aquatics products and other services. They could also participate in interactive education sessions in the Learning Playground, try their luck at winning one of several daily prize drawings during exhibit hall hours and interact with staff in the NRPA booth.
Connection
In addition to the incredible breadth and depth of knowledge shared through the educational sessions, those who attend the conference know that the opportunities to network are "priceless." When and where else can you interact and connect with so many of your colleagues from around the country, even the world. And there were numerous opportunities to connect, including impromptu conversations started in or following an education session; at the Student Pep Rally, where students had a chance to mingle with other future park and recreation professionals; during the Opening Reception, which was held at Bankers Life Fieldhouse, home of the Indiana Pacers; a round of golf at the Eagle Creek Golf Club or the adventure outing at Eagle Creek Park Treetop Adventure; and at the Best of the Best Awards Ceremony, celebrating those who either won an award, received a scholarship, or agencies that either gained or maintained their accreditation.
Planning is underway for next year's conference in Baltimore, Maryland. Learn how to submit a session proposal. Browse the exhibit hall options. Registration for the 2019 NRPA Annual Conference will open on May 13, 2019. Start sharing the benefits with your supervisor now and mark your calendar for September 24–26, 2019. We look forward to seeing you there!
Sonia Myrick is the Executive Editor for Parks & Recreation magazine.
Suzanne Nathan is NRPA's Media Specialist.
A Welcoming Play Space for All
More than 30 kindergarten-through-third-grade students from Nashville's Explore! Community School, and their chaperones, joined the crowd in the NRPA Exhibit Hall on Wednesday, September 26. They'd been told that here, they'd find the most current universal equipment and experience imaginative playgrounds — just what they needed to help them determine what equipment would best fit into their playground design.
Explore!, a charter school with a project-based learning curriculum, is currently located in Nashville's East End area but will be moving to a new campus, a few blocks southwest of its current location, in the 2019 – 2020 school year. A new playground is part of this new home, and the school community decided to use its design as a real-world experience through which the children learn about creating inclusive environments where people of all ages, backgrounds and interests can connect through play!
"We decided to teach our students about ways that they could be responsible citizens and stand up to bullying in our community," says Jessica Talbot, assistant principal, director of curriculum. "We approached the playground design unit with this lens because we want our Explorers to create a play space that is welcoming to all — and we want our larger Nashville community to know that we celebrate individuality as a strength and believe in the power of our collective diversity."
An Explore! parent, who regularly attends NRPA's conference, shared information about the exhibit hall during a monthly staff/family project-based learning meeting. The group also learned that Dr. Scott Shafer from Texas A&M University, an Explore! consultant, would be attending conference. Three hundred students attend Explore! Those who got to travel to Indianapolis had to complete an application and present their ideas to their classmates, who made the final selection.
Talbot describes the children's enthusiasm and joy as "contagious." They were very focused on experiencing the equipment and the vendors obliged, asking the Explorers to play on the equipment so others could see how it worked. "They [the children] were very impressed with the tall slides, the natural climbing structures, the musical instruments and the universal swings." She adds: "Explorers talked a lot about the musical features (very inclusive), the structures that allowed you to climb really high but were kind of soft so they felt less scared about falling, the sensory maze that used colors and textures to help kids with exceptionalities navigate the maze, and the really, really tall slides with steep angles that allowed you to go very fast."
While the children are continuing to visit local playgrounds, learning about the city council and interviewing a local representative to understand more about how parks and playgrounds are planned, the adults are working on getting a community assessment survey out through various channels. "Once we have our survey back, we will begin the first round of the design process. The Explorers will design in four categories: music, art, equipment and nature. They will complete four rounds of revision and will receive feedback from a local landscape architect group along the way.
"Their final designs will be in a public exhibition, which will be set up to follow the structure of a design charrette. The school community will vote on these designs and then our project-based learning team will work to make the Explorers' designs a reality! We are hoping our playground will be a place where our core values of curiosity, compassion, courage, craftsmanship and community can come to life. Most of all, they are hoping for a place of adventure with a really tall slide!"
Some of the funds for the new playground were set aside from the new building construction. The school will need to fundraise for the remainder, but after seeing how organized and focused the Explorers were on the exhibit hall floor, that's a challenge these students can more than rise to.
Sonia Myrick is NRPA's Executive Editor of Parks & Recreation magazine.