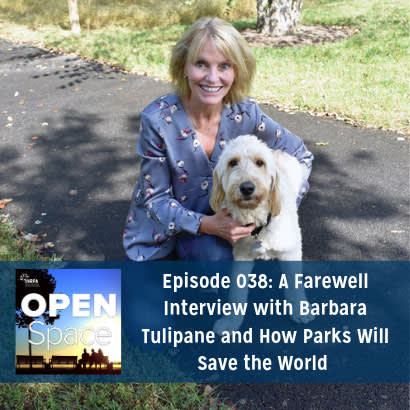 Over the course of the past decade, NRPA has become a strong voice and sought-out resource in the park and recreation space, particularly on the Pillar issues of conservation, health and wellness, and social equity. These developments are in large part due to the passionate leadership of our president and CEO, Barbara Tulipane, CAE, who recently announced her retirement.
"Barbara has been an influential leader and a powerful voice for NRPA," says Leon T. Andrews, Jr., chair of the NRPA Board of Directors. "Under her leadership, NRPA has become a compelling force that has helped influence public policy and legislation nationally. She has brought a razor-sharp focus to the many ways parks and recreation build communities. Perhaps most importantly, she has challenged us to ensure inclusiveness and equity in all that parks and recreation does."
"Barbara is dedicated to carrying out the association's goals and mission over the next several months, until her replacement is found," says Steve Eckelberry, past chair of NRPA's Board of Directors. "She has been instrumental in successfully guiding the association, and she has brought recognition to the hard-working men and women in our field."
"I want to take this time to thank NRPA leaders, members and staff for allowing me to be part of these worthy efforts," says Tulipane. "I've truly enjoyed the last 10 years leading this remarkable organization. The time I have spent at NRPA has shown me how vital parks and recreation is to all Americans. I'm proud to have led NRPA in the fight to protect parks everywhere, to make communities more equitable and to bring the health benefits of parks and recreation to every community."
During Tulipane's tenure, NRPA's revenue doubled, membership increased from 17,000 to more than 60,000, the communications department, including Parks & Recreation magazine, consistently garnered top honors and awards, and NRPA adopted the three strategic Pillars of Conservation, Health & Wellness and Social Equity. The organization also has been selected by The Washington Post as a "Top 100 Workplace" for the past five consecutive years.
The Board of Directors has appointed a transition committee to retain a firm to conduct a national search for Tulipane's replacement. "We are in good hands knowing that Barbara will be at the helm during this transition period," says Jack Kardys, NRPA's incoming Chairman of the Board. "Barbara's knowledge and experience will be essential in the board's effort to find NRPA's next CEO."
The 2018–2019 NRPA Board of Directors
At the 2018 NRPA Annual Conference, September 25–27, in Indianapolis, Indiana, NRPA will welcome its new chair along with three new board members to the 2018–2019 Board of Directors. Jack Kardys, longtime NRPA board member and former director of the award-winning Miami-Dade Parks, Recreation & Open Spaces (MDPROS) Department, will begin his tenure as the organization's chair.
Jack Kardys
President, J. Kardys Strategies
Kardys, who currently serves as president of J. Kardys Strategies and as an associate with PROS Consulting, also serves on the board of the Park Foundation of Miami-Dade and is the past president of the Florida Recreation and Park Association (FRPA). He is highly respected in the field of parks and recreation, and has received several notable accolades, including the NRPA R.O.S.E., FRPA Distinguished Service and American Society for Public Administration Administrator of the Year awards. Kardys also led MDPROS to earn two Florida Governor's Sterling Awards and the FRPA Agency Excellence Award.

At this year's conference, the 2018–2019 NRPA Board of Directors will also welcome three new members, who will each serve a three-year term:
Carol Coletta
President & CEO, Memphis River Parks Partnership
Carol Coletta is a senior fellow with The Kresge Foundation's American Cities Practice and is currently on loan to the Memphis River Parks Partnership as the organization's president and CEO. Prior to her service to Kresge, she was vice president of Community and National Initiatives for the John S. and James L. Knight Foundation and served as president and CEO of CEOs for Cities for seven years. Coletta also served as executive director of the Mayors' Institute on City Design and was host and producer of Smart City, a nationally syndicated weekly public radio show.
Joshua Medeiros
Director of Recreation, Town of Cheshire, Connecticut
Joshua Medeiros has been involved in the field of parks and recreation for 15 years, the past 10 in leadership positions across several municipalities. Dr. Medeiros specializes in recreation programming, aquatics, capital project management, leadership and organizational change and has developed hundreds of programs and events throughout his career, generated millions of dollars in department revenues, and overseen numerous major park projects. He also serves as an Adjunct Professor at Southern Connecticut State University in the Department of Recreation, Tourism and Sport Management, and his most recent scholarly work included a qualitative study examining reports of Connecticut recreation professionals on best practices for aquatics management.
Greg A. Weitzel
Director for the Department of Parks and Recreation, Idaho Falls, Idaho
Greg A. Weitzel has 20-plus years of experience in the field, having served as department director of parks and recreation for three cities of various population sizes on the east coast and pacific northwest. He has served on numerous nonprofit and community boards and currently serves as IPRA CEU coordinator in Idaho, which recently was the host city for the Idaho and Montana annual conference. Weitzel also serves as an ambassador and lead playground installer for Kids Around the World. He served for more than 10 years on the Pennsylvania Recreation and Park Society Governmental Affairs Committee and ended his tenure as chairman and was instrumental in helping to save more than $600 million in key funding from elimination in the state budget.

"We are proud to have so many talented individuals with strong leadership skills serving on our board," says Tulipane. "Their combined expertise and passion for parks and recreation will help us achieve our goals — moving the association forward."
NRPA's Board of Directors is composed of 15–30 individuals, who are representative of the membership, which includes leaders in the park, recreation and conservation movement, park and recreation professionals and individuals from corporations, industry suppliers, commercial businesses, and volunteer and civic groups.
Learn more about NRPA's leadership team.