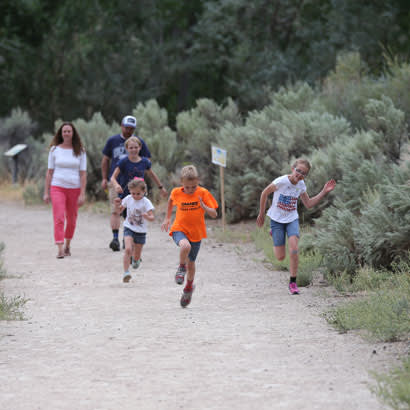 The Carson City Library in Nevada, in partnership with Carson City Parks, Recreation & Open Space, devised a unique way to promote literacy while getting children and their parents outdoors and walking in nature. It was called Story Stroll and was part of the Get Outside the Lines worldwide initiative that demonstrates the creativity and innovation happening in libraries.
When Natalie Wood, creative learning manager for the Carson City Library, decided to participate in this initiative, she reached out to Dan Earp, recreation superintendent for Carson City Parks, Recreation & Open Space.
"Originally, the thought was to put the program in one of our developed parks in the middle of town," says Earp. "But Carson City has a wide network of trails and open space, so we thought it would be a great opportunity to get kids and families to enjoy a nature experience at the same time."
Carson River Park, with its wide, accessible trail, easy access, ample parking and meandering Carson River, was the site chosen for Story Stroll and the nature-themed bilingual children's picture book, Colors! ¡Colores! by Jorge Luján and Piet Grobler, was selected to complement the experience.
Pages from the book were laminated, attached to the wooden stakes and placed at 100-foot intervals along the trail. Social media, one of the methods used to inform the community about the program, was also used to encourage them to engage while on their stroll by taking pictures and using the hashtags #getOTL #CCStoryStroll #IWalkForMyLibrary.
"The timing was really quite perfect," Earp adds, "because, here, the fall colors along the river are already starting to change and the book used is all about colors."
Wood says that overall, feedback about Story Stroll, which ran from September 10 to September 30, was positive. "A benefit," she adds, "was that members of the community who went to enjoy the trail, not knowing about the program, had an unexpected fun activity to participate in. One challenge was the weather: a few pages disappeared on their own windy adventure."
Sonia Myrick, Executive Editor for Parks & Recreation magazine.