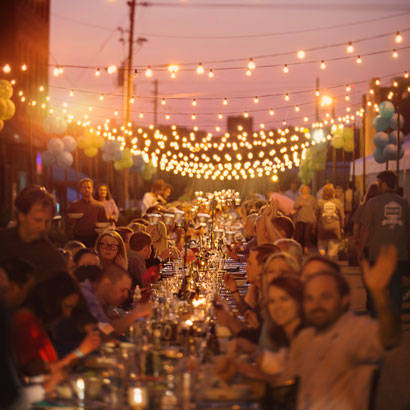 In May 2016, 240 residents of Cullman, Alabama, gathered for dinner on First Street — literally in the center of the street. Under a canopy of twinkling lights, they sat down at a 300-foot-long table to enjoy a catered meal provided by a local restaurant. "There is nothing quite like sharing a meal with 240 of your neighbors to foster a sense of community," says Rusty Turner, chairman of the Park Board.
This, the inaugural "Dinner on First" event, was the brainchild of the Cullman City Parks and Recreation, and it was a sold-out success. The city of Cullman wholeheartedly embraced this innovative approach to raising funds to help build a park on the west side of town. Each ticket sold for $100, and the $20,000 raised will augment funds already set aside by the Cullman Parks and Recreation Foundation. The park, to be named "The Connected Park," will be dedicated to all children of every ability and need.
Along with a fine meal, the event also included the conferring of an award dedicated to those who are committed to local parks and recreation. It is named in honor of Cullman native Chester Freeman, whose life was dedicated to the building of the city's Heritage Park. Cullman Mayor, Woody Jacobs, is the first recipient of this award in recognition of his commitment to and engagement on parks.
Dinner on First garnered for Cullman Parks and Recreation the "Innovative Program or Event of the Year" award from the Alabama Recreation and Parks Association. This was one of the many awards earned by Cullman City Parks and Recreation and highlights a successful year for the department.
Dinner on First was not only a rousing innovative success, but is also a community event that has people already trying to obtain tickets for the second annual event to be held May 20, 2017.
— Daniel Sanford, NRPA's Administrative Assistant to the CFO
(Photo courtesy of Leslie Dyar of Soulful Snaps!)