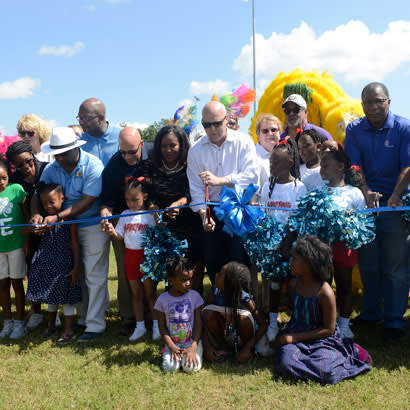 This year's NRPA Parks Build Community project is located along the Lafitte Greenway in New Orleans, Louisiana. Connecting the French Quarter to City Park, the greenway had been an essential travel and shipping corridor from the Mississippi River to Lake Pontchartrain for more than two centuries. Since the mid-2000s, local community members and elected officials have focused their efforts on reinvigorating the area after years of decline and the devastating effects of Hurricane Katrina.
Troubled Times Along the Greenway
When Hurricane Katrina hit in 2005, the area was decimated and the greenway was left in ruins. The local community raised concerns about the future of the greenway and advocated for its revitalization. Since the mid-2000s, the city of New Orleans and local community groups have worked to create amenities along the greenway, enhance economic development, connect communities and create much-needed public space.
"The Lafitte Greenway is an exemplary redevelopment — creating more than 3 miles of multiuse urban space and bike path infrastructure, providing access to recreational facilities and public open spaces for residents of all ages," says Graham Hill, senior project manager for Concordia, the architectural firm assisting in planning the park. "The Greenway has become a catalyst for the development of nearby properties, with the city, private developers, and various nonprofits and neighborhood groups are all working to establish a connection to this vital public asset for the city of New Orleans."
"New Orleans' Lafitte Greenway is one of the most powerful public-private achievements in the city's rebuilding after Hurricane Katrina," says Jeffrey J. Thomas, chair of Friends of Lafitte Greenway's Board of Directors. "The new recreational complex brings to life one more dream envisioned by the citizen master plan that gave life to the greenway. Seeing a diverse array of families gathered together at its unveiling from the more than a dozen neighborhoods that are connected by the greenway further reinforces why New Orleans' newest park is so important and special."
Moving Forward
For Sam Mendelsohn, president and CEO of Greenfields, being a part of the Parks Build Community in an area ravished by a natural disaster was significant. "The importance of Greenfields' mission — Promoting Wellness and Fighting Obesity One Community at a Time — has never been as clear as when we visited the areas affected by Katrina. In helping the people of New Orleans as part of the NRPA's Parks Build Community initiative, we hope to help bring all neighbors together to create a positive and harmonious community."
The Lafitte Greenway connects several neighborhoods in the heart of New Orleans, with more 10,000 people living within a quarter mile of the greenway. Private lands have been acquired to connect the full length of the greenway and a 2.6-mile asphalt trail for pedestrians and bicyclists has been created and is extensively used. Improvements in landscaping and fields for recreation have added to the appeal to the public, and lighting, coupled with ADA-compliant curbs and crosswalks, was added at each road crossing to ensure a safe environment.
Redevelopment along the greenway is in full swing with a multitude of new projects planned for the future or have been recently completed. Old warehouses are being converted into multi-use buildings including residential units. A new apartment complex will be located at the northwest end of the greenway. The New Orleans Redevelopment Fund recently broke ground on a warehouse along the south edge of the greenway that will house its offices, as well as offices for medical professionals and food establishments. This fall, the Michel Varisco art installation, called Prayer Wheels for the Mississippi River, opened along the greenway. In January, an outdoor wine garden will open along the northwest end of the greenway, catering to those coming from the adjacent trail by bike. The garden will have bike parking and an air station to pump up bikes tires.
The Grand Opening
As part of the Lafitte Greenway revitalization effort, the NRPA Parks Build Community program created a 15-acre park, called Lemann Playground, along the greenway. On Sunday, September 24, to the strains of Cajun music accompanying a traditional New Orleans second line, New Orleans Mayor Mitch Landreau, NORD CEO Victor Richards, NRPA President and CEO Barbara Tulipane, along with several local elected officials, NRPA conference attendees and local community members either joined in second line or gathered along the greenway for the grand opening of the Lemann Playground. "The beautiful recreation area at Lafitte Greenway is a reminder of why we are all so passionate about parks, and will be a treasured gathering place for children and families for many years to come," says AnneMarie Spencer, corporate vice president of marketing for PlayCore.
Park amenities include outdoor basketball courts, LED high-mast field lights, athletic fields (baseball, softball, football, soccer) with bleachers, a lawn/meadow area for events, festivals and outdoor films, accessible walkways and benches, play equipment for ages 2–12, state-of-the-art fitness equipment and bike racks. "We love that the Lafitte Greenway connects communities and gives people a place to relax, play and travel," explains Bri Whitcraft, director of marketing for Dero.
"The Lafitte Greenway is bursting with life, thanks to the investments of NRPA and the city of New Orleans. Today, there is something for everyone on the Lafitte Greenway — from small children to seniors, basketball players to emerging musicians. This space brings the community together, and this energy will keep spreading out along the trail. We are grateful to NRPA and the city of New Orleans for the Parks Build Community project," adds Sophie Harris Vorhoff, executive director of Friends of Lafitte Greenway.
This project would not have been possible without the generous support of the Parks Build Community partners and sponsors. "We are excited to partner with NRPA once again, this time to contribute in the revitalization of Lafitte Greenway. We strongly believe in the role that parks and recreation plays in building communities. Our lighting system will allow Lafitte Greenway to continue to promote night-time recreational activities," says Jeff Rogers, Musco's vice president of sales.
"The Lafitte Greenway is truly a great transformation of space, and it will be fun to see the amount of people it draws to the space," states Andrew Peterson, recreation and field sports manager for Gared. "We are play advocates, and we are always thrilled to be involved in the Parks Build Community project. Converting a space that has little use, to something that will attract people of all ages is always an exciting project to be involved with, and the impact on the surrounding community is always positive and lasting."
Being a Part of Something Bigger
"The core of our mission is to bring Play That Moves You to all communities around the world and the Lafitte Greenway project embodies that mission," says Brian Johnson, chief marketing officer for BCI Burke. Providing an interactive, fun space for children to develop is an opportunity for us to give back and engage in a community in need of a gathering space for people to play, socialize, exercise and get to know each other."

As with all Parks Build Community projects, the renovations and transformation are made possible through the donation of materials, equipment, manpower and funds from our NRPA community. "Working with other manufacturers in our industry, we were able to make a tangible difference in the lives of many and create a destination park that will serve the community for years to come," Johnson adds.
Plans are already underway for the 2018 Parks Build Community project, called Sandorf Park, in Indianapolis, Indiana. Look for more details in upcoming editions of Parks & Recreation magazine or contact Gina Mullins-Cohen at 703.858.2184 for more information.
Paula Jacoby-Garrett is a Freelance Writer based in Las Vegas, Nevada.