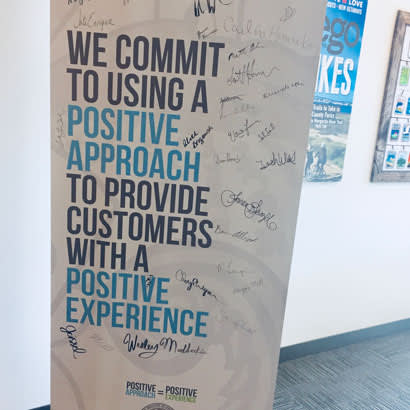 "In a world of unlimited voices and choices, those who can bring people together and tell a good story have power." — Shonda Rhimes
This quote resonates because it is precisely what park and recreation agencies do: Bring people together. And yet, despite our efforts to build stronger communities, park and recreation agencies are facing more challenges to their existence than ever before. Listening to feedback from agencies around the country, three common refrains consistently rise to the top: low budgets to serve a great number of people; competition from other public, private and nonprofit providers; and the growing number of choices available to customers — real, digital, virtual and augmented.
As every agency leadership grapples with these challenges, they continue to ask: How can we survive, yet alone thrive, with limited resources, ever- increasing competition and greater demands on users' time?
Today, the only sustainable advantage an agency has is its people. There will always be a newer park, a swankier facility, a cooler event or a cheaper program, but there will never be a replacement for a positive and memorable customer experience.
So, how can agencies build a better customer experience? Following are some ways an agency can build a culture of guest service excellence, attract and retain talented employees, build loyal customers and, thus, ensure long-term sustainability:
1. Center Organizational Focus on Customer Service and Staff Training
All agencies recognize the importance of serving and helping external customers (i.e., the users, community members) and almost all agencies invest some resources accordingly. However, fewer provide the same impetus to nurturing and serving their internal customers: their staff.
I have always believed the most important person is the customer, but the most important customer is your staff. Disney offers the perfect example: In Orlando, there is a myriad of theme parks that offer similar rides, entertainment, characters and food, yet there is only one Disney. Disney Parks consistently have the highest visitation numbers and guest satisfaction ratings, even though its average ticket price is higher than other parks.
The secret to the consistently "magical" guest experience that differentiates Disney from the others is a culture that prides itself on training and celebrating its people. Starting with the initial onboarding process, called Traditions, Disney's Cast Members (staff) are trained with a consistent philosophy focused on guest service excellence and values-based leadership.
How does the magic of Disney translate to park and recreation agencies? Gold Medal agencies, such as Carmel-Clay Parks and Recreation in Indiana, Chicago Park District in Illinois and Westerville Parks and Recreation in Ohio, are examples of agencies that are looking to emulate the Disney-like culture of guest service focus by embarking on multiyear customer service training and staff development processes. Starting with onboarding processes followed by ongoing training for all full-time, part-time and seasonal staff, measuring performance and iterating based on those, these agencies have realized that surviving and thriving is not about the parks, programs or place, but rather about the people.
San Diego County implemented a countywide initiative, called HEART (helpfulness, expertise, attentiveness, respect and timeliness), that's focused on providing exceptional customer service. This is embedded throughout the organization with visible signs that every employee has bought into it, and it is reinforced throughout the facility.
Moment of Zen: Build a culture that trains and values your internal customer: your staff. As they say at Disney: "Your frontline is your bottom line."
2. Use Data and Technology to Enhance the Customer Experience
As much as customer service is perceived as a feel-good soft skill, sustained excellence in customer service is as much about excellent service as it is about measuring and tracking performance and constantly improving behaviors based on that.
By merging data and technology, agencies are better able to improve the customer experience and feedback, as well as improve engagement among community members who might otherwise not be heard.
The city of Virginia Beach, Virginia, another CAPRA-Accredited, Gold Medal-winning agency, has focused on data and metrics to better understand the customer experience. The key performance indicator (KPI) that has been most tracked in all internal and external customer feedback is the net promoter score (NPS), which simply assesses customer loyalty by asking their "likelihood to recommend a program, place or facility to a friend." There seems to be a correlation between high NPS and customer retention: NPS leaders experienced an increase of 5.3 percent in retention rates compared to the others.
Data can go beyond customer experience as a tool for addressing safety and security concerns. Best-in-class agencies in Indiana, Idaho, Michigan and Florida — such as Carmel-Clay, Idaho Falls, Kalamazoo and Miami — are among a growing list of agencies using technology to monitor and respond to customers in real time. HAPPiFEET is an app that allows customers to share positive feedback or report issues at live events or programs, a facility, arena, park or trail in real time based on their GPS location.
Because it isn't financially sustainable to have park rangers and or other paid staff monitoring all parks and trails, mobile-based apps like HAPPiFEET or 311 Systems such as SeeClickFix can allow for increased eyes and ears throughout the system at no costs.
In addition, apps are increasingly becoming part of the planning process to ensure maximum user engagement. The city of Pleasant Hill, California, is the pioneer in its state, while the city of Roanoke, Virginia, which is embarking on its most ambitious master planning effort in more than 30 years, is another agency that is investing heavily in technology to improve its customers' ability to provide feedback.
"What sets an agency apart from the rest is engaging the community in the development and ongoing improvement of its park system. Knowing that not everyone can attend community meetings or simply doesn't feel comfortable in large group settings, HAPPiFEET will provide a voice to many who would have otherwise not been heard," says Michael Clark, director of parks and recreation for the city of Roanoke.
Moment of Zen: Excellent customer service is equal parts art and science. Hire for attitude and use data to shape behaviors.
3. Plan and Operate with an Equity Mindset
The communities we serve are increasingly changing and diversifying. Policy Link and the Program for Environmental and Regional Equity's research indicates that a majority of the population growth in the country between 2010 to 2040 will be driven by people of color.
As communities become culturally and ethnically diverse, park and recreation agencies become critical players for creating common ground and promoting inclusion. However, true inclusion cannot be accomplished without a sustained and systemwide effort to do so. People like to go where they see people like themselves, and if agencies wish to maximize community participation and build trust, it is important to ensure their staff and the marketing collateral reflect the community they serve.
To create a culture that celebrates inclusion and social equity, consider doing the following:
Developing a social equity task force that isn't just comprised of minorities.
Providing ongoing diversity and implicit bias trainings.
Creating safe spaces for difficult conversations.
Holding monthly meetings to solicit feedback on programs and resource allocation from a diverse group of employees.
Being intentional about hiring for diversity of backgrounds and of perspectives.
All these would help, over time, to create a culture like Los Angeles County Parks and Recreation that not only celebrates inclusion and social equity, it necessitates it.
"A social equity lens ensures that agencies manage resources with the purpose of inclusion while providing for park spaces and recreation services that meet the quality-of-life needs of people at whatever place and stage they are in life," says Mercy Santoro, deputy director for Los Angeles County Parks and Recreation and one of the project managers for leading the county's most ambitious business and strategic planning endeavor in years.
A broader philosophical approach to planning should mandate "going where people are." Ensuring bilingual or multilingual outreach across communications, organizing community meetings in parks/spaces where people frequently visit (with translators, if needed) and even building ADA-accessible and multilingual planning websites are some ways to be truly inclusive in every planning process. Agencies such as North Carolina's Mecklenburg County Parks and Recreation, Indiana's Indianapolis Parks and Recreation and California's Carlsbad Parks and Recreation are examples of agencies that have successfully integrated these elements into their park or systems planning ventures.
Moment of Zen: Promoting equity, diversity and inclusion is not optional. It's the only way forward, so plan for it.
4. Reward and Recognize
Simon Sinek, TED Talker and International Thought Leader, talks about the key ingredients of a world-class agency by stating that these agencies recognize right and reward right. Most agencies focus on telling people what's wrong and what NOT to do, while world-class agencies focus on what to do, and they recognize, incentivize and reward positive behavior.
At the end of the day, people chose to work in parks and recreation because they truly love serving their communities. Their greatest gift is seeing the difference they make in people's lives and a little recognition and reward will go a long way in ensuring they stay motivated and applauded for all they do.
Research affirms that a positive customer experience increases customer loyalty and is critical to the bottom line. Nine out of 10 customers will even pay more for a better customer experience, and research by global management consulting firm McKinsey & Co. demonstrates that 70 percent of all buying experiences are based on how customers believe they are treated. For customers of park and recreation agencies, the willingness to pay more doesn't just apply to membership sales or program fees — they will give more of their time and loyalty to advocate for agencies where they experience a positive customer experience.
Michael Klitzing, chief operating officer for Carmel-Clay Parks and Recreation, sums up the importance of customer service this way: "If we want people to choose to visit our parks and use our services, we must pay as much attention to customer service as we do to the design and construction of our parks and facilities. Exceptional customer service not only requires significant planning and investment, but also must be fully engrained within your agency's culture."
Moment of Zen: What gets measured gets done; what gets rewarded gets repeated.
Neelay Bhatt is Vice President of PROS Consulting, Inc.