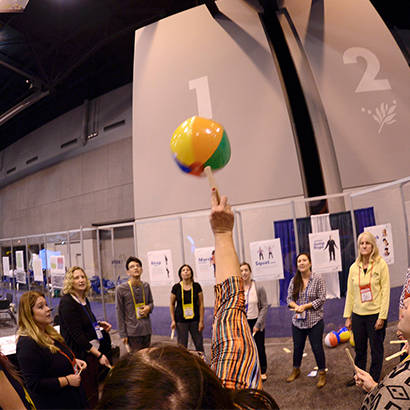 Connecting Health and Nature
Quick Physical Activity Breaks
Adopting Policy and Documenting your Health and Wellness Success
Additional Training Videos

NRPA's Commit to Health Poster
You asked and we listened! We created this poster featuring all of the HEPA standards so you can promote the great work you are doing at your park and recreation sites!
This poster can be used in a number of ways to engage your community:
As always, we love to see how you use the poster and other materials so take lots of pictures and videos and share them with us on social media using #CommittoHealth.
After You've Taken the Pledge:
Completing Your Healthy Out-of-School Time Assessment
The Healthy Out-of-School Time Assessment serves two vital purposes—it provides you with a baseline measurement of your health and wellness policies, demographics, and program offerings, and it helps you to set goals and create your action plan for implementation of the HEPA standards at your site. The assessment can be updated throughout your journey to record your successes and continue to evaluate your community's needs. After you've pledged your site make sure you complete the assessment!
Use this new website tutorial that illustrates just how easy it is to complete the assessment: Alliance Website Tutorial. You can also use this opportunity to add items to your action plan, creating a virtual to-do list with specific steps to complete for each of your Commit to Health sites.

Documenting Your Success:
Healthy Eating Snack Menus
Arlington County Department of Parks and Recreation recently produced HEPA compliant snack menus. This is a great example of a snack menu meeting the healthy eating standards and can be used as a communication tool to engage parents. We encourage you to use these menus as a model and create your own out-of-school time healthy eating menus! Share your resources with us on social media using #CommittoHealth.
Need to create your own Healthy Eating Snack Menu? Use this great new template from the Alliance for a Healthier Generation!
Program Schedules
Use this new template for guidance on what items to include in program schedule materials. Track snack time, physical activity time, program rules and policies and family engagement components.
Using State Laws & Regulations to Promote Healthy Eating and Physical Activity in Afterschool Programs
RTI International recently released a report on using state-level policy to promote the implementation of the Healthy Eating Physical Activity (HEPA) standards. The report contains expert interviews, examples of current policies, state-based case studies and recommendations for shaping policy. The full report is available here.
Physical Activity Resources
SPARK After School Program
The SPARK After School program applies the lessons learned from rigorous research and subsequent field-testing in the "real-world." SPARK After School is designed to provide children and adolescents ages 5-14 with inclusive, highly active movement opportunities that foster social and motor development while maximizing time spent in the MVPA (moderate to vigorous physical activity) and fitness pursuits. The program includes three components: research-based curriculum that provides hundreds of easy-to-teach activities; content-matched Sportime equipment that is age-appropriate and hand-selected by experts to provide physical activity opportunities; and professional development training, delivered onsite or online.
Learn more about SPARK curriculum and training here and purchase Sportime equipment here.
Marathon Kids
Think the kids in your program can run a marathon? How about four? With a Marathon Kids run club, they easily can. Marathon Kids works for any kid, at any fitness level. Kids set their goals and track their progress on a journey to complete up to four marathons, or 104.8 miles, over the course of their running club's season. They run, or walk, a lap at a time, a day at a time, and before they know it they've gone farther than they ever dreamed. The Marathon Kids program teaches kids the joy in running a distance that plenty of people think is impossible. On top of all that, your kids will learn how to fuel their bodies so they can run faster, better, longer. And for a little extra motivation, they earn fun Nike rewards at milestones along the way. Marathon Kids run clubs have a network of dedicated adults showing them how it's done, and most importantly, a motivated and inspiring Coach supporting them every step of the way. The best part? The Marathon Kids team provides your staff with all the tools, resources and training they need to become amazing Coaches. This program is easily customized, helping any recreation agency, afterschool site or summer camp achieve their goals. Join the movement today by contacting chad@marathonkids.org or by visiting marathonkids.org.
Skillastics
Skillastics® is a research-based physical activity system that combines active, academic, social, emotional, and cooperative learning with the development of fitness and or sport skill development. Skillastics aligns with the HEPA After School Standards and the Physical Education Standards. Skillastics kits can be used for grades Pre K-12 and allows for maximum participation, where children are MVPA 80% of the time, in an all-inclusive, super fun environment! Using Skillastics can also pull in parent engagement! Family Fitness Nights are made easy with Skillastics' step-by-step guide on how to host one of these events!
Learn more about Skillastics by visiting our website: www.skillastics.com. For questions, please contact Jess Wadleigh: jwadleigh@skillastics.com
Coaching Healthy Habits
NRPA is working with Healthy Kids Out Of School, an initiative of ChildObesity180 at Tufts University, to provide resources and tools for healthy youth sports. Check out some of these great resources:
Adolescent Health: Think, Act, Grow
The Office of Adolescent Health at the Department of Health and Human Services recently produced Adolescent Health: Think, Act, Grow (TAG) 2015 Playbook, a call to action to promote the health of America's 42 million adolescents. Use this resource to engage adolescents in healthier behaviors in your communities.
Access the playbook here: http://www.hhs.gov/ash/oah/tag/playbook.pdf
Healthy Eating Resources
Energy Balance 101: Enrichment Zone
FREE resources bring energy balance to clubs, camps, meetings and more. Fun and flexible, Enrichment Zone helps kids develop an active, healthy lifestyle. Learn more about the program at: http://www.togethercounts.com/at-home/enrichment-zone
Healthy Snacks and Lunchbox Challenge
The Challenge is a fun and exciting way to help summer day camp providers improve the types of foods and beverages children bring for snacks and lunch. The Challenge focuses on encouraging children and their parents to pack daily Fruits and Vegetables for snacks and lunch and Water to drink – consistent with the National Afterschool Associations Healthy Eating Standards. The Challenge offers points to groups of children, either based on grade level or staffer-to-child ratio, for bringing a Fruit, Vegetable, or Water to the camp. Points are tallied each Monday through Thursday, with the winner announced on Friday. Groups with the most points receive an award designated by the summer camp. Examples of awards are: the Golden Lunchbox (lunch pail painted gold), extra swim time, holding the spirit stick, and t-shirts.
Please send success stories and questions to healthylunchboxchallenge@gmail.com.
Media-Smart Youth: Eat, Think, and Be Active!®
Media-Smart Youth is an interactive program that helps young people ages 11 to 13 better understand the complex media world around them and how it can influence their health. Developed by the National Institutes of Health (NIH), the free Media-Smart Youth curriculum includes 10 lessons that combine media literacy and youth development principles with federal recommendations about nutrition and physical activity. Local parks and recreation agencies may be interested in implementing Media-Smart Youth to supplement existing out-of-school programming or in partnership with local schools or youth-serving organizations. The NIH offers free program materials and technical assistance to help sites successfully implement the program. Learn more about the program at: www.nichd.nih.gov/msy.
Please send questions and success stories to MediaSmartYouth@mail.nih.gov, or call 1-800-370-2943.
Reducing Screen Time Resources
4.19.18
Around the Country
4.19.18
Around the Country