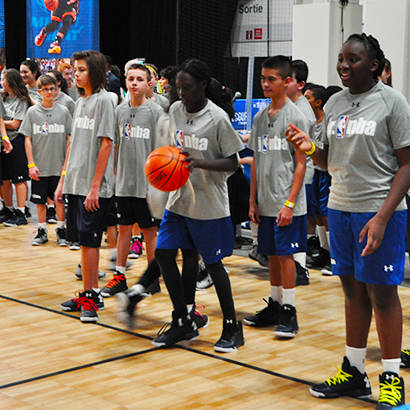 NRPA partners with innovative organizations that advance and support positive change in communities through parks and recreation. When you partner with NRPA, you will work with a respected non-profit organization that has expansive reach into nearly every community across America.
Promotional Partnership Opportunities
NRPA is pleased to discuss promotional opportunities and collaborations with your organization that will enrich communities through local parks and recreation centers.
NRPA is dedicated to advancing parks, recreation and environmental conservation efforts that enhance the quality of life for all people. This is our mission and what guides our every decision.
Through our network of parks in nearly every community*, NRPA represents parks and recreation nationwide and supports the thousands of local agencies and organizations who build and manage these important public places. NRPA's mission is guided by three areas of focus in our work with local communities - health and wellness, environmental conservation, and social equity.
NRPA is dedicated to educating professionals and the public on the essential nature of parks and recreation. Through individual certification, organizational accreditation, research, grants and partnerships, and a wide range of learning opportunities, NRPA provides park and recreation professionals with the resources necessary to meet the needs of communities large and small.
* There are more than 105,000 local parks in the United States. These parks range from small neighborhood parks and playgrounds to regional recreation complexes and golf courses to protected nature preserves to state parks. The wide variety of park sites and recreation programs enables NRPA to offer exciting partnership opportunities.
Current Partners
The Jr. NBA presented by Under Armour is the league's youth basketball participation program for boys and girls ages 6-14 that teaches the fundamentals and values of the game at the grassroots level to help grow and improve the youth basketball experience for all. Registration is free.
Through our partnership there are grants offered to local park and recreation sites through the NFL PLAY 60 After-School Kickoff grant to support ALL after-school physical activity programs.
Major League Baseball is offering two national youth grassroots initiatives — MLB Pitch Hit & Run (PHR) and MLB Jr. Home Run Derby (Jr. HRD) and both are FREE of charge to the hosting organization and participants. Boys and girls ages 7-14 have the opportunity to showcase their baseball and softball skills and advance all the way to the National Finals during MLB All-Star Week.
We've partnered Soccer 5 with the development of small sided soccer in parks, enabling more children and adults to GET IN THE GAME! Learn more.
The USTA's Tennis In The Parks initiative provides ideas and resources to grow tennis programming in public parks across the nation, as well as helping public parks create programs that are affordable and self-sustaining. Tennis In The Parks (TIP) and associated program resources are free to eligible agencies that are committed to growing and improving tennis programs in the community.
NRPA has joined forces with Open Road Films and The Nut Job 2 to promote the importance of protecting parks for the release of The Nut Job 2: Nutty by Nature coming to theaters nationwide on August 11.
National Park Trust has partnered with NRPA to make it easy to invite your federal elected officials to your Kids to Park Day event. Use this interactive toolkit to get started.
American Hiking Society has partnered with NRPA to help you reach out and invite your federal elected officials to your National Trails Day event. Use this interactive toolkit to get started.
Contact Gina Mullins-Cohen for more information at 703-858-2184.