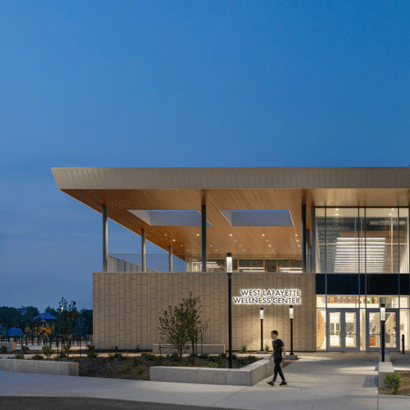 The June issue of Parks & Recreation magazine is out now, and on today's bonus episode of the podcast, we're diving deeper into one of this month's feature stories titled, "Making Wellness More Inclusive."
The story highlights a new inclusive wellness center that is part of the parks and recreation department in West Lafayette, Indiana, and today I'm joined by two individuals who were critical to its design.
Today's guests are Brent Ross, the Sports, Recreation and Entertainment Practice Leader for Perkins&Will, and Dylan Fischer, a project architect and associate with Perkins&Will, which is a global design practice with a goal of designing places that make a positive difference in the world.
Tune in to learn more about how inclusion was at the forefront when considering the design of this space, as well as what excites Brent and Dylan about this project. You'll also learn:
What to consider when planning for inclusive spaces and facilities
Why community engagement was important for this project, especially getting input from community members who have been under-represented in community outreach efforts
How inclusive locker rooms and restrooms are ensuring the privacy and safety of all individuals who use them
How concerns about certain inclusive features were addressed from an educational standpoint
What lessons were learned and key takeaways for park and recreation professionals seeking to create more inclusive spaces, and much more!
Related Links:
Listen to the episode for the full story.
This episode of Open Space Radio is sponsored by Issuu — the ideal solution to bring your park and recreation program guides to life! Issuu works seamlessly with digital tools you already use, like Canva, Dropbox or InDesign, and allows you to easily create a flipbook with interactive elements and embed it on your park and rec agency's website or share via email and social media. You'll also save on printing costs – some park and rec agencies have saved over $50,000 per year by taking their program guides digital with Issuu! Get started today and get 30% off annual plans – visit www.issuu.com/go/parks. The promo code is already applied!