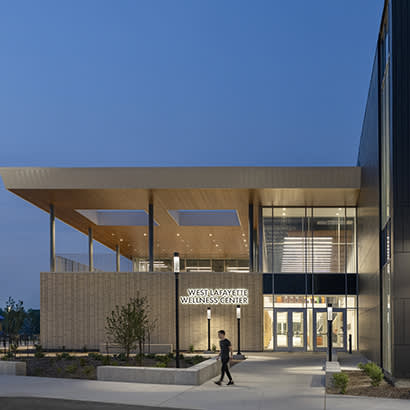 For an enhanced digital experience, read this story in the ezine.
An Indiana community and recreation center embraces equitable design
The West Lafayette Wellness Center in Indiana, a community facility more than five years in the making, opened in 2021 to fulfill longstanding needs in the city. With gymnasiums, a fitness center, multipurpose spaces and meeting rooms, a hybrid activity pool, and a child-watch area, the Wellness Center expands upon existing parks department program offerings. While the facility has all the necessary components of a modern recreation center, its true success lies within the intentional outreach, planning and design around inclusivity and equitability.
In 2016, as the West Lafayette Parks and Recreation department began planning a new community and recreation center, it sought input from community members, park and recreation facility users, and accessibility advocates to gather feedback on community needs and preferences for the department's first indoor recreation space. Special effort was made to obtain input from groups that are typically underrepresented in community outreach efforts — teens, over-obligated parents, cultural and social minorities, and users with special needs. For years, an inclusive wellness center had been a priority for the city — and this was clearly expressed in community feedback seeking a facility welcoming to all. "We wanted to provide each member of the community [with] the feeling of belonging and broaden the programming the parks and recreation department provides," says Kevin Noe, director of the new West Lafayette Wellness Center.
The intentional and consistent outreach by the parks and recreation department and their consultant teams has led to a new highly utilized community facility. The Wellness Center has succeeded in bringing the community together and fulfilling those well-known needs.
Non-binary Facilities
As architecture firm Perkins&Will conducted a feasibility study in 2017, the design team was determined that the prospective project meet both the financial goals for City of West Lafayette and the needs within the community. Fast forward to 2018, when West Lafayette was ready to get the design of the facility underway, the city had just passed a resolution allowing people to use the restroom facility of the gender that they identified with within public facilities. This prompted a study of current binary restroom design and how it functioned in today's society. The design team at Perkins&Will studied other projects and research in the area of non-binary facilities. "Stalled!," a study that explored design possibilities for inclusive restroom design, was a source of inspiration. Some of Perkins&Will's earlier projects in Canada with combined change and locker areas for aquatics facilities served as a valuable resource for technical details and execution.
Conventional multi-fixture restrooms and locker rooms present barriers for many groups. For example, when children reach a certain age, parents struggle with letting their child go into a bathroom alone. Other barriers include: aging seniors who avoid leaving their home due to privacy issues; when parents of special needs children or special needs adults don't have community places and spaces that can also accommodate them; and people of all ages who struggle with body confidence issues.
Perkins&Will's research uncovered the true benefit of non-binary facilities with enhanced privacy: the ability to address all of these concerns. A revised restroom design has the ability to meet the mission of inclusivity for City of West Lafayette and to meet the needs of the community. One question remained: how would the public react to a new restroom and locker room convention? A space that patrons have been accustomed to that handles some of their most private activities suddenly looking and functioning differently had some educational challenges to overcome.
Overcoming Challenges
The design changed to address concerns around privacy and security. A key concern is the typical locker area in which people have differing expectations for privacy and behavior leading to discomfort and stress. For the design team, the importance of delineating between private and public space was the main challenge — providing clear sightlines through the locker and lavatory areas assists users in understanding which "zone" they are in. Visual connections and ease of movement are central to safety and security in the inclusive locker rooms and restrooms. In 2019, this design exploration was all on paper, but not everyone was convinced. However, the city was confident that the facility design that emerged would offer increased benefit for the community.
In the completed design, handwashing stations and locker areas are clearly visible through glass partitions and open connections to the gym and aquatics center. Security is paramount: signage clearly marks zones for changing rooms and showers; toilets have full-length doors instead of stall doors. "It is important to remember that privacy is at the core of every conversation about inclusive locker room and restroom facilities: the desire to use facilities that are easier and safer for users — regardless of their ability, gender, age or family status — stems from our basic human need to belong," says Lindsey Peckinpaugh, design team member and principal and managing director of the Chicago studio. Parks and Recreation Superintendent Kathryn Lozano adds, "The inclusive locker rooms ensure privacy for every individual and safety for all."
The center's inclusive restrooms and locker rooms are designed to be used by all members and visitors and are the first of their kind in the state. When the Wellness Center opened to the public, there was a period of adjustment for users. The park and recreation department continues to provide orientations, and answers questions regarding the design and use of the facilities.
"The biggest obstacle to overcome was educating the public on the inclusive model used in the restroom and shower facilities," says Noe. "Once people begin to understand the model and the benefits, more and more individuals [will] embrace the design."
Adapting to the facility flow and operation was challenging for some, but the non-binary restroom facilities won over community members and continues to be broadly supported. Operationally, the layout makes it far easier to clean and change single rooms at a time without disturbing guests using the private areas of the facilities. "This feature became very important during the [coronavirus] (COVID-19) pandemic," says Lozano. Initial community surveys post-occupancy found strong support for the inclusive restrooms and lockers, citing ease of use, clearly-marked signage and security measures, and, more broadly, as one community member notes, "a symbol of appreciation for all." According to another community member: "By changing the way that the bathroom facilities are addressed, it doesn't feel like a special effort was made to include or exclude anyone. Instead, the way everyone utilizes the space leaves no reason for gender to be a factor."
Inclusive Amenities
Designing around inclusivity didn't start and stop at the locker room and restroom facilities. Principles of Universal Design — the practice of creating environments that can be experienced in the same way by the greatest number of people possible, regardless of ability or background — were employed throughout the facility. These measures include clear wayfinding, an indoor child-watch area, enhanced accessibility, and wider doors for sport wheelchairs. The pool provides multiple accessible entry points to accommodate different users' preferences: a chair lift, steps and railing, and zero-depth entry. Ramps connect different depth areas of the pool as well. These small differences allow community members with different abilities the opportunity to use and experience the facility in the same manner leading to less stress and increased overall well-being.
Sweeping views from one end of the building to another, direct access to outdoor patios and terraces, and multipurpose community and fitness spaces designed for flexibility — from youth camps to senior fitness classes and social events — all are designed to encourage participation and community engagement. Improving wellness in many communities is about improving awareness and access. Making users feel welcome and comfortable at parks and facilities is critical to park and recreation departments' missions everywhere.
Key Takeaways
A key lesson from the community planning and design of the West Lafayette Wellness Center is the role such centers can play in bringing people from a wider spectrum of life together, promoting social cohesion and resilience within our communities — an especially important aspect now given the lessons learned from the COVID-19 pandemic. After a prolonged time of social isolation, we understand just how important these spaces are and how especially important they are to sensitive groups within our communities.
"This is an all-encompassing wellness and recreation center that is instantly welcoming, bright and open, and unique to this community," says Noe.
In fact, park districts and park departments from Indiana and neighboring states continue to tour the facility to see the building in action. Others also are choosing to explore inclusive designs for their restroom and locker facilities, as is the Park District of Oak Park's Community Recreation Center, which is currently under construction. "It's our belief that we are on the cutting edge of a process that will quickly become the norm of public facility design going forward," says Noe. "Inclusion is an issue that affects everyone and covers a variety of different individuals. By building an inclusive facility, City of West Lafayette shows that it cares about its citizens and takes into account the privacy of members and guests."
To hear Brent Ross and Dylan Fischer speak more about the West Lafayette Wellness Center, tune in to the June bonus episode of Open Space Radio.
Brent Ross is Recreation and Entertainment Practice Leader at Perkins&Will. Dylan Fischer is Project Architect at Perkins&Will.