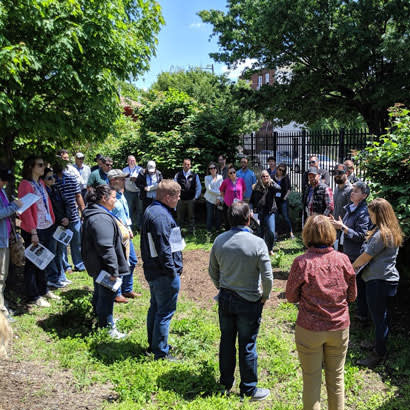 Determining how to implement and maintain a green infrastructure project in your park may seem a little daunting, but with the right network, resources and education, anything is possible. With that in mind, we are pleased to once again offer training scholarships for park and recreation professionals to participate in the second NRPA National Green Infrastructure Certification Program (NGICP) training, which provides the base-level skill set needed to properly construct, inspect and maintain green infrastructure in parks.
The upcoming training will take place in Atlanta, Georgia, May 11-14, 2020, in partnership with the City of Atlanta Department of Parks and Recreation and its nonprofit community organization, Park Pride.
In May 2019, we hosted the pilot green infrastructure certification training — in partnership with the Water Environment Federation (WEF) and Philadelphia Parks & Recreation — as part of NRPA's Great Urban Parks Campaign (GUPC), and the bar was set pretty high.
At the end of the pilot training session in Philadelphia, the 27 park professionals in attendance took the National Green Infrastructure Certification Program (NGICP) exam, and we are thrilled to announce every participant passed the exam! They are now among the first park professionals, as well as among the first 500 individuals in the country overall, to receive NGICP certification.
You can read more about the participants' experiences from the pilot training session in this article from Parks & Recreation magazine.
The goal of this training is to ensure park professionals have the proper skills and knowledge to construct, inspect and maintain high-quality green infrastructure in parks, in order to address community flooding issues and build climate resilience. Trainees have the opportunity to learn about different types of green infrastructure and see green infrastructure projects already in place. The training also provides a chance to network and exchange perspectives with other park professionals around the country who are interested in implementing green infrastructure.
We are accepting applications for the upcoming training until Friday, December 13, 2019, at 11:59 p.m. EST, and we will award 25 applicants with scholarships to attend the training and take the certification exam in Atlanta.
To learn more about how NRPA is helping communities across the nation implement not only new green infrastructure projects, but also evaluate the impact of these projects in new and practical ways, check out the Green Infrastructure Evaluation Framework and join our upcoming webinar that will walk you through how to use the framework!
We hope to see you in Atlanta in May!
Cort Jones is NRPA's Communications Manager.