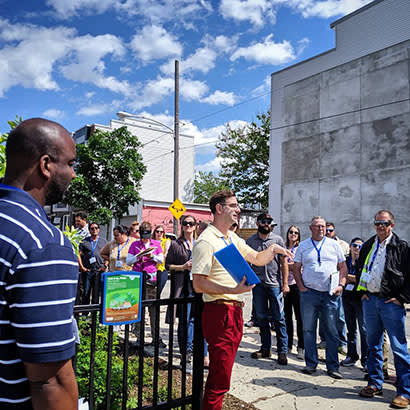 In May, 27 park professionals gathered in Philadelphia to make history. They'd been selected by NRPA to receive scholarships for green infrastructure training, which took place May 14–15 and, on May 16, they took the National Green Infrastructure Certification Program (NGICP) exam. Those who pass the exam will be some of the first park professionals, as well as among the first 500 individuals overall, to receive NGICP certification.
NRPA, as part of its Great Urban Parks Campaign (GUPC), hosted this training session in partnership with the Water Environment Federation (WEF) and Philadelphia Parks & Recreation. GUPC launched in 2015, with the primary purpose of improving environmental and social outcomes in underserved communities through promoting and advancing green stormwater infrastructure projects with parks, and developing resources and training for park, planning and other professionals to improve equity through green infrastructure.
"As a leader in conservation, our goal is to ensure park professionals everywhere have the proper skills and knowledge to construct, inspect and maintain high-quality green infrastructure in parks in order to address community flooding issues and build climate resilience," says Kellie May, NRPA vice president of programs.
NGICP, a national-level certification program initiated by WEF and DC Water, equips those working in the field with the knowledge to properly build, inspect and maintain green stormwater infrastructure in the United States. Incorporating green infrastructure in parks can help improve the environment, while also engaging and educating members of the community.
"The idea behind green infrastructure is that we mimic or restore the natural hydrological balance," explains Dwane Jones, NGICP trainer. More people live in urban environments now than in the past, which makes restoring natural methods for handling stormwater increasingly important. "As more people move into these spaces, green infrastructure has a future position that will continue to grow and expand," he adds.
At the event, Jones reviewed the extensive NGICP training materials. He discussed the elements of different types of green infrastructure, from bioswales and rain gardens to green roofs and permeable pavement to cisterns and dry wells, as well as the strategies for safe construction and successful operation of all these systems. He stressed the importance of maintaining the projects after construction.
"You will hear me refer to these as assets because it's an investment," Jones says. "These are investments because we spend money [on them]." Installing these investments without developing and following through on a maintenance plan results in the assets not lasting as long or being as effective as they should, he points out.
The reinforcement of this idea stuck with trainee Matthew Wallace, property management specialist and park planner for Guilford County, North Carolina. He has seen a lack of follow-through on maintenance for installations. "I love having other examples in other cities to point to and say, 'the onus has to be for maintenance on the front-end,'" he says.
Many of the trainees did not have much experience with the topic, and some had never seen these green infrastructure elements in person before. "I'm new to green infrastructure, so I had to do a lot of learning before I got here," says Heidi Shegrud, landscape architect for Herriman City, Utah. She enjoyed the interactive nature of the NGICP learning materials, which include quizzes for each section or module. "I appreciate this opportunity. It was really amazing to be a part of this," she says.
Philadelphia is considered a "green infrastructure pioneer" for the way it is using a comprehensive, nature-based approach to manage stormwater and leveraging parks and open space to meet federal water-quality mandates. The trainees were given a chance to see the city's practices in person with a half-day tour of four different sites throughout Philadelphia. At each stop, they learned about the green infrastructure elements and the maintenance plans in place from local Philadelphia Parks & Recreation employees, as well as from members of the community.
"I really enjoyed the site visits," says David Mayer, operations director for the Bismarck (North Dakota) Parks and Recreation District. "I think they're great applications." This opportunity allowed the participants to see the real-world application of NGICP concepts.
Jeff Ahlers, natural resource and sustainable practice specialist with the city of Dubuque (Mississippi), was inspired by the city's strategies to involve members of the community in the maintenance of green infrastructure sites. "The outreach with the citizens is amazing," he says.
The event also provided trainees with the opportunity to network with other park professionals who are interested in green infrastructure. "I gained a lot of knowledge," says Nick Makris, project supervisor for the city of Tarpon Springs, Florida, who appreciated "getting everyone's perspective of the unique challenges that each of us face in our cities, our municipalities, our different regions."
"My favorite part was getting to chat with everyone and build a green infrastructure network across the country," says Rachel Ware, park planner for the Oklahoma City Parks and Recreation Department. As one of the few proponents of green infrastructure in her region, Ware notes the importance of the network of contacts she now has and the case studies of green infrastructure in other locations. "[It] holds a lot of weight when I talk about it to the administration that manages our park system," she adds.
Jennifer Fulcher is NRPA's Communications Manager.