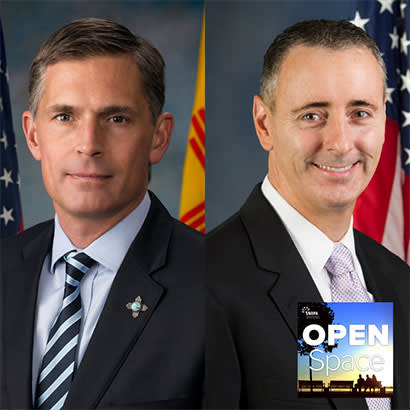 On our previous episode of Open Space Radio — which was part one of our Great American Outdoors Act coverage — we spoke with Happy Haynes, the executive director of Denver Parks and Recreation, about what the passage of the Great American Outdoors Act meant for access to quality parks and recreation opportunities in her city and the country as a whole. For part two of our coverage, on today's episode we're speaking with two members of Congress who played integral roles in getting this historic piece of legislation passed and subsequently signed into law last month.
Today we're talking with Senator Martin Heinrich of New Mexico, who coauthored the Great American Outdoors Act and was part of a bipartisan group of senators who introduced it in March of this year, as well as Representative Brian Fitzpatrick of Pennsylvania, who also played a major role in the passage of this legislation. As you'll hear from them in this episode, getting such strong bipartisan support in Congress on any type of legislation is a challenge, especially a once-in-a-generation conversation package like the Great American Outdoors Act. But, because of the advocacy and outreach from people like you — our listeners and NRPA members — the Great American Outdoors Act had support from both sides of the political aisle and is now officially law.
This landmark legislation also fully funds the Land and Water Conservation Fund, which is the most important source of federal funding for park and recreation projects.
Tune in to the full episode below to learn:
What local parks Senator Heinrich and Representative Fitzpatrick visit to get away from the stresses of Washington, D.C., and their favorite parks when they're home in New Mexico and Pennsylvania, respectfully.
Why the Great American Outdoors Act is so important to each of them personally, as well as what it means for the entire country.
How the Great American Outdoors Act will benefit out local parks and ensure everyone has access to public spaces.
What's next to make sure all people have access to public parks and recreation, and more!
Listen to the episode for the full story.