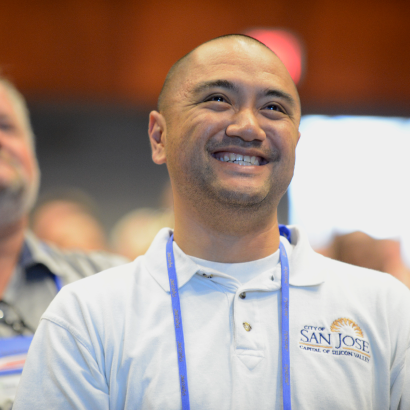 So there I was, dancing the "Wobble" with hundreds of other colleagues, in the middle of a St. Louis city park, with headphones on as part of the closing 'silent event' session of the 2016 NRPA Annual Conference. I couldn't help but think to myself, "I'm getting paid to do this. I'm getting paid to have FUN?!" But that's reality — the work that we do as park and recreation professionals — we get paid for "Building Community Through Fun."
"Building Community Through Fun" is the major tagline of the City of San José's Department of Parks, Recreation and Neighborhood Services Department and it is part of the culture. As park and recreation professionals, it is our mission to build healthy communities; we thrive in creating those places and spaces for people to live, work and play.
I attend the NRPA Annual Conference to research the latest and greatest programs and products in the field. I learn about the best and next practices that I might be able to take back with me to introduce and maybe implement within my organization. While I sometimes leave sessions telling myself "but we're already doing that," often there are other sessions where at the conclusion, I leave wondering to myself, "why aren't we already doing that?"
Now don't get me wrong, I remain very appreciative and interested in all the "technical-ness" that comes with the conference and learning about NRPA's three pillars — conservation, health and wellness, and social equity; the educational sessions are top-notch. But I'm a Park and Rec Kid (see what I did there). I like to play and am always looking for opportunities to have fun! It's the in-betweens — the social and networking events and the teambuilding opportunities — that I personally enjoy the most at conference. To me, these types of activities and events are what truly build community — it's a domino-effect.
Attending the conference with colleagues builds cohesiveness, increases communication and promotes engagement with and learning more about one another. As a result, we're even more excited to share our energy and all that we've learned from the conference with others when we get back to work to start creating our "new normal."
So what are you waiting for? I highly encourage those of you who have yet to attend an NRPA Annual Conference to really consider it for the future. I stop short by saying that it is a life-changing event. But I will say that it is a win-win on both an individual and organizational level. The investment put forth by your attendance at the conference goes towards your personal growth and professional development; while potentially bringing back new and innovative ways of thinking that can take your organization to that next level. So go ahead and attend those opening and closing sessions, the education sessions, the expo, and the extracurricular activities…just remember: have FUN!
Editor's Note: The best rates for the NRPA Annual Conference in New Orleans this September 26-28 end August 1. Register now to get the best deal and have your seat reserved for the best and biggest event in parks and recreation.
Alvin A. Galang, MPH is the Senior Training and Development Analyst for the City of San José Department of Parks, Recreation and Neighborhood Services Department.