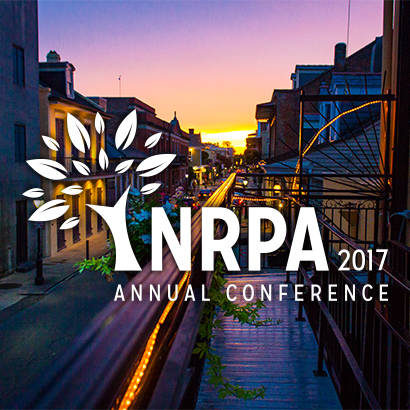 The 2017 NRPA Annual Conference is not coming to New Orleans by coincidence. This event actually has a lot in common with The Big Easy. For one, it's BIG! The event is comprised of more than 7,000 total attendees, nearly 500 exhibitors, more than 500 expert speakers and nearly 300 education sessions. It's also easy in a lot of different ways. It's easy to make connections with all the networking opportunities. It's easy to be inspired by the high-caliber speakers. And, sometimes, it's easy to get lost in the exhibit hall with such amazing displays to distract you.
Whether you are a repeat NRPA Annual Conference attendee or a newbie, you probably want to know a little more about the event before (or after) you register. Here is a preview to help you plan:
Who Should Attend?
The conference has traditionally been geared mostly towards park and recreation professionals, but each year we widen the focus of the education and exhibit hall offerings to meet the needs of other related professions – including landscape architecture, aquatics, fitness, city planning, property and facility management, park advocacy, environmental education, civil engineering, sustainability and more.
Expertly Planned Education
The NRPA Conference Program Committee spends hundreds of hours crafting the agenda and selecting speakers to ensure high value, quality content. They make certain the sessions cover a variety of topics and have applicable takeaways. We want you to be able to apply what you learn back at your office with great success!
Grow Your Network
With more than 7,000 professionals in attendance, the NRPA Annual Conference is the best event to meet new people, reconnect with colleagues and learn from the best in the business. This year, there are so many great opportunities to network and unwind with your colleagues. The Exhibit Hall Happy Hour is a great way to cap off a full day of sessions and network with exhibitors and attendees. The NRPA Opening Reception is always the go-to event of the conference with live music, great local food, dancing and a great opportunity to unwind.
Can't Miss Keynote: Dr. Matt Iseman
To say Dr. Matt is a jack of many trades is a slight understatement. He's the host of American Ninja Warrior, the new Celebrity Apprentice, a physician, comedian, actor and former Princeton baseball pitcher. Too add to that list, he is also this year's NRPA Annual Conference keynote speaker. Join us for Dr. Matt's inspiring keynote presentation that is guaranteed to remind you of the important role parks and recreation plays in shaping the lives of all people, of all ethnicities, ages and abilities.
Education Tracks to Fit all of Your Needs
You will have your choice of hundreds of education sessions that cover a variety of topics including leadership and management, public relations, marketing, recreation programming, revenue/customer service and much more. New this year, the Aquatics education track is debuting to meet the needs of the hundreds of aquatics professionals who attend each year. Earn CEUs to maintain your certification or reach other professional development goals when you attend most education sessions.
An Exhibit Hall Like None Other
You need to try it before you buy it, right? Test out amazing cutting edge playground equipment and other products from some of the top brands in the exhibit hall. With more than 400 exhibitors, the exhibit hall is filled with the latest and greatest products and services from top brands. If you get all the squares on the Expodition Game card stamped and turned in you could also win cool prizes. And, new this year, one large cash prize will be given away.
Parks Build Community
Each year, NRPA conducts a complete park makeover in partnership with park equipment manufacturers and community organizations within the city hosting the NRPA Annual Conference. The 2017 Parks Build Community project in New Orleans will feature another lot-to-park transformation by reimagining Lafitte Greenway, a designated parkway in the Crescent City that will connect underserved communities to sports fields, playgrounds, water features and numerous family gathering spots.
Pre-Conference Workshops and Off-Site Institutes
Come early for the Pre-Conference Workshops providing hands-on practical instruction and in-depth information. These include marketing and communication training, CPSI certification, CPRP certification, AFO certification, grant writing instruction and more. The Off-Site Institutes, hosted by the New Orleans Local Host Committee, will give you a chance to explore New Orleans including swamp tours, walking workshops, a Hurricane Katrina recovery journey, a look into the history of New Orleans and more.
Get the Biggest Bang for Your Buck
There are many ways to make it to the conference in an affordable way. Save up to $250 by registering before the Early Bird deadline of August 1. NRPA Premier Member Agencies, who purchase four full package registrations, get the fifth registration for FREE! Non-members receive one year of NRPA membership with registration and many great benefits, even beyond the conference. Become a Conference Volunteer and you will receive a discounted registration, or you may be able to attend for free.
Two Words… New. Orleans.
Parks and recreation brings people together from all walks of life, just as New Orleans is a city known for embracing its cultural diversity. That's why New Orleans is the perfect location for the 2017 NRPA Annual Conference. There is so much more to New Orleans than Bourbon Street. Come for the conference and explore the city.
The 2017 NRPA Annual Conference is coming to New Orleans September 26-28 and we hope you will be part of the experience. Come to New Orleans. Come be inspired.
To learn more and to register, visit the NRPA Annual Conference website here.