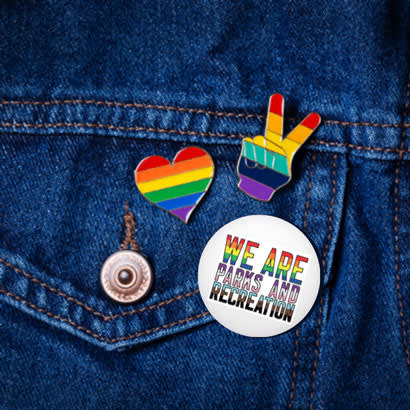 According to the Human Rights Campaign, 2021 has officially surpassed 2015 as the worst year for LGBTQIA+ rights in state legislatures. In 2015, 15 anti-LGBTQIA+ bills were enacted into law, and this year 250 bills are under consideration in state legislatures across the country, with 18 being enacted as of May 2021. Tennessee is one of these states. This includes laws banning transgender youth from participating in sports in alignment with their gender identity.
As we center equity and ensure parks and recreation for all, it is NRPA's position that no one is excluded or required to face additional rules or scrutiny to fully participate in park and recreation spaces, programs and services. 
This year at the 2021 NRPA Annual Conference, in support of our families, friends and colleagues, here are a few actions you can take:
Introduce yourself using your pronouns as you network.
Post a photo on social media with your LGBTQIA+ pride swag from conference (be sure to tag NRPA and use #NRPAConference2021 and #ParksForInclusion).
Contact Governor Lee today at 615.741.2001 or email him and let him know your views on discriminatory laws targeted at the trans community.
Also, be sure to read NRPA's statement on the recent passage of anti-LGBTQIA+ legislation in Tennessee and our decision to not hold future conferences and events in Tennessee with discriminatory legislation in place.
Autumn Saxton-Ross, Ph.D., (she/her) is NRPA's Vice President of Education and Chief Equity Officer.