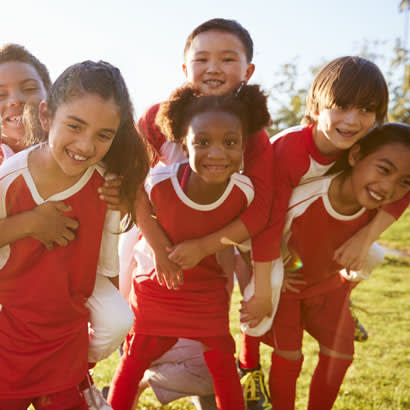 As bills aimed at preventing transgender youth — particularly transgender girls — from participating in girls' sports continue to appear in state legislatures, we know park and recreation professionals are hungry for resources to build more inclusive youth sports environments that ensure all can fairly and fully participate. NRPA is currently working alongside national leaders in youth sports to create resources to support inclusion, but in the interim, wanted to share best practices, resources and learning opportunities as it relates to transgender inclusion in youth sports.
It is NRPA's position that embodying inclusion demands no one is excluded or required to face additional rules or scrutiny to fully participate in park and recreation spaces, programs and services. It is a human right to be recognized as the gender with which you identify. Therefore, transgender youth who desire to participate in recreational sports in the gender with which they identify should 1) be allowed to fully participate without facing fear, discrimination, bullying or other consequences and 2) not be subject to additional requirements not demanded of cisgender youth participating in recreational sports programs.
Of special note is that the majority of transgender sports inclusion policy resources currently available center on guidance for competitive or high-performance athletic programs (high school, collegiate and professional sports). These examples may recommend requirements like documentation from physicians or therapists, disclosure of personal health information (transgender identity or hormone therapy) to athletic departments, etc. While these policies provide an avenue for transgender participation in competitive sports, these policies create additional barriers for transgender athletes and are not appropriate within recreational youth sports programs, which are centered on physical activity, skill training and positive youth development.
Best Practices and Resources to Support Transgender Inclusion in Youth Sports
While not a complete list, NRPA has included several best practices and resources below to support the creation of inclusion policies — and inclusive environments — for recreational youth sports programs.
Individuals participating in developmental and recreational sports should be able to participate in the gender group with which they identify and not be subject to disclosure of personal information beyond those required of cisgender athletes. Further, individuals participating in developmental and recreational sports should not be required to provide proof of their gender. See policy recommendations for recreational sport in Creating Inclusive Environments for Trans Participants in Canadian Sport.

Sports programs should foster positive verbal/emotional environments. Examples of this include: explicitly stating your commitment to inclusion in formal policies; using inclusive language and imagery representing a variety of gender expressions in registration, promotional materials and on your website; and providing learning opportunities for staff, volunteers and participants to understand and support diverse gender identities.

Sports programs should foster positive physical environments, including providing safe access to bathrooms/locker rooms and ensuring uniforms and/or dress code requirements respect all forms of gender identity.

Implement best practices from Be a CHAMPION for LGBTQ+ Inclusion from the Human Rights Campaign to build a culture of allyship in your community.

Share best practices for inclusion with coaches and athletes. A comprehensive list can be found in Creating Inclusive Environments for Trans Participants in Canadian Sport.
Additional Learning Opportunities
Allison Colman (she/her) is NRPA's Director of Health.
Teresa Morrissey (she/her) is an NRPA Program Manager.
Autumn Saxton-Ross (she/her) is NRPA's Vice President of Education and Chief Equity Officer.
Tiff Cunin (they/them) is an NRPA Program Manager.