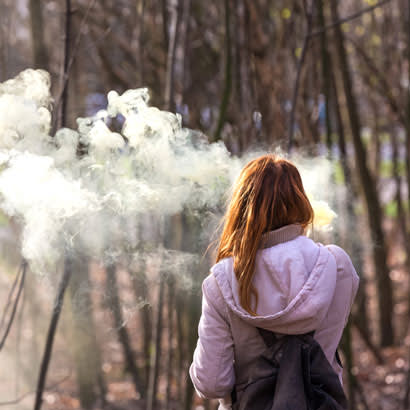 As NRPA explores the role of parks and recreation in the opioid crisis, we must recognize and address the reality that other substances are being used on park grounds and/or around facilities, as well. Through various site visits and focus groups conducted by NRPA, it is clear that electronic cigarettes (also known as e-cigarettes or vapes) and marijuana also impact park users and park safety. The increasing popularity of e-cigarettes, combined with continued marijuana legalization and decriminalization in many states across the country, raises a host of concerns regarding parks and their users, staff, community members, and related policies and laws.
In light of the COVID-19 pandemic, park and recreation professionals are likely experiencing an increase in park use. As a result, substance use in parks may be on the rise. Now may be a good time to review your existing policies and consider making updates accordingly. For example, do you have correct signage throughout your parks indicating where smoking is prohibited? What actions do you take if park users are not obeying your "no smoking" policies? How do you respond to cigarette use versus vape use? You may want to consider current policies and ordinances that are being impacted now and how they may need to be altered during this unprecedented time where park use is proving to be higher than usual.
Electronic Cigarettes/Vaping
Electronic cigarettes come in many shapes and sizes and can look like cigarettes, cigars and pipes, or resemble pens, USB sticks or flash drives, and other everyday items. This makes it harder for staff to spot if someone is in possession of an e-cigarette. Additionally, e-cigs can be used to deliver other drugs and inhalants.
While e-cigarettes are fairly new, and long-term health effects are still being studied, the known use of these devices and their impact include the following:
Nicotine is highly addictive
Nicotine can harm adolescent and young adult brain development, which continues into the early to mid-20s
Nicotine is a health danger for pregnant women, as it is toxic to both the mother and developing fetus
The aerosol can contain harmful substances, including cancer-causing chemicals and tiny particles that reach deep into the lungs
Defective e-cigarette batteries have caused fires and explosions, some of which have resulted in serious injuries
Acute nicotine exposure can be toxic — children and adults have been poisoned by swallowing, breathing, or absorbing e-cigarette liquid through their skin or eyes
In 2019, more than five million U.S middle and high school students reported using e-cigarettes within the past 30 days. This includes 10.5 percent of middle schoolers and 27.5 percent of high school students. Youth are now more likely than adults to use e-cigs, with these devices being the most commonly used tobacco product among youth nationwide. With parks and recreation providing spaces for youth to participate in before/after school and extracurricular activities, agencies are no doubt confronted with substance use day in and day out.
Marijuana
After alcohol, marijuana is the most commonly used psychotropic drug in the United States. While the Monitoring the Future survey reveals that rates of the past year's marijuana use have remained steady, the number of youth in eighth and 10th grades reporting daily use has increased. Combined with the popularity of e-cigarette devices, teens are also reporting vaping THC (the active ingredient in marijuana). In fact, roughly 4 percent of 12th graders admit to vaping THC daily. Additionally, perceptions related to marijuana use are shifting. The number of youth who believe daily marijuana use is risky is, unfortunately, decreasing. These perceptions are most likely being impacted by the expanse of marijuana legalization for medicinal and/or recreational purposes.
According to an article published by the Pew Research Center, currently, 11 states and the District of Columbia have legalized small amounts of marijuana for recreational use; approximately 33 states allow some form of medicinal marijuana. Several states have also decriminalized marijuana possession and use – reducing penalties and even expunging past convictions. As legalization and decriminalization continue to grow, existing marijuana policies become unclear. This holds true for parks on the local, state and national levels.
The Problem/Impact on Parks
With both vaping and marijuana use increasing substantially over the past few years, park and recreation professionals are challenged with addressing their use on and around park grounds. Areas and facilities that traditionally have "no smoking" or "no tobacco" policies may face noncompliance and/or encounter pushback from the community as local and state laws continue to change. E-cigarettes are also tricky, as some do not believe vaping to have the same negative effects as traditional tobacco use. Along with use on park grounds, staff may also struggle with finding various drug paraphernalia, including vape cartridges and liquids, joints, pipes, papers, lighters, etc. Not only are these items hazardous to the environment, but also dangerous to those that come into contact with them.
The proximity of vape shops and medical marijuana dispensaries also poses a threat to parks. In August 2019, Grand Rapids, Michigan, encountered this very situation. It was proposed that six marijuana facilities would be built within 1,000 feet of four city-owned parks. Some community members argued that dispensaries would help eliminate illegal street deals and unregulated marijuana; others believed that these businesses would only exacerbate existing drug issues and increase use on park grounds, regardless of laws and ordinances.
A resident near one of the parks in question shared that his neighborhood has had ongoing issues with crime – often encountering needles and signs of drug use. He strongly believed that these medical marijuana facilities would add to the existing problems. While an ordinance exists that prohibits dispensaries within 1,000 feet of publicly owned property (including schools, daycare centers, public parks, religious institutions and licensed substance abuse disorder program centers), proposed medical marijuana businesses can request a waiver from these restrictions. The majority of facilities seeking distance waivers are planned at 300 feet or more away from the six parks. However, one park is only 60 feet away from a dispensary.
A majority of business owners and community members do not feel these facilities belong in the neighborhood. This is especially true given the community already struggles with drug-related challenges on a daily basis. In addition, many of these local parks serve as gathering places for a large number of youth participating in afterschool and recreational activities.
The Solution
Various agencies and localities have implemented strategies to address and combat the use of substances on park grounds. Initiatives include:
Implementing and enforcing local ordinance laws restricting the use of e-cigarettes and marijuana on or around parks
Forming and strengthening partnerships with local law enforcement agencies to both promote and enforce substance use policies
Offer limited public smoking permits that would control "group smoking" and provide a safe, planned location for people to partake in recreational vape/marijuana use away from members of the public
Consider ordinances that restrict or prohibit the construction of medicinal and/or recreational marijuana retailers based on proximity to public spaces. These laws can be determined by the following:

Consistency with the city's master plan
The potential burden on the city or public services, such as park maintenance
Potential mitigation measures that a business could implement to reduce impact on the nearby park
Whether conditions such as topographic or environmental barriers reduce potential negative impacts on the parks

Some examples of mitigating barriers include highways, tree line and elevation differences

Provide prevention and education efforts to community members; sharing the dangers and risks of substance use – or partner with a local drug prevention coalition
In response to substance use on park grounds, your agency may want to consider one or more of the above strategies. As we navigate through ever-changing tobacco and marijuana policies and laws, it's important for park staff to stay informed on local, state and federal regulations. This is especially true with COVID-19's current impact on park use and outdoor spaces.
The impact of the ongoing opioid epidemic has led to the discovery of alternative pain treatment and management methods, resulting in new ways to respond to chronic pain. Our next blog post will dive into these innovative solutions and explore alternative approaches to opioid medications – to include physical therapy and chiropractic treatment, anti-inflammatory medications and/or injections, non or minimally invasive procedures, stem cell therapy and aqua therapy. Parks and recreation professionals can play a role by providing education about innovative pain management solutions, establishing referral systems for these alternative therapies and methods, and even providing spaces for physical and aqua therapy to occur.
Previously in this Blog Series
Do you have a story to tell about this epidemic or how your agency is responding? Feel free to email it to me! We firmly believe that through shared stories and experiences, park and recreation professionals can continue to support and elevate the work we do as public health advocates, creating healthier, stronger communities for all.
Lauren Kiefert is an NRPA Program Specialist.