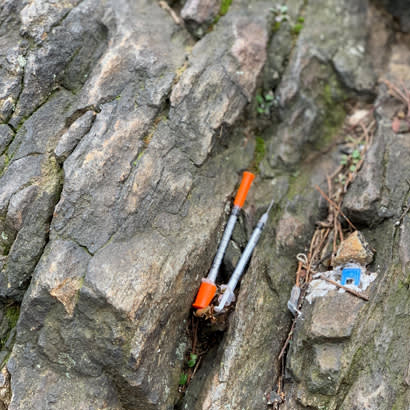 Every day, more than 130 people in the United States die after overdosing on opioids. Over the past few years, that number has continued to increase in communities across the country, from small rural towns in Appalachia to large urban centers like the Bronx, New York, and everything in between. The misuse of and addiction to opioids (including prescription pain pills, heroin, and synthetic opioids such as fentanyl) is a national public health crisis. It's a crisis that is costing the U.S. billions of dollars in healthcare, criminal justice and lost productivity, but more importantly, it's a crisis that is costing us human lives.
A multitude of factors have contributed to this epidemic, including:
the overprescribing of prescription pain pills and the misperception of the medical community about the addictive nature of opioids;
meticulous heroin operations across the country (oftentimes targeting people who are in recovery);
childhood trauma and adversity;
insufficient mental health services;
the economic decline of certain industries; and
the stigma associated with substance use disorder.
With so many factors shaping this crisis, a multi-faceted approach is needed to address it, including a comprehensive approach from local government and community-based institutions, like parks and recreation.
What is the role of parks and recreation in responding to the opioid crisis?
Over the last few years, NRPA has been monitoring the impact of the opioid crisis on parks and recreation. Issues like substance misuse taking place on park land, needles and syringes covering playgrounds, navigating how to respond to overdoses, and managing relationships with first responders, law enforcement and public health departments are just some of the many ways this crisis is impacting the parks and recreation community. This blog post is the first in a series detailing the human aspects of this crisis, including personal losses of park and recreation professionals, and the role of our field in serving youth, families and community.
What we have also found is that conversations around the opioid crisis and the role our industry plays in responding can be quite controversial. Similar to issues like homelessness in parks, it can elicit strong opinions and personal feelings. Chances are that when most people entered the field as a park and recreation professional, they probably didn't expect that this could be something they'd confront throughout their career. But the reality is, that we will all most likely encounter some aspect of this crisis in our lives, whether personally or professionally.
In fact, Surgeon General Jerome Adams recently stated that in many communities, you're more likely to administer Naloxone (an overdose-reversal drug) than CPR. With the climbing overdose mortality rates nationwide, the decline of life expectancy in the U.S. attributed to this epidemic, and 10.3 million people aged 12 or older misusing opioids in 2018, the park and recreation field should be part of a community-wide approach in responding to this crisis.
How can the park and recreation field respond?
The U.S. Department of Health and Human Services (HHS) is focusing its efforts on five major priorities:
Improving access to treatment and recovery services
Promoting the use of overdose-reversing drugs
Strengthening our understanding of the epidemic through better public health surveillance
Providing support for cutting edge research on pain and addiction
Advancing better practices for pain management
Parks and recreation has a role to play in many of these priorities, and I'll get into those in a moment. But, based on findings and conversations with park and recreation staff, I'd like to offer one additional priority for the field that may make for a good starting point: Addressing the stigma of substance use.
Part of the hesitation around a response to the opioid crisis is the stigma associated with it. We're all human. We all carry judgments and preconceived notions. We often blame, shame and criticize individuals that struggle with addiction. We use language, like "those addicts," that reinforces that this behavior is a choice, and "those people" should have the will power to stop using substances. We fail to see substance use disorder for what it really is — a disease. We fail to see that one drink for you, could be the start of a cycle of addictive behavior for me, purely because of differences in brain chemistry or life experiences that impact our individual outcomes. To fully address this crisis, we must break down the stigma associated with this issue — and we all have a role to play in that.
The field also has a role to play in supporting the recommendations from HHS. As operators of parks and recreational facilities that serve the entire community (often with hundreds and thousands of people coming through our doors each day), we can build partnerships with public health departments, treatment providers and recovery services to connect people with substance use disorder to the treatment they need.
We can equip our facilities and staff with Naloxone and provide training to community members to administer life-saving overdose-reversal drugs if necessary. In fact, at a recent training in Elizabethton, Tennessee, we shared that many park and recreation agencies are hesitant to have staff carry these OD-reversal drugs. Jillian Reece, director of the Carter County Drug Coalition, responded that in their community, they are not only training all adults and community partners, but youth are being trained as well, in the event that they need to respond. She explained that if we see substance use disorder for what it really is — a disease — rather than the stigma associated with it, then it is no different than responding to someone who needs CPR.
We can strengthen our individual and community understanding of the opioid epidemic by providing training and learning opportunities. For example, training staff so that they understand how adverse childhood experiences (ACEs) — like domestic violence, substance use in the home, racism or divorce — impact brain chemistry and influence numerous health, social and behavioral factors, including substance use.
And while parks and recreation may not be able to fund cutting edge research on pain and addiction anytime soon, we do have a role to play in implementing pain management programs and practices, like spending time in nature, Tai Chi, restorative yoga, etc., that support strong social connections, ease anxiety and toxic stress, and build relationships.
Parks and recreation has a role to play. While the response of your park and recreation department will depend on many factors and needs to be a local decision with key partners — including those from the public health field at the table — there are many opportunities for our industry to respond and be part of the solution. Most of all, it's important that we take a step back. Remove the stigma and judgment, reflect on the role of parks and recreation in serving communities and improving quality of life, and see this crisis through a human lens. When we do that it becomes clear. We can't do nothing.
Next Up in this Blog Series: The Opposite of Addiction Is Not Sobriety, It's Connection
Earlier this year, NRPA brought together park and recreation professionals along with national and regional experts in rural, central Appalachia for a convening focused on supporting youth impacted by the opioid crisis through the development and implementation of a youth mentorship program. The training brought focus to the role of parks and recreation in fostering connections and building relationships, especially for people impacted by adverse childhood experiences and trauma. One key takeaway from the convening came from a person in recovery from substance use disorder who shared that "the opposite of addiction is not sobriety, it's connection." Park and recreation professionals have the incredible power to build connection - connection to people, connection to community, connection to culture, connection to the outdoors, and connection to opportunity.
*Do you have a story to tell about this epidemic or how your agency is responding? Feel free to email it to me! We firmly believe that through shared stories and experiences, the park and recreation field can continue to support and elevate the work we do as public health advocates, creating healthier, stronger communities for all.
Allison Colman (she/hers) is NRPA's Director of Health.