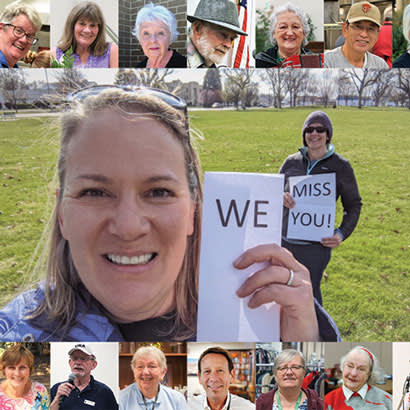 It is in our nature to be social — to be part of social groups and gatherings and interact with our family, friends, neighbors and communities at large. But our new normal has resulted in restrictions on group interactions and social activities, which further exacerbates isolation and loneliness. Prior to the coronavirus disease 2019 (COVID-19) pandemic, data from the National Health and Aging Trends Study found that at least 24 percent of community-dwelling older adults are considered socially isolated. A 2018 survey by the AARP Foundation found that more than 35 percent of adults ages 45 and older are lonely.
But just because someone is older doesn't mean they are isolated or lonely. Instead, older adults are at an increased risk for isolation and loneliness because they are more likely to experience certain predisposing factors such as living alone, experiencing the loss of family or friends, and having one or more chronic illnesses. Social isolation and loneliness are associated with poor physical and mental health outcomes, including higher rates of mortality, depression and cognitive decline. What is even more alarming is that the health risks associated with prolonged isolation are similar to that of smoking 15 cigarettes a day.
Continuing to Make Your Mark Despite COVID-19
As essential gathering places for people of all ages and abilities from different cultures and lived experiences, parks and recreation allows community members to connect and interact with each other every day. And even in the midst of this pandemic (closure of facilities, reduced staff, and suspension of most in-person programs and services, with the exception of meal services and other essential services), local park and recreation staff is still working to ensure their communities are being provided with resources to continue to improve health and wellbeing. Below are several stories showcasing the great ways park and recreation senior services staff have been continuing to make their mark on older adults in communities across the country.
In Edina, Minnesota, the staff at the Edina Senior Center host the Dear Edina: An Intergenerational Pen Pal Program, which is a collaboration between the senior center and the local library to encourage socialization among older adults and school-aged children. This was a big hit with more than 220 participants signing up shortly after the launch in early April! Staff at the center also developed and launched an "Activity Challenge" to encourage activities such as take a photo in Edina, do something that makes you smile, splash in a rain puddle and do something fun. They have partnered with local initiatives such as Help at your Door and Art From the Heart to encourage families to create artwork to be included in grocery deliveries for older adults in the community.
Staff with the City of Newport News Parks, Recreation & Tourism's Active Lifestyles Program in Newport News, Virginia, also is staying connected to older adults by conducting weekly wellness check-in calls to inquire about current health status, activities and any unmet needs. They are emailing and mailing the weekly one-page newsletter, Active Lifestyles Home Alone Connection, to over 1,800 older adults; utilizing their Facebook page for virtual sing-alongs, inspirational messages and exercises; sending care packages that include games and at-home exercise materials to older adults at the greatest risk for social isolation; and hosting virtual bingo.
In Tualatin, Oregon, staff at the Juanita Pohl Center also is enlisting volunteers to conduct weekly wellness check-in calls using a call script that was developed collaboratively by the park and recreation department and the Washington County Disability, Aging and Veterans Services. The phone calls include a mood assessment and sharing of phone numbers and other local resources for support services. In addition, staff and volunteers at the center are working with Meals on Wheels People to make meal deliveries once a week that contains a week's worth of meals, collaborating with Washington County Disability, Aging and Veterans Services to offer webinars and other online programs, and hosting virtual happy hours with center participants.
Other ways agencies have been staying connected to older adults in their communities include:
Virtual writing and photo contest: Older adults are asked to submit short stories and photos of their favorite things during nature walks (courtesy of City of Monroe Ellen Fitzgerald Senior Center, North Carolina).
Coloring book contest: Older adults are asked to submit contour line drawings of local flora and fauna to be compiled into a Bainbridge Island Coloring Book. Those who are interested are offered video instructions describing how to create contour line drawings, tips of composition, etc. (courtesy of Bainbridge Island Metro Parks and Recreation District, Washington).
Postcard mailings: Thoughtful and fun postcards are created and mailed to let older adults know that they are missed, and social support is available (courtesy of City of Boise Parks and Recreation Department, Idaho)
Virtual 5K (your way): Older adults are encouraged to complete a 5K their way (walk, run, stroll) on various Willamalane trails (courtesy of Willamalane Park and Recreation District, Oregon).
Virtual Trivia ("Trivia Tuesdays"): Virtual trivia can be hosted on a chosen day of the week. Prizes can include care packages, at-home exercise gear or gift cards that support local businesses (courtesy of Auburn Parks and Recreation, Alabama).
Social isolation occurs when people are withdrawn and disconnected from family, friends and their community. To help combat this, park and recreation professionals are implementing strategies that boost social connections and interactivity in our communities. As we close out Older Americans Month, it is imperative that these and other strategies continue. Even though many states have begun to reopen, plans to relaunch older adult programs and services are still thought to be months away.
Previous Older American Month blogs:
Lesha Spencer-Brown, MPH, CPH, is Health and Wellness Senior Program Manager at NRPA.