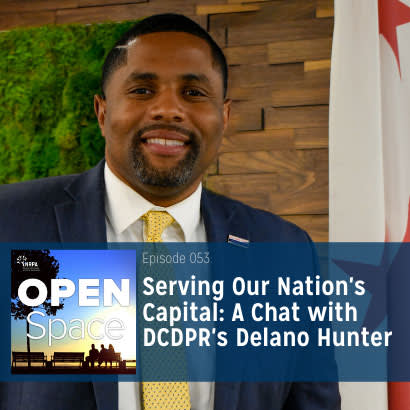 As a native Washingtonian, a park and rec kid, and a long history of serving the community, Delano Hunter is well suited for the role of director of D.C. Department of Parks and Recreation (DCDPR).
Delano says he's honored and privileged to serve the city he loves alongside some of the people who shaped him growing up, and we were honored and privileged to have him join us at NRPA headquarters recently to talk about how DCDPR is finding ways to serve members of the D.C. community through innovative programming, special events and community partnerships.
We also discuss Delano's path to a career in parks and recreation, and how there really isn't one right/prescribed way to work in this field. Prior to joining DCDPR in 2018, Delano was the Chief Service Officer for Serve DC, a D.C. government agency dedicated to promoting service as an innovative, sustainable solution to pressing social challenges. Before that, he helped develop a mentoring program at Nike. While they may not have been directly related to parks and recreation at the time, these types of diverse backgrounds are what make parks and recreation capable of impacting lives on so many different levels.
Delano also touches on why it's important for parks and recreation to be an extension of the education system, and why it's critical to reach kids in out-of-school times. We discuss how partnerships with organizations like Aetna and Lululemon are helping DCDPR reach people of all ages in D.C. Delano also shares about his #30DaysofDPR campaign, where he went on a citywide tour of DCDPR's 63 recreation facilities last January to highlight the programs, activities and people who make those centers so special.
Tune in to the episode below to learn about all the things DCDPR is doing (and they're doing a lot of things) to help make the nation's capital a better place to live.
Note: The morning we recorded this episode, we were saddened to learn about the passing of a great advocate for parks and recreation, Karla Kelley. Karla was a highly-involved member of NRPA, the Chief of Programs for the Bureau of Recreation for City of Baltimore Department of Recreation and Parks and worked for DCDPR for many years. Delano shares his memories of Karla, who was so loved in the parks and recreation community.
As a special bonus for listening to this episode, you can get a discount on NRPA Live — the virtual version of the NRPA Annual Conference. By using the coupon code OPENSPACE, you'll get 15 percent off the 18 full education session options that are available now!
Listen to the episode for the full story.