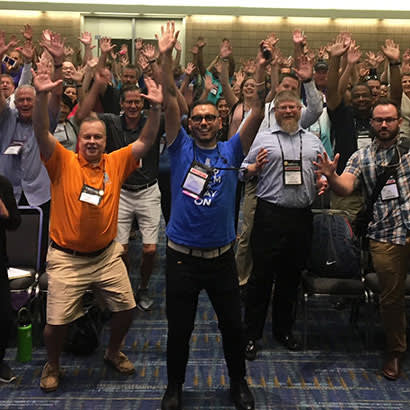 Healthier Generation is a proud collaborator of the National Recreation and Park Association. You may have heard of us as the training partner for Commit to Health and our new project focused on reducing risk factors and boosting protective factors to prevent opioid misuse among youth and support wellness for the adults who support youth. As you plan for your 2019 NRPA Annual Conference experience, a practical self-care routine is important.
Why?
It's easy to get caught up in meetings, workshops and afterhours fun at a conference, not to mention trying to keep work running smoothly back home.
To give you a preview of what you'll learn in my session, Reshape Your Workplace: 5 Activities to Start a Wellness Movement, here are five practices to try in Baltimore to ensure you return home feeling great.
1. Be Prepared to Share What You Learn
Having a plan will ensure you're not stressed sorting through a large stack of notes. Take a few minutes each evening to write down two or three SMART (specific, measurable, achievable, realistic and timebound) goals based on that day.
2. Stay Hydrated
Long days at a conference are a recipe for drinking too much caffeine and not enough water. Bring along your refillable water bottle and make a goal to drink a full bottle at meals and during each workshop you attend.
3. Pack Your Own Snacks
We've all been there, waiting in a long line for a less-than-healthy coffee shop snack or staring at a pricey mini bar trying to justify a convenience purchase. Bringing your own snacks to a conference can save money and ensure you're refueling in the healthiest way possible. Even better, walking to a local market on your first day is a great way to see a new city.
4. Set a Manageable Schedule
It's overwhelming trying to attend every session that looks appealing. Build transition time, email checking breaks and mealtimes into your schedule so you're not left rushing and hungry. If you can't make a session, check if the speaker is active on social media or connect with them on LinkedIn. Give yourself permission to say "no" to evening activities and ensure you get enough sleep.
5. Be Part of the Fun Run/Walk and Sunrise Yoga
End the week on a high note by joining friends, new and old, for fun physical activity to recharge your mind and body. Don't forget to take time to snap a few selfies and tag #NRPAConference.
Daniel W. Hatcher, MPH, is the Director of Community Partnerships for Alliance for a Healthier Generation.