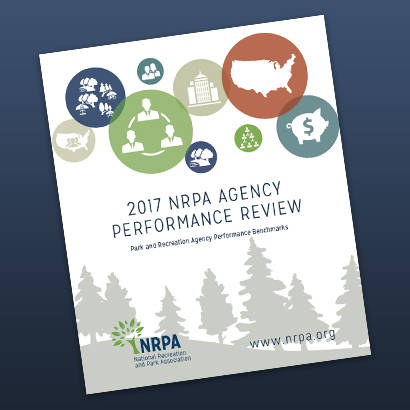 This week, we released the 2017 NRPA Agency Performance Review, our annual report summarizing the key findings and insights from Park Metrics. If this sounds familiar, it is because the Agency Performance Review is the new name for the NRPA Field Report.
There is no simple set of standards for park and recreation agencies. What works well for one agency may not be best for your agency. Agencies serve differing populations, have differing missions and mandates, and have access to differing levels and sources of funding. To discover what works best for your agency, you need benchmark data to compare how your agency performs against similar peers.
That is where the 2017 NRPA Agency Performance Review comes in. No other resource provides park and recreation professionals and other key stakeholders with a wealth of valuable benchmarks and insights that inform on the state of the industry. These insights help:
The 2017 NRPA Agency Performance Review features 21 graphics of top-line data findings and analysis explaining each metrics' importance, broken into six areas of focus:
Park facilities
Programming
Responsibilities of Park and Recreation Agencies
Staffing
Budget
Agency Funding
We know that park and recreation agencies are as diverse as the communities they serve. There is no one-size-fits-all formula as to how park and recreation professionals meet their critical shared mission: to be leaders in conservation, health and wellness, and social equity by creating healthier communities and environments for all people.
That is why beyond the report, we also have created interactive reporting tools that allow you allow you to drill into the data. These interactive reporting tools allow you to filter all 21 sets of metrics by jurisdiction population, population density, agency budget, agency type, staff size, the number of parks maintained, and geographic region.
Even better, you also have the option to customize the data further to generate metrics from agencies similar to yours. By entering your agency's Park Metrics data through a 30 question survey, you can run customized performance reports that place your agency's data right next to that of its peers. Even though the 2017 NRPA Agency Performance Review is now out, it is never too late to enter your agency's data to take advantage of everything Park Metrics has to offer.
We are excited to bring the 2017 NRPA Agency Performance Review and accompanying interactive tools to park and recreation professionals. This is the most comprehensive set of benchmarking resources for the park and recreation industry, and it only happens because of the agencies who participate in Park Metrics. If your agency is one of the many that already has entered its 2016 agency performance data, thank you. If you have not, it is not too late. Log in to get started.
If you need assistance with your login or entering your data, please contact Greg Manns or Daniel Espada.
Kevin Roth is NRPA's Vice President of Research.