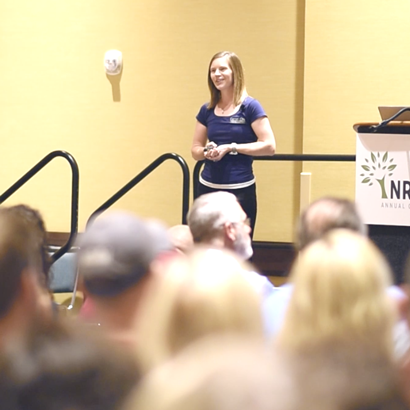 You know that feeling you get when you summit a mountain after a long hike? When you take a deep breath and take in all the views? It's one of my favorite feelings in the world. Overlooking the land below, reflecting on who I met along the way, what I've accomplished, and how I pushed myself to do something outside my comfort zone.
It's the same feeling I get when I attend the NRPA Annual Conference. It's awe-inspiring. All of us park professionals get together in one place, share our experiences and pass on knowledge, all while getting out of the office for a fresh perspective. A breath of fresh air, if you will.
My degree is in graphic design, and for the past 12 years I've been in a marketing role with Carmel Clay Parks & Recreation. It's not a typical parks and recreation career path, but that's the beauty of our field. We may not have the skills or know-how at the start, but the passion we have for what we do, who we impact, and the experiences we provide to ourselves and others is reason enough for why we do it.
So, how did I get to where I am today? I took my career one step – err mountain – at a time. I immersed myself in knowledge, research, networking and attending the NRPA Annual Conference. And my advice to you – you should too!
How do you start to reach the summit at the NRPA Annual Conference?
Take the first step and register. This may seem simple, but it can take time to prove to your boss why you should attend or how you can find the funds to get there. NRPA offers scholarships and fellowships to inspire future participation and leadership, so be sure to check those out. Or think about volunteering to help offset costs.
Then, as you start your climb, immerse yourself in what's around you.
There will be an abundance of sessions to choose from – and you can't attend them all. When you're planning your schedule, look at the conference as a whole and find which sessions will give you the best range of information and send you home inspired. Sit in on sessions with topics that fit your area of focus and attend some to expand your knowledge. Sessions fit all learning styles whether it be quick and to the point in 20-minute Speed Sessions, listening to a panel of professionals or doing a skill-building activity. Use your time wisely to get the most out of what's there.
Say hi to others along your path. Get out of your comfort zone and climb upward and onward.
I'm shy. It takes time, sometimes a lot of time, for me to open up to others. To make the most of my conference experiences, I knew I had to get out of my shell. My recommendation – look at all the ribbons! Each person wears a name badge with ribbons and they're the best conversation starters. You'll see some for speakers, students, young professionals, accredited agencies and more. Using the ribbons provides a jumping off point or an instant connection with the people around you.
Networking is what makes coming back year after year so much fun.
Join groups, sign up for networking opportunities and attend the social events. You really can't get yourself out there enough. I enjoy attending the opening and closing sessions, participating in take a student/professional to lunch (on both sides of the equation), joining the Young Professionals Network, and meeting incoming students by attending the Student Pep Rally. Before you know it, you'll find you're building your "parks tribe" full of friends who regularly share experiences, ask for advice and can't wait to get together in person at next year's NRPA Annual Conference.
Don't forget to take a moment to pull off and take in the sights.
One of my favorite things to do is explore the city hosting the NRPA Annual Conference through organized activities and on my own. I'm a world traveler, a foodie, and I enjoy getting to know the culture of the people and places around me. This year in Baltimore, I encourage you to sign up for Off-Site Institutes and local host activities. These are great ways to tour unique cultural attractions and see stand-out parks.
Take that deep breath and enjoy your time on top.
After all of this, you'll have gained a ton of information, inspiration and friends. Make sure you take time to enjoy the views along the way. If you let it, the NRPA Annual Conference will take you to new heights. So, take that first step – register – and start your climb.
Lindsay Labas, CPRP, is the Marketing Director for Carmel Clay Parks & Recreation in Indiana.