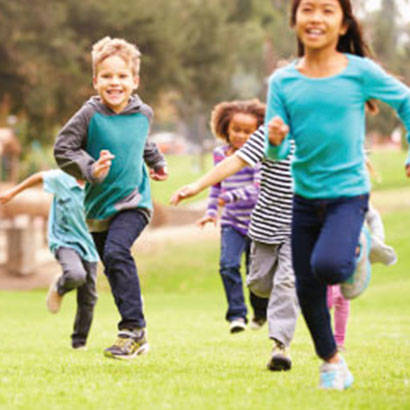 School is back in session! Perhaps you have been waiting to hear those five words all summer or maybe you long for just a few more days or weeks of the kids being home. Either way, it is time to say goodbye to days of endless outdoor summer play and hello to the routine of school. For most kids, this routine will consist of a day filled with sitting in one class after the next before heading home. As schools become increasingly focused on test performance, the amount of time devoted to in-school physical activities has declined or even been cut altogether. This is the subject of September's NRPA Park Pulse poll.
The poll finds that an overwhelming majority (96 percent) of Americans agree that children should have access to more opportunities for physical activity. Not only are the findings nearly unanimous among the 1,017 adults aged 18+ surveyed, the results also do not waiver across most demographic sectors (e.g., gender, age, income, race, household size, etc.), including:
Millennials (96 percent), Gen Xers (97 percent), Baby Boomers (95 percent)
Parents (95 percent), non-parents (96 percent)
African Americans (97 percent), Hispanics (97 percent), non-Hispanic Whites (96 percent)
The NRPA Park Pulse poll followed up to ask Americans where additional opportunities for physical activity should take place. Their answers are parks, recreation centers and schools.
Four in five Americans say that more opportunities for physical activity should be given to children on school grounds such as in gym class or on the playground. Unfortunately, the fight to add time for physical activity back into the school day is ongoing.
Because of this, parks and recreation's role as a provider of opportunities for physical activity is now more important than ever. Students should be able to be active both in and out of school. But if they are not getting adequate physical activity during school, they need physically and mentally stimulating opportunities outside of school—and park and recreation agencies are the perfect places to get them.
Park and recreation agencies are already providing these services, and
Americans believe park and recreation centers are a great place for these activities to take place.
In fact, 83 percent of Americans agree that places away from school, including local parks and recreation facilities, are great places to add to children's level of physical activity. The poll further finds few demographic groups that believe schools and park agencies are not equally capable of providing opportunities for more physical activity to kids with a few exceptions:
Gen Xers favor more opportunities outside of school to on school grounds (86 percent vs 77 percent)
African Americans favor more opportunities outside of school to on school grounds (82 percent vs 72 percent)
While we continue to fight to bring back recess and P.E. to our schools, park and recreation agencies have the opportunity to fill the gap. Agencies are equipped to provide children with multiple opportunities for physical activity — with everything from playgrounds and open space to organized sports leagues. Parks and recreation are also unique in that they can teach youth about healthy lifestyles and connect them to nature.
Park and recreation agencies are committed to providing children with opportunities to get active and healthy throughout the year. As part of NRPA's Commit to Health program, nearly 1,000 park and recreation sites have pledged to implement Healthy Eating and Physical Activity (HEPA) standards. Through this program approximately 110,000 children have improved access to healthy foods and increased opportunities for physical activity…and that number continues to grow.
Kids have options for physical activity outside the grounds of their school. Now go and get the word out to your community's parents and schools that parks and recreation are the place to keep your children involved in a routine of physical activity all year round!
Melissa May is NRPA's Research Manager.