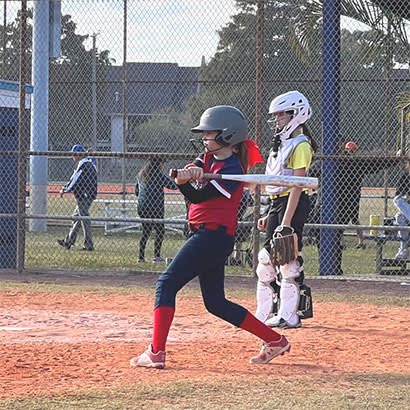 Research shows that when children play sports, they increase their chances to grow up healthy, build friendships, and develop skills like teamwork and respect. And while 94 percent of park and recreation agencies offer youth sports, there are significant disparities in who has access to and benefits from sports participation.
This June as we celebrate the 50th anniversary of the passage of Title IX — the landmark piece of federal legislation prohibiting sex-based discrimination in education settings — we should reflect on the many achievements of girls and women in sports. And today, we're doing just that with some incredible guests.
Joining me on today's episode is 10-year-old Evangeline Iarossi of Tampa, Florida. Evangeline was tired of having her softball practices canceled because of the inequities between girls' and boys' sports. Her Little League complex has multiple baseball fields but only one softball field. What was a frustrating, unfair situation inspired Evangeline to reach out to Tampa Mayor Jane Castor, writing a letter requesting that girls have the same opportunity as boys to participate in sports.
I'm also joined by two of the women who responded to Evangeline's request very quickly and started coming up with a plan to make her wishes a reality. I'm thrilled to welcome Heather Wolf-Erickson, the Athletics, Aquatics and Special Facilities Manager for the City of Tampa Parks and Recreation (the first woman in this role in Tampa), as well as Sherisha Hills, the director for City of Tampa Parks and Recreation.
Tune in below to learn more about how Tampa is responding to Evangeline's letter and building on the work they are already doing to center gender equity in sports and all their other offerings. You'll also learn:
What issue Evangeline noticed in her community and what she included in her letter to Mayor Castor
Why Evangeline's story resonated with Heather and Sherisha
How the City of Tampa is responding and supporting Evangeline's mission
What future plans City of Tampa Parks and Recreation has for gender equity
How other park and recreation professionals can ensure their sports programs are equitable and inclusive, and much more!
Related:
Listen to the episode for the full story.
This episode of Open Space Radio is sponsored by NIC Outdoors. You know the outdoors, now get to know the new NIC Outdoors plus US eDirect. NIC Outdoors is the only outdoor recreation technology and services provider exclusively focused on government. With over 30 years of experience in providing secure licensing, reservation, and digital and payment solutions for local, state, and federal agencies, NIC Outdoors serves the people who serve the people with one platform for all outdoor recreation experiences. Learn more about NIC Outdoors.