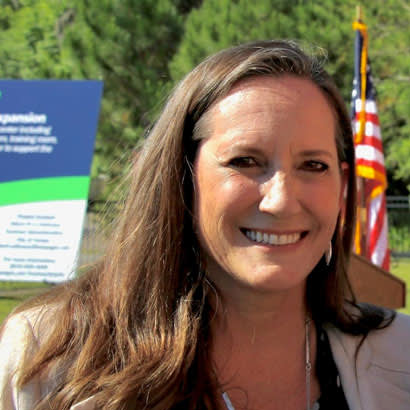 Park and recreation agencies can play a major role in ensuring girls have equitable access to youth sports. This June as we honor the 50th anniversary of the passage of Title IX, federal legislation that prohibits sex-based discrimination in education settings, NRPA celebrates our park and recreation professionals who continue to fight until the full promise of Title IX becomes real: so all girls and women have access to and benefit from sports equally.
One of those professionals is Heather Wolf-Erickson, Athletics, Aquatics and Special Facilities Manager at the City of Tampa Parks & Recreation Department. The first woman to serve in this role, Heather has made building gender equity in youth sports a top priority at her agency. "We know that 50 years of progress is certainly great, but we still have another 50 years of progress to go… we have not arrived at the finish line quite yet," shared Heather when I asked what the Title IX anniversary means to her.
From College Athlete to Park and Recreation Professional
"I was 7 years old when Title IX went into effect, and without a doubt, this movement forward for women in sports not only changed my life by providing opportunities that were not present – but truly shaped the person, the professional and the mother I have become to my three daughters," said Heather.
Heather Wolf-Erickson on the softball field when she played for Northern Illinois University.

Heather played softball at Northern Illinois University (NIU). Her daughter, Ellis, currently plays softball at NIU (fun fact: they're the first mother/daughter duo to play NIU softball). Heather began her park and recreation career as a gymnastics coach in Tampa, where she grew the program from 50 students to more than 3,000 students with a waiting list, catching the attention of community leaders and garnering funding to expand the program to tell the story of girl athletes. From there, she held every ascending position the park and rec department had to offer, some of which were created to keep up with the demands of the growing enrollment and additional responsibilities, culminating with the Athletics, Aquatics and Special Facilities Manager position.
Heather Wolf-Erickson (left) and her daughter, Ellis.

"I often say my current role as the Aquatics, Athletics and Special Facilities Manager is the best job in the City of Tampa. You know the saying… 'do what you love and you will never work a day in your life.' I love sports and the impact they make on youth and their families, and I feel fortunate to be the first woman in this role for the City of Tampa so I can see our sports network through a different lens."
Parks and Recreation as the Solution
Serving millions of youth annually positions park and recreation agencies as the perfect catalyst to drive play equity in local communities. During our conversation, Heather shared some ways agencies can build equity into sports programming:
Count the number of girls in your programs. "Until recently, gender counts were not part of the reporting process within our sports programs. In Tampa Little League, only 17 percent of participants are girls, and of those 17 percent, greater than 35 percent are in the coed t-ball program. Park and recreation departments need to ask themselves why – and what they must do to change the trajectory of participation, whatever the sport is."


Bring gender equity into EVERY conversation. "Departments are often approached by non-profit leagues for use of our amenities. It's important for every conversation to include a question about gender equity, for agencies to make equity part of decision-making when allocating our resources. It would be very easy for every gymnasium in our inventory and/or every field to be used specifically for men's sports if those questions aren't asked."


Don't accept the status quo. "I recently had a conversation with a volunteer softball coach who mentioned his organization has six fields in its inventory, with only one for softball, citing, 'this was how it's always been done.' We as park and recreation professionals have a responsibility to have the hard conversations with our partners."


Give voice to girls in your community. "Young girls don't have a strong voice in sports equity unless an adult gives them a megaphone. Be that megaphone when you get the opportunity. The accomplishments of Title IX are not complete, and we as park and recreation professionals have an obligation as custodians of community sports resources to keep our eye on the ball."
"In reflection, I'm very thankful to my father who opened doors for me that I didn't know were closed," reflects Heather. Park and recreation professionals can open those doors for girls in their community, to make sure they feel welcomed and included in youth sports offerings.
Heather harnessed her passion for increasing gender equity in youth sports to apply for the 2021 Youth Sports and Play Grant Program, an initiative made possible with support from Disney. Through the grant, the City of Tampa received $40,000 to convert an existing baseball diamond to an all-clay field that can be used for softball practices and games, expanding play opportunities for girls in her community.
Thanks to Heather for taking some time to reflect on the successes, now and to come, for girls and women in sport as we lead up to the 50th anniversary of Title IX. PS: Congratulations to Tampa Parks and Recreation for recently securing a National Gold Medal Award for Excellence in Park and Recreation Management from the American Academy for Park and Recreation Administration, in partnership with NRPA!
Teresa Morrissey (she/her) is an NRPA Program Manager.