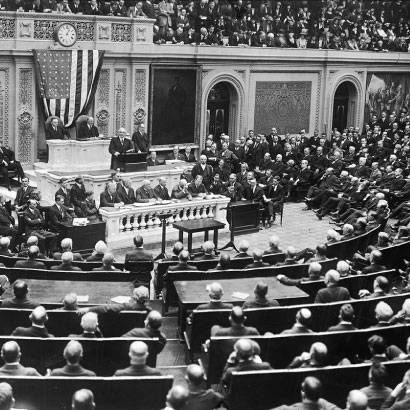 The 115th session of Congress kicked into high gear this week in Washington, and the wheels of government are starting to turn again. Members of the U.S. House of Representatives and the Senate have been sworn in and Republicans in the House have officially elected Rep. Paul Ryan (R–WI) to return as the Speaker of the House and oversee their legislative agenda for the next two years.
Affordable Care Act Repeal
In the Senate, Republicans have already set forth on their quest to "repeal and replace" the Affordable Care Act (ACA) ‒ one of President-elect Donald Trump's highest priorities upon winning the election in November 2016. Sen. Mike Enzi (R–WY), the Chairman of the Senate Committee on the Budget, has released the FY17 budget resolution, which is the first step to repeal the ACA. Budget resolutions are typically sleepy documents that are passed by budget committees in the House and Senate. They differ from traditional bills and don't have the force of law behind them because the President isn't required to sign or veto them.
The FY17 budget resolution is especially important this year, though, because it:
Requires four Congressional committees — two in each chamber — to begin fast-tracking ACA repeal.


Requires the four committees — Ways and Means (House), Energy and Commerce (House), Finance (Senate), and Health, Education, Labor and Pensions (Senate) — to begin crafting their respective ACA repeal bills and send them to their Budget Committee by January 27, 2017, to be combined into a unified bill.


Requires the four committees to each create $1 billion in savings from their respective ACA repeal bills.


Creates two separate savings accounts where these savings will be deposited to help pay for an eventual ACA replacement.
The Senate is expected to debate the budget resolution for the remainder of the week before voting to send it to the House on January 6, 2017. Stay tuned to the NRPA blog and advocacy page for continuing updates about the ACA repeal process.
President-Elect Trump's Cabinet Nominations
Senate committees are also getting started on confirmation hearings for President-elect Donald Trump's cabinet nominees. As you may know, the Senate has the role of approving senior White House nominees under the Constitution.
President-elect Trump's nominees for key health, environmental and energy agency posts can expect intense scrutiny from environmental groups, Senate Democrats, and stakeholders across the healthcare sector as well as outright opposition from certain groups here in Washington. Here are some of the nominees important to parks and recreation who will soon face confirmation hearings in the Senate:
U.S. Department of Energy (DOE) Secretary Nominee — Rick Perry— is a former Texas governor with a track record of favoring the energy industry who will have confirmation hearings before the Energy and Natural Resources Committee sometime this month. Senate Democrats are expected to grill Perry over his earlier calls for dismantling the U.S. Department of Energy (DOE). He's also likely to face bipartisan questions about President-elect Trump's interest in expanding U.S. nuclear weapon capabilities.
U.S. Department of the Interior (DOI) Secretary Nominee — Rep. Ryan Zinke—is a second-term Montana lawmaker who has expressed support for "protecting and maintaining existing federal lands," and not returning (or selling) them to state or private hands. At the same time, he promotes an "all of the above" approach to energy exploration and development of federal public lands and waters. He's viewed as a friend of the outdoors industry (passionate sportsman), but is viewed quite skeptically by major environmental groups. Zinke has previously faced questions that he may have committed travel fraud while serving as a Navy SEAL and Democrats are certain to raise the issue again during his Energy and Natural Resources Committee confirmation hearing.
U.S. Environmental Protection Agency (EPA) Administrator Nominee — Scott Pruitt — is Oklahoma's Republican attorney general who is currently leading a court challenge against the Obama Administration's Clean Power Plan and is a public skeptic of climate science. Environmental groups are focusing much of their opposition to defeat Pruitt's nomination. This would require at least three GOP Senators to publicly oppose him as well as have every one of the 48 Senate Democrats vote in unison against his confirmation.
U.S. Department of Health and Human Services (HHS) Secretary — Rep. Tom Price — isa six-term Congressman, practicing orthopedic surgeon and founding member of the Tea Party Caucus in the House of Representatives. He's also the Chairman of the House Budget Committee and author of legislation to repeal the Affordable Care Act. He's supported several attempts to repeal the Prevention and Public Health Fund (PPHF), opposed a widely-praised effort to double cancer research funding, and supported a controversial overhaul of Medicare before being nominated as HHS Secretary. Medical advocacy groups and doctors are currently divided over his looming confirmation hearings before the Senate Finance Committee and Health, Education, Labor and Pensions Committee, which are expected to be contentious.
We expect the hearings for these confirmations to begin prior to Trump's inauguration on January 20.
Efforts to Undo Federal Environmental Rules and Actions
Within President-elect Trump's first 100 days in office, a GOP priority will be undoing scores of regulations created during President Obama's tenure that conservatives view as unfriendly to the economy. The GOP has a long list of environmental rules it hopes to undo and weaken (if not eliminate) much of President Obama's environmental legacy. These regulations range from President Obama's extensive use of the "Antiquities Act" to designate more new national monuments than any previous President, to his Executive Orders and agency regulations on coal-mining, greenhouse gas emissions, and federal jurisdiction over waterways (some of which are currently held up in federal court). Many regulations created during President Obama's time in the White House were aimed at reducing the impacts of climate change and to remain in compliance with the 2015 Paris Climate Accord.
Lawmakers are expected to use the "Congressional Review Act" to block any regulations proposed by the Obama White House in its final days. Under that law, Congress has 60 legislative days from when a federal agency issues a regulation to pass a resolution to deny its implementation. Additionally, new legislation, the "Regulations From the Executive in Need of Scrutiny (REINS) Act," that requires congressional approval of any federal rule having more than a $100 million economic impact is scheduled to hit the House floor for a vote later this week. Each of these approaches requires a full 60 votes in the Senate for approval — which, while not impossible, isn't likely given the slim Republican majority in the chamber. Additionally, it's important to note that the legal framework for "undoing" an existing rule or regulation requires the same process it takes to write a new one. Or, to put it simply, it takes more than a simple swipe of a pen to get rid of them.
Looking Ahead
As you can see, Washington, DC will be bustling with activity over the next several months as Congress begins the ACA repeal process, embarks on cabinet nominee confirmations, increases the nation's borrowing authority in March, reviews the President-elect's first budget, and passes a long-term spending bill before the current continuing resolution expires on April 28, 2017. The NRPA Public Policy Team will is working hard to keep you up-to-date as President Obama continues his farewell tour and President-elect Trump prepares to become the leader of the free world.
For those of you who completed the public policy survey, we thank you for your input. For those of you who still have interest, please complete the survey by Friday, January 13 to ensure your voice is heard. Your suggestions and feedback will be critical as we craft a legislative agenda that promotes the interest of NRPA's more than 52,000 members on Capitol Hill.
Stay tuned to NRPA's advocacy page, blog, Facebook, Twitter and Instagram accounts for more news about Capitol Hill and the upcoming Presidential inauguration.
Finally, please tune in for the NRPA Public Policy Team's next webinar on January 26, 2017, at 2 p.m. ET as we unveil the new public policy agenda and share the latest insights from policymakers and legislators.
Photo Credit: Architect of the Capitol, President Harding Addresses Joint Session of Congress – 1921