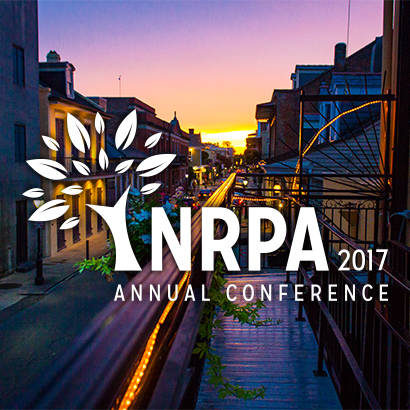 I remember my first NRPA Annual Conference in Phoenix, Arizona in 1999. That was 18 years, a lifetime and two promotions ago, and I have not missed one since nor do I intend to miss one. I recall thinking that I could attend so many sessions I would be able to apply for an advanced degree! It was "professional development nirvana".
Now, as a member of the NRPA Conference Program Committee, the team of NRPA members who review the conference education session proposals, I invite you for a behind the scenes look at the remarkable process that results in an amazing product.
It begins with committee members clearing their social calendar for the month of December, stocking up on "cheater reading glasses" (after reading the first 100-200 proposals, things start to get a little blurry for even those with 20/20 vision), and finding a quiet happy-place to hunker down for a few hours at a time. Next, after you get over the actual number of education session proposals you need to review, usually 500+, you just jump right in reading and rating. Don't get me wrong, this is an exciting, exhilarating, energizing and encouraging task. My staff will find me jumping up and yelling, "write this down…we need to be doing this" or "I can't wait to go to this session".
At some point, perhaps between session proposal number 250 or 300, and when you have reviewed 50 proposals each pertaining to childhood obesity, skateboard parks, disaster preparedness and millennials, you begin to fantasize about combining them into one mega-workshop entitled, "Learn to Skateboard your Way through Disasters to Lose Weight like a Millennial".
All kidding aside, this committee is like a well-orchestrated, professional, organized process which culminates in an outstanding product − the NRPA Annual Conference education schedule. We are proud to contribute to an event that energizes, enlightens and educates more than 7,000 park and recreation professionals, and to ensure that they go back to their respective departments and communities with a renewed spirit and professional drive to serve.
I am personally so proud to be a part of this amazing committee and NRPA. I urge you all to join me and 7,000 others this September in New Orleans, Louisiana to "Find your Awesome Sauce" to "Create(ing) Meaningful Programs" with "Ten Tools and Apps for Every Recreation and Park Professional" to "Set up your Summer(s) for Success.." and maybe "Create(ing) Nature Play Areas" to make sure "You are All In…" for "Making Dollars and Sense Using the Benefits of Parks & Recreation" and many other great education sessions.
This year's conference promises another stellar line-up of opportunities to network with colleagues from around the country (and beyond), attend workshops and lectures led by professionals and peers that will astound you, and social activities we P&R peeps crave. Whether you want to "Choose Your Path to Certification", "Do(ing) Less with More through Collaborations", "Get Off your Feet: Develop Leadership Skills through Improvisation" or are "Overwhelmed by Accessibility…", you will want to join me in New Orleans this September. And yes, these are a sampling of actual sessions slated for this year's conference.
The 2017 NRPA Annual Conference is coming to New Orleans September 26-28. Register by August 1 to get the early bird rate and save up to $250!
Lucky D'Ascanio is the Director at Falmouth Parks and Community Programs, and the 2017 Chair of the NRPA Annual Conference Program Committee.