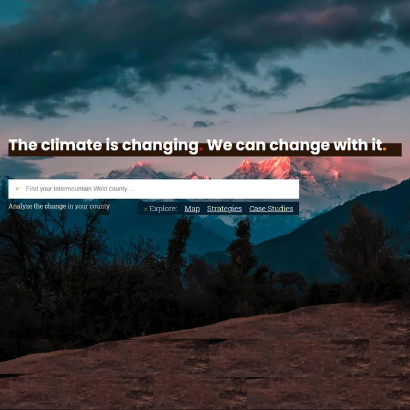 I think we have all felt the impacts of a climate event that made us stop and think, "What can I do to help?" Over the last year or so, we have experienced a record number of these extreme events — wildfires raged in the West, hurricanes devastated the Gulf Coast and Florida, and heat waves were felt across the country, particularly the Intermountain West region. In addition, there were parts of the country that experienced significant flooding, drought, even extreme wind events that are becoming more prevalent as a result of climate change. Not to mention, these news-worthy events don't account for the hyper-local impacts your community may experience that affect people's ability to get outside and enjoy their parks — or worse, affect their physical and/or mental health.

We know the climate is changing, and it can feel daunting to identify specific ways that you or your park and recreation agency can help alleviate the burden of these events on your community. You may even wonder, as a park and recreation professional, what your role in combatting climate change is. As professionals who plan, manage, program and maintain 11 million acres of public parks and green spaces across the country, I am here to tell you that you are well-positioned to implement community-driven climate solutions, and I bet that most of you are already implementing something that has a positive impact on your environment.
NRPA's Commitment
In November 2020, NRPA released a Climate Statement, reenforcing our strategic commitment to elevate and showcase park and recreation professionals as local innovators and champions in addressing our most pressing environmental challenges. Our approach is two-fold — 1) elevate all levels of climate work happening in the field, and 2) provide educational opportunities, tools and resources that incorporate the latest research and demonstrate parks and recreation's current and future role in this work.
Climate.Park.Change.
One of these tools is Climate.Park.Change., a pilot toolkit created by Sasaki in partnership with NRPA. This toolkit compiles data on how climate change is affecting park and recreation spaces and offers physical design and community engagement solutions to address climate impacts and other challenges. This toolkit was informed by research and interviews with park and recreation professionals and tested by three park and recreation agencies who used it to inform the design of existing parks facing specific climate challenges. As a pilot, this toolkit focuses on the Intermountain West region, however, many of the threats and strategies are relevant to park and recreation systems across the country.
Using the Toolkit
By visiting the map portion of the toolkit, you will find a list of climate threats impacting the Intermountain West. You can use the "v" to toggle between the climate threats and learn more about each one, how climate change is impacting that threat, and how the threat is impacting parks and recreation. In the "Strategies" section, you can find strategies associated with each climate threat categorized by parks operations and maintenance, ecosystem functionality, and users and access. You can also find case studies and a submission form to provide your own resources and strategies.

It is important to keep in mind that some of these threats are felt across the country and the associated strategies could potentially be used in any park setting. For those working in the Intermountain West, you can type your county into the search bar to find a ranked list of most concerning climate threats, which will help you prioritize your approach to addressing climate change. Watch this video to learn more about how to navigate the toolkit.
Other Climate Learning Opportunities
This is just one tool in a suite of programs, resources and educational opportunities aimed at advancing climate-ready parks. We are planning to host a Climate.Park.Change. technical assistance session during the 2021 NRPA Annual Conference. If you are interested in learning more about climate change and strategies for climate communications and advocacy, NRPA has partnered with Climate for Health to deliver a second Climate for Health Ambassadors Training over a two-day period in late June. Listen to this podcast to hear why you should join the training, and you can click here to register (space is limited).
Jenny Cox is an NRPA Program Manager.