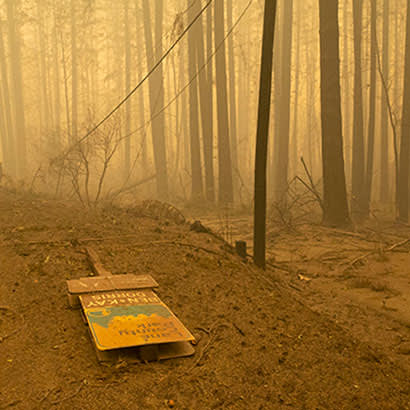 Pictured left: The Holiday Farm Fire decimated land at Ben and Kay Dorris County Park in Lane County, Oregon. Photo courtesy of Andy Nelson/The Register-Guard.
A historic wind event hit Oregon on Labor Day. Fires sparked and grew uncontrollably. By the following Wednesday, 46 fires burned across the state. Hazardous smoke enveloped and emptied parks statewide. Even the suburbs and exurbs of Portland were under evacuation alerts, as the state warned of a "mass fatality incident." The wildfires and conditions caused by their blazes posed a major threat to park spaces and recreation facilities, as well as raised questions about how natural disasters like these impact health and wellness, equity and conservation.
Conservation
Clackamas County Parks and Forests had planned for wildfires years ago. In 2012, the county and North Clackamas Parks and Recreation District developed a Wildfire Management Plan for its highest-risk parks. When the embers from the Riverside Fire landed in Metzler Park, staff were excited to discover that little damage was done. Still, the county lost 450 acres of managed forests.
"The challenge our County Forester faces is looking at wildfire issues long term," said Tom Riggs, Clackamas County's interim parks and forests manager. "We try to mitigate risks with diverse native tree plantings for better overall forest resilience." However, the county relies on timber harvests to help fund the park system, and trees lost to the fires now will affect park funding 20 to 50 years into the future.
Pictured above: The Riverside Fire burned more than 450 acres of forests managed by Clackamas County Parks and Forests. Photo courtesy of Clackamas County.
Equity
With so many fires at once, many Oregon towns and several urban areas were evacuated or on evacuation alert. Thankfully, a change in weather spared some cities. In Southern Oregon, the Almeda Fire roared up the Bear Creek Greenway, destroying the towns of Phoenix and Talent. Firefighters stopped the fire just south of Medford's U.S. Cellular Community Park, one of the nation's largest artificial turf sport complexes. Further north, the Holiday Farm Fire decimated the towns of Blue River and Vida, plus six Lane County parks, before stopping at the eastern edge of the Willamalane Park and Recreation District.
The result is that Oregon lost parks and greenspace in towns and rural county areas — where the responsibility of providing and maintaining parks falls on the public works departments. While larger cities and park districts may have park donations pages and foundations set up to raise funds in a time of crisis, few smaller park agencies do.
For Lane County, enhancing and stabilizing funding for its parks has long been a priority for the community-based Parks Funding Task Force. The wildfires will make this tough. Brett Henry, the parks division manager, explained that Lane County is dealing with the double hit of extensive park damage, plus lost revenues from park closures and hazardous smoke. Day-use fees and camping fees typically fund their park operations — including the maintenance of other parks the county provides in underinvested rural areas.
Pictured above: A playground that was burned in a fire in Phoenix, Oregon. Photo courtesy of Dave Killen/OregonLive.
Health and Wellness
In 2020, park and recreation professionals have played a critical role in providing and maintaining outdoor space during the COVID-19 pandemic. In September, Oregon parks supported public health in entirely new ways: as evacuation sites for people and livestock; as respite and rescue shelters for people affected by power outages and smoke; as staging areas for firefighting; as RV lots for residents displaced by fires; even as food donation centers. Although the fires are not yet contained, the smoke has cleared in many places, and Oregonians are anxious to get outdoors again.
For now, Oregon State Park officials are asking people to stay away from closed parks and damaged areas for their health and safety. The Oregon Parks and Recreation Department (OPRD) has 24 parks that have been closed since September 7 from fire or wind damage. How soon will parks be open? According to Jason Resch, OPRD's communications manager, "We'll begin restoring and reopening damaged parks as soon as it is safe for our staff to do so."
Climate and Community Resilience
"Collectively, these wildfires are like nothing Oregon has ever seen — not at one time with so many fires," said Mike Andrews, the former United States Forest Service Fire Manager who worked on the Clackamas County wildfire plan. The fires were fed by what Andrews calls "insane" weather, which seems to be increasing. "Governor Brown called this event a once-in-a-century event," Andrews noted, "but I think we'll see more in our lifetime."
Park agencies need to be ready. Extreme weather, rising sea levels, air quality, urban heat, health epidemics, food disparities, and park inequities that contribute to social and health crises are now part of our regular conversations as park and recreation professionals. Clearly, we need to manage parks with national and global issues in mind.
What Can We Do?
During the fires, Oregon realized that park and recreation agencies and communities had to work together to address challenges of this scale. Below are a few things staff can do to help or be prepared:
Donate: Support park agencies and communities in need.
Foster: Foster relationships with neighboring park agencies, especially those in underinvested areas. For larger agencies and districts, adopting smaller park agencies in a time of crisis could help them benefit from your staff's expertise, shared communication channels, and ability to help coordinate evacuations, donations and fundraising.
Collaborate: Create regional or state groups that can connect under emergency situations. Like the Oregon Community Foundation noted above, such groups can collect and distribute funds and donations to affected communities, recruiting businesses and sponsors for support.
Plan and Design: Prepare for the new normal, which may require re-thinking park design, development, operations and management. Rather than focusing specifically on what your agency needs to fill gaps in services, ask how your agency and park system should evolve to respond to new challenges.
Advocate: Support the advocacy efforts of NRPA and state associations that provide critical funding for local agencies. The recent passage of the Great American Outdoors Act and California's Proposition 68 provides examples of successful legislation that will fund park projects. Given the challenges 2020 has handed us, every state needs a dedicated funding source for parks.
Cindy Mendoza is the Director of Parks and Recreation for MIG.