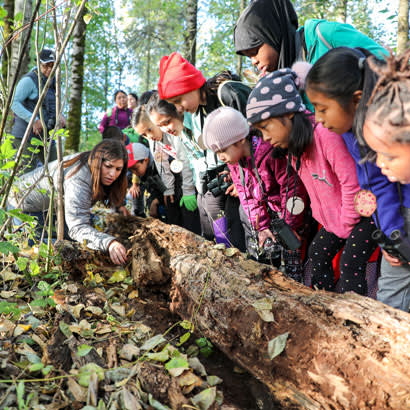 Pictured left: Community education nature hike at Smith and Bybee Wetlands with Alejandra. Photographer: Cristle Jose
Parks and open spaces should be a place for everyone, not only for the benefits they offer and being welcoming and inclusive spaces but allowing communities to co-create those experiences and places. When it comes to our more natural open spaces, they are just as important to ensure this is true.
Within our field's work, we know that stewards and volunteers are key to the success of natural spaces and natural resource-focused efforts — not only providing vocal support but helping to establish, maintain, and conduct educational outreach. Through NRPA research, we know while most communities have groups that are passionate about these spaces and are eager to assist with these efforts, this population generally skews older, whiter, and wealthier than the community as a whole. But communities of color, and in particular young people, are passionate about the environment and are often at the forefront of finding solutions to some of our most pressing environmental issues. So, it begs the question, "Why don't we see greater participation within stewardship or volunteer programs, that reflect the love, experience, and knowledge of these communities?" There is a multitude of reasons that this problem exists in natural resource and conservation efforts, but one we must address.
To help address this, NRPA received support from CITGO Petroleum Corporation to create a resource to help park professionals engage diverse groups and youth in conservation issues: Engaging Diverse Groups in Building Community Resiliency through Stewardship. The resource provides a process, resources, as well as case studies, to help professionals thoughtfully explore how to engage in community building work around natural resources and conservation efforts. It specifically focuses on partnership building and community trust, community engagement and communications, and planning events. It also allows space to reflect on your current practices and how you, your agency and your community are engaged in this work.
Two case studies are featured, including Corpus Christi Parks and Recreation's Oso Bay Wetlands Preserve, which piloted the resource in the spring of 2021. They share how they navigated creating a new partnership, what mutual benefits each group experienced, and how their long-term relationship will engage youth in conservation-related efforts in Corpus Christi. The second case study is from Metro Parks in Portland, Oregon, and demonstrates their agency's dedication to centering this work in equity, the transformation they went through, and the continued progress and success from their efforts.
Regardless of your agency's experience or the vastness of natural areas, this resource can provide actionable steps and processes to ensure you are engaging your full community thoughtfully and equitably in your efforts around nature and conservation. It can also help ensure you are co-creating this process, which will amplify and grow stewards and supporters for nature-based solutions and parks in your community. NRPA developed this resource with support from CITGO Petroleum Corporation as well as Scotts Miracle-Gro Foundation. For more information about CITGO's pilot of this resource, read the Parks & Recreation article, "Engaging the Next Generation of Stewards."
Michele White, CAE, IOM, (she/her) is an NRPA senior program manager.