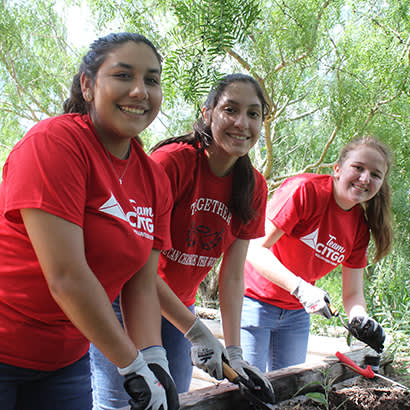 For an enhanced digital experience, read this story in the ezine.
Approaching volunteer and outreach programs through an equity lens
Black, Indigenous and people of color (BIPOC) communities have a rich history of connection to the outdoors, and for centuries have been on the front lines of community-driven work to build a better planet. However, for decades, racist policies and practices have led to biased decisions about where parks are placed, where toxic waste sites are located, what lands are preserved or degraded, and whose experiences and voices are valued. As a result, BIPOC communities have been denied equal access to outdoor spaces and subjected to toxic environments.
NRPA believes everyone should have a meaningful and beneficial connection to nature that not only brings joy, but also creates a lasting connection to the outdoors.
Being intentional about how we work with and within communities of color will shape the relationship those communities have with us, our parks and the planet. Asking ourselves the hard questions, centering BIPOC communities' needs and interests, and having the humility to adapt are key to ensuring that parks remain places of community gathering and pride.
Community involvement is crucial to the success of our parks, providing assistance in establishing, maintaining and conducing outreach for parks. Through NRPA research, we know that most community groups that assist with these efforts generally skew older, whiter and wealthier than the community as a whole. But communities of color and young people are passionate about the environment and often are at the forefront of finding solutions to some of our most pressing environmental issues. So, why don't we see greater participation that reflects these communities?
To help, NRPA, with support from Citgo Petroleum Corporation and Scotts Miracle-Gro Foundation, created the resource: Engaging Diverse Groups in Building Community Resiliency Through Stewardship. Corpus Christi (Texas) Parks and Recreation's Oso Bay Wetlands Preserve staff piloted the resource during its development in spring 2021 through Heart Your Park volunteer events supported by Citgo Petroleum Corporation.
The Corpus Christi population is 63 percent Hispanic or Latino, but the Oso Bay Wetlands Preserve's volunteer population is currently represented by an older, primarily white population. Oso Bay staff are exploring creating more meaningful and diverse partnerships with their community to engage youth.
Oso Bay staff connected with Texas A&M University Corpus Christi's Green Team, a student group that is highly active in community cleanups and environmental campus initiatives. In initial conversations, the student team's leadership shared that they were looking for training activities and sites for new members to learn locally relevant skills, including becoming familiar with local conservation issues and community sites off campus.
Through the relationship building process between Oso Bay Wetlands Preserve and the Green Team, three volunteer events were scheduled. Activities included invasive species removal, pollinator bed updates and a StoryWalk® trail installation. These activities were co-created with the student group to ensure the events were fulfilling and meaningful to the participants.
Oso Bay staff also hosted a virtual question-and-answer session on careers in park conservation. Many students expressed interest in working in a variety of sites, ecosystems and roles during their early careers and focused on state and federal jobs, demonstrating a lack of awareness of possibilities in local park and recreation careers.
The preserve's long-term goal is to partner the Green Team with a high school-level Green Team to serve as a mentor pipeline, and to engage corporate partners that may employ local graduates with conservation or environmental backgrounds.
To ensure the sustainability and success of our programs and parks, we need to ensure our advocates are reflective of our communities. By doing so, we not only broaden our support base, but also build our next generation of conservation professionals to support building resilient communities.
Michele White, CAE, IOM, is Senior Program Manager for NRPA. Sara Jose is Preserve Manager for Corpus Christi Parks and Recreation.
Editor's note: This article has been edited from its original version.