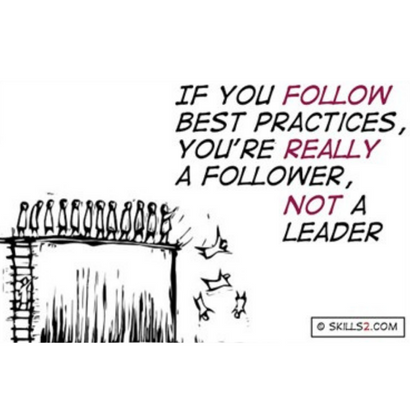 In July 2020, as we were in the heart of a pandemic without clarity for the future, I shared this article in Parks & Recreation magazine highlighting the need to move beyond sticking to "Best Practices" (of a pre-pandemic era) and creating "Next Practices" for the future.
To reiterate, there are many things from the past that are good and there is immense value in experience. However, I strongly believe that the past is great to learn from, not to live in.
What people often do is get stuck in "the way we've always done it," which then stifles growth and innovation.
A quick recap of the differences between Best Practices vs. Next Practices:
July 2020: Top 10 (aspirational) Next Practices
Two years ago, I conducted a national survey in which 879 respondents from 42 States and the District of Columbia responded to the top 10 trends they personally agree with the most, as well as the top 10 trends that will impact them the most professionally. These were the Top 10 Next Practices that emerged then:
In-Person offerings AND virtual programming will co-exist
People will view access to parks/outdoors as a right, not a luxury
Zoom will be a verb
Significantly increased levels of basic personal hygiene and public sanitation requirements
Our understanding of truly essential workers will change
Permanent office spaces will shrink as work-from-home and remote working becomes an expectation, not a perk
Customer experiences will be more faceless and/or touchless
Fewer handshakes + more fist bumps/namastes
Being busy < being PRESENT
Esports will continue to grow exponentially with virtual versions of major sports
September 2022: Current Practices
Looking back, I can safely say that what seemed like Next Practices then have become established practices now.
I regularly Zoom with people
More park and recreation agencies continue to offer virtual programs as they return to in-person programming
NRPA and many others are either remote first or hybrid workplaces
People are visiting parks and outdoor spaces in record numbers
Esports and touchless experiences continue to grow, and yet…
Being present while seeking meaning and connection has become even more valuable.
One unfortunate part: I, sadly, believe many people have forgotten how essential the truly essential workers were.
How many of these have come true in your lives and your workplaces today?
The Future
Predicting trends is increasingly tricky and less meaningful than shaping them. The real impact is envisioning the world we wish to have and then being able to work towards creating it.
For me, that is a world where inclusion is not optional, and innovation is the standard. I'm thrilled to share my new endeavor, Next Practice Partners, with a team committed to addressing the inclusion and innovation gap, and to helping agencies prepare for what's next through planning, training and technology services.
I look forward to sharing more on all things Next Practice on an upcoming episode of Open Space Radio, at the 2022 NRPA Annual Conference in Phoenix and in the days to come.
Conclusion
A wise person once said, "We cannot use yesterday's solutions to solve tomorrow's problems."
What are YOU doing to eliminate best practices and embrace what's next? #BeNextPractice
Neelay Bhatt (he/him) is the founder & CEO of Next Practice Partners, LLC. Be sure to connect with Next Practice Partners on LinkedIn, Facebook and Twitter.