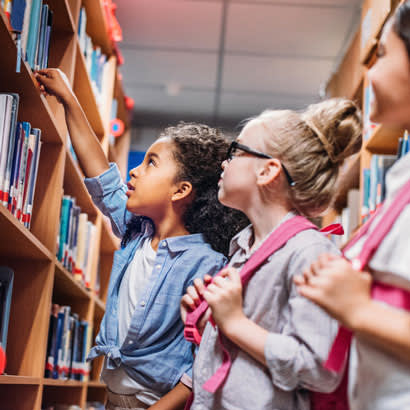 In April 2019, the Collaborative Summer Library Program (CSLP) — a consortium of states working together to provide high-quality summer programming materials for public libraries — published a new toolkit to support the participation of public libraries in summer meal programs. This new national initiative builds upon years of efforts by state library agencies in California, Ohio, Texas, Minnesota, New York, Colorado, Montana, Washington, Virginia, New York and elsewhere to encourage local public libraries to participate in summer meal programs.
According to Hunger Solutions New York, a statewide effort to "identify under-tapped potential site locations where children gather over the summer … has allowed libraries to expand their service, raising the number of sites from 36 in 2014 to 127 in 2018. Libraries have been excellent partners in feeding children."
The new national toolkit released by the CSLP encourages libraries to either become summer meal sites themselves, or partner with existing sites (such as park and recreation agencies) through one of the following mechanisms (all of which are currently being done across the country):
In my research on how public libraries support healthy living, I pay close attention to partnership opportunities between libraries and park and recreation agencies. I want to share a few exemplary cases that I have found, which illustrate the enormous impacts that can happen when these two ubiquitous groups get on the same page.
In Wake County, North Carolina, a partnership between a county park and the local library led to an award from the National Association of Counties in 2019. In the Fighting Food Insecurity and the Summer Slide initiative, the library trained local teens so that they would be able to offer summer enrichment programs at this park in South Raleigh, which has been a summer meal site since 2016.
In 2018, the National Recreation and Park Association provided Bristol Parks and Recreation (Connecticut) with a Healthy Out-of-School Time Grant to work with the Bristol Public Library on summer meal programming. The library provides a variety of enrichment activities before and after the meals. You can read more about this visionary partnership here, as well as in this blog post published by Alliance for a Healthier Generation.
In Dover, Delaware, the public library is "working hand-in-hand with parks and rec to offer a multitude of recreational and educational programs" during the summer, according to a local reporter. The Tuesdays in the Park initiative includes three elements: a literary enrichment activity provided by the library, a physical activity organized by parks and recreation, and free lunches for all participants. The bookmobile comes by as well, offering books to check out The program moves around the community throughout the summer and has as an ancillary goal to increase public use of parks throughout the city. Reflecting on the success of the program, library director Margie Cyr said, "were very satisfied with how it worked. It brought out families, it brought out kids and it brought them all into those parks that we wanted to highlight."
In Sterling, Colorado, the park and recreation department partners with the public library to teach kids coming to the summer meal program how to create home gardens. The library used NRPA's Community and Home Gardening curriculum for this collaborative program. Learn more here.
Across the country, public libraries and park and recreation agencies are realizing that addressing food insecurity takes a community working together. So, what are you waiting for? Reach out to your local librarian and let's work together! Here are a few insider tips to help you start that conversation:
Remember that libraries are way more than places to check out books. If you can start the conversation around the fact that libraries are lifelong learning institutions dedicated to community development, you'll be on the right path.
When scanning the institutional hierarchy of your local library, look for individuals with titles like children's librarian, programming librarian, or outreach librarian. Oftentimes, these are the people with which you will be working, and they can be the best entry points into the local library system.
Consider writing a Memorandum of Understanding to solidify your partnership and to ensure it endures from year-to-year, even if there is staff turnover. The Chicago Public Library and the Museum of Science and Industry have teamed up on a program called Science Connections since 1988. According to the librarians, the Memorandum of Understanding with the museum is revised annually: "This evaluation and preparation have been an essential part of the process as we continue to refine our programmatic offerings, deepen our mutual understanding of each other's institution, and set overarching goals." (McChesney & Wunar 2017, p. 28)
See librarians as equal partners with an enormous amount of assets to bring to the table.
You may find that your new partnership leads to year-long collaborations. Check out my blog posts for the American Library Association and the Children & Nature Network to discover more ways to keep working the local library into community health issues.
Let me know in the comments how you work with your library to address food insecurity.
Noah Lenstra is an Assistant Professor of Library and Information Science at the University of North Carolina at Greensboro, where he researches and teaches community engagement and health programming in a public library context. His book Healthy Living at the Library will be published by Libraries Unlimited in February 2020. Connect with him on Twitter @NoahLenstra and get involved with his project Let's Move in Libraries.