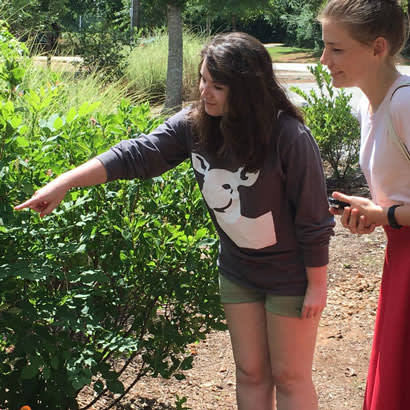 Pictured left: Allison Murphy and Tara Khan, two environmental educators for Garner Parks, Recreation and Cultural Resources.
Just 8 miles south of North Carolina's capital city lies an unassuming town called Garner. With the motto, "A Great Place to Be," residents are proud to call Garner home and are community-focused in a way that just isn't the norm anymore. This especially stands out since the town — like much of the rest of Wake County and North Carolina — has seen tremendous growth over the past couple of decades. And like other municipalities, our leadership has had to determine the best way to balance that growth while maintaining levels of service.
This includes Garner's impressive parks system, which includes a 96-acre oasis called White Deer Park. The park features paved and natural trails, five picnic shelters, two playgrounds and a LEED Gold Certified Nature Center. I consider myself lucky to have my office in that facility. The view from my desk is of our outdoor classroom and, just beyond that, our lush Monarch Waystation. I have NRPA to thank for that.
It was about this time last year that we were notified that we had been selected as the grand prize winner for NRPA's first-ever Parks for Pollinators BioBlitz. Like most park professionals, I have limited resources, from funding to staffing to the most elusive resource of all — time. We knew we wanted Garner to be a part of this initiative, but it would have to be led by part-time staff. As usual, they exceeded anyone's expectations. They put together a small self-led event toward the end of June. Park-specific worksheets (kind of a pollinator field guide for what we expected visitors to observe that time of year) were created and made available in a kiosk. We also used social media to show live examples of what participants might see in the park if they joined in. We had individual adults and families participate, and I think our staff had as much fun documenting sightings as the public did.
I'm sure a lot of you can relate when I say that getting a $1,000 cash infusion was a significant boost to our budget. To have those funds earmarked for pollinator-specific projects was a game-changer. In a normal fiscal year, I would look at our various needs and determine the best way to address those with limited resources. Last year, though, there was no question of what this money would go toward. I went straight to our wishlist and enthusiastically purchased items that have been put on the back burner, sometimes for years.
We used the funds to purchase milkweed and nectar plants for our overgrown Waystation. Two volunteer groups helped us weed (yes, it was that overgrown!) as part of the September 11 National Day of Service and plant our new coneflower, cosmos, butterfly weed and common milkweed. We have added additional nectar plants since then. Any gardener knows that plants are expensive. Any fan of Monarchs knows that those caterpillars love their milkweed and make it hard to keep up! The supplies for a garden like this add up fast, and a project like this could be easily overlooked if competing with other projects for funds.
Before and after of the volunteer groups' efforts – note the use of slate (already on the premises) upcycled to create the shape of a butterfly!
These two Monarch caterpillars (representing two instar stages) enjoying milkweed
We invested in a few educational supplies, as well. We purchased some beautiful preserved specimens of native butterflies and moths, which we transferred to large Riker Mounts to display inside the Nature Center. We also bought a display of beetles, since they do more than their fair share of pollinating, as well. We also used a portion of the money toward the application to become a designated Bee City, a program sponsored by the Xerces Society. We look forward to completing that process and celebrating with the public when it is safe to do so again.
Native species of butterflies and moth for display in the Nature Center (left). Display of various beetles (right – photo courtesy of Nature-Watch)
We also received a Scotts Miracle-Gro Prize Pack. The box was filled with planting supplies like wildflower seed, a seed spreader, a hose, gloves and much more.
We're looking forward to participating in this year's BioBlitz event. It has become even more evident during COVID that park and recreation professionals provide essential services. We have all had to reimagine what it means to engage our citizenry in meaningful ways while adding an extra layer of safety. We foresee offering a very similar event this year as we offered in 2019 with just a few tweaks. I look forward to seeing how other agencies across the nation face this challenge head-on.
White Deer Park turned 10 in November of last year. We celebrated with a Birthday Bash, featuring educational activities led by my talented and creative environmental educators and long-time community partners. We consider ourselves lucky to have such an engaged population, especially after 10 years. Programs like the Pollinator BioBlitz allow us to continue to find ways to enhance the park and facility and set up the next 10 years to be just as successful.
Interested in learning more about BioBlitzes? You can also sign up to host a Parks for Pollinators BioBlitz this September in your own community and receive tools to help you plan a virtual event with physical distancing in mind. If your agency signs up to host a BioBlitz during the month of September, not only will you be helping raise pollinator awareness, you will also be entered to win a $1,000 prize and one of three ScottsMiracle-Gro prize packs to help with your pollinator habitats or programs!
The Parks for Pollinators campaign, hosted through a partnership between the National Recreation and Park Association (NRPA) and The ScottsMiracle-Gro Foundation, aims to raise public awareness of the pollinator crisis and encourage local action through public parks and recreation. NRPA and The ScottsMiracle-Gro Foundation believe parks play a key role in protecting and preserving pollinators and their habitats. Together, as part of the ScottsMiracle-Gro's GroMoreGood initiative, they are working to educate more children, families and communities about the importance of pollinators and what people can do to help.
Katie Lockhart, CPRP, is a North Carolina Certified Environmental Educator and the Outdoor Education and Parks Manager for Garner Parks, Recreation and Cultural Resources.