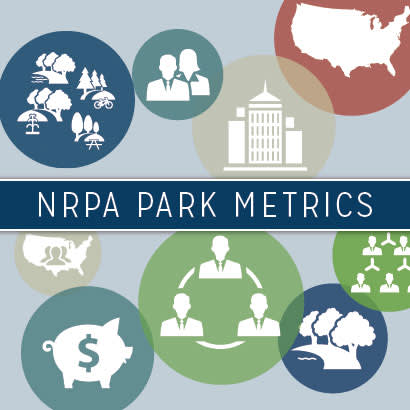 Planning for your park and recreation agency's future without knowing where it currently stands is like jumping into a pool without first checking if it is full of water. The benchmarking data found within NRPA Park Metrics (which informs all data used in the annual NRPA Agency Performance Review) helps assist your agency in determining how its budget, personnel, activities, facilities, policies and more currently compare to agencies across the nation.
Interpreting NRPA Park Metrics Data 101
National benchmarks — such as 10.1 acres of park land per 1,000 residents — give agencies a starting point on which to begin a dialog for establishing long-term goals and planning. But what happens when your budget, personnel or other vital factors do not align with the national numbers? Now it is time to roll up your sleeves and start digging a bit more into the data.
Let's first break down that 10.1 acres of park land per 1,000 residents for a moment and see what it really means. Unless stated otherwise, NRPA presents benchmarks found within NRPA Park Metrics as medians — the value separating the higher half from the lower half of a data sample. This means, of the roughly 1,100 agencies whose park acreage data was used to create the 2019 NRPA Agency Performance Review, 10.1 acres was the 550th largest, and the 550th smallest, number of acres in the sample. Digging deeper into the data, you'll see the upper and lower quartiles of 17.1 acres and 5.2 acres per 1,000 residents, respectively.
Perhaps these numbers align more with your agency's goal and/or community's needs, but maybe not…let's keep digging. Agencies with a staff of 25 to 49 full-time equivalents (FTEs) typically have 9.4 acres of park land per 1,000 residents. If your agency's goal is to meet or exceed the national 10.1 acres figure, let this 9.4 acres per 1,000 residents be a driver in discussions for additional staff and/or funding.
There are many ways to analyze and present benchmarking data to make a specific case (see multiple interactive data visualizations highlighting the charts found within the 2019 Agency Performance Review). With the new decade fast approaching, there will be many master plans, evaluations and proposals coming across our desks. Now is the time to really recognize where your agency stands in terms of its budget, personnel, activities, facilities and policies so future goals are as successful as possible. NRPA Park Metrics can help.
Accessing NRPA Park Metrics Data
NRPA Park Metrics users typically fall into three categories: power users, occasional users and new users. To those power users among us, thank you! For the rest of you, let me get you up to speed so you can take advantage of this free tool.
Steps to access or create your NRPA Park Metrics account:
1. Visit the NRPA Park Metrics login page.
2. Log in as a returning user or register as a first-time user.
Forgot your password? No worries, it happens all the time. Click "Forgot your Password?" and we'll send you an email reminder.
Are you a consultant, educator or not associated with an agency? No problem! Register a new account for you and/or your business.
Steps to view NRPA Park Metrics custom reports:
1. Once logged into your NRPA Park Metrics account, click "Create My Agency Performance Report."
2. You may or may not choose to add a filtered range or two (e.g., jurisdiction population from 50,000 to 100,000) and then click "Search."
Note: the more filters added, the smaller the data set returned will be.
3. Click "Run Report."
4. The default report is in aggregate form with the option to view a side by side report of each agency's data used in the aggregate report.
Steps to contribute your agency's data into NRPA Park Metrics:
1. Once logged into your NRPA Park Metrics account, click "Enter my 2019 Agency Summary Data."
2. Start entering agency data.
If your agency has contributed in the past, it might be easier to roll the data from a past year into this year and update only that which has changed (click the green "Copy Data from Existing Year" and select the year of data you would like to transfer over).
Prefer to share the questions with multiple people? Feel free to download the survey into an Excel form.
3. Can't complete it all at one time? Save, submit and pick up when you return to the survey.
Be a part of the present and future narrative for your community and communities like yours around the country by using and contributing your agency's data to NRPA Park Metrics!
How does your agency use benchmarking data? Have additional questions about your agency's participation or accessing data? Feel free to email me, or better yet, look for the Live Help Online button to chat directly with me on Mondays and Fridays from 9 a.m. to 2 p.m. throughout the month of January.
Melissa May is NRPA's Senior Research Manager.