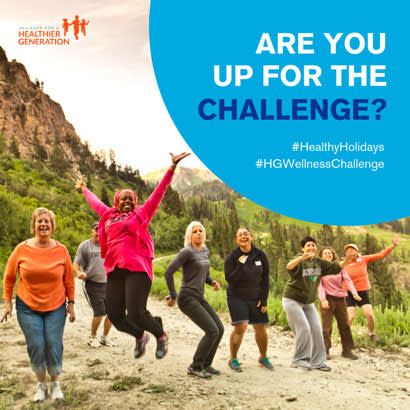 Cooler temperatures can slow down our physical activity routines and holiday celebrations can make healthy choices less than easy. Think ahead to the new year — imagine starting the year off already having made progress on your personal and organizational wellness goals. Here are eight ideas to help jump-start your wellness resolution:
1. Pledge to Commit to Health
Be one of the first 150 recreation agencies to take the Commit to Health pledge during the month of December and be eligible for an Amazon gift card! Once you make the pledge, send out a short survey to identify employee wellness activities your staff will enjoy.
2. Find a Teammate
Whether you're sharing photos of healthy treats on a bulletin board or organizing a mid-day walking club, find like-minded friends. Team up and join the Healthier Generation Wellness Challenge – a month-long series of practices to help you feel great throughout the holiday season.
3. Save Money with Healthy Hydration
It's the season of sweet treats, so make an extra effort to drink enough water. Save money and choose water when eating out this month. As you run errands, keep your water bottle handy and aim for balance by making infused water available at every holiday party.
4. Unplug and Try a New Recipe
Host a cellphone-free potluck to foster a supportive atmosphere at your workplace. Which new healthy holiday recipe in the Healthier Generation Smart Food Planner will be your favorite?
5. Connect with Nature
Use that snow day to start an indoor herb garden. Watch our 2-minute Commit to Health video Inspire Wellness with 4 Nature Activities.
6. Start a #SmarterSleep Habit
Take time to refresh with quality sleep and build healthy habits for the New Year. From mindfulness exercises to bedtime snacks, explore Healthier Generation's Smarter Sleep digital resource center.
7. Give the Gift of Gratitude
Over the next month, take ten minutes once a week to Pause for Appreciation and thank those who have supported you throughout the year. If you're looking for wellness focused gift ideas, check out our Healthy Holiday Gift Guide.
8. Add Physical Activity to Your Party
Charades and outdoor obstacle courses are easy ways to move more while having fun. Even the youngest children can help with healthy celebrations.
To explore even more resources to jump-start your wellness resolution, click here, and be sure to read our latest blog post, Healthy Holiday Celebrations & Traditions.
Daniel W. Hatcher, MPH, is the Director of Community Partnerships for Alliance for a Healthier Generation