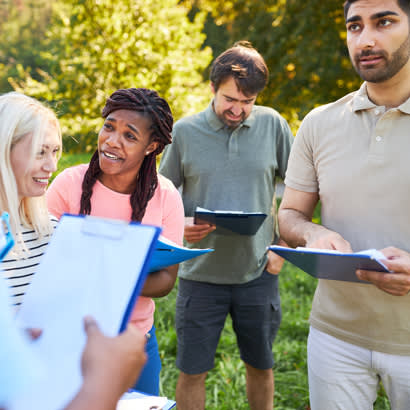 Is your agency considering becoming accredited? Are you already accredited and looking for new ways to improve? Are you looking to improve your own agency and love getting new ideas? Consider serving as a CAPRA Review Team (CRT) member!
Serving on the CAPRA Review Team
Serving as one of NRPA's CAPRA volunteers is a great way to professionally develop within parks and recreation. CAPRA volunteers have the opportunity to review, visit and mentor agencies and solidify personal recognition of the defined standards of excellence that accredited park and recreation agencies are held accountable to. CAPRA volunteers also become a part of a broader network of professionals who understand the benefits of accreditation for park and recreation agencies and are trained to bring back these standards to their own agencies.
My Story
I have been a CAPRA visitor since 2013. After attending the NRPA Director's School at Oglebay, I was hooked on the value of national accreditation, and I set out to lead our small agency down this path. I was certain that seeing how other agencies met all these standards would help me understand the standards better.
I work in a very small city (6 square miles/population 27,635) which had a total of four full-time staff when we started accreditation. That number included recreation, our senior center and the youth services divisions, all of which were in the recreation department. No other agency was accredited in our state and there was only one other town in New England that had accomplished accreditation. To his credit, when I asked the director of recreation if we could start this process and I could become a visitor/CAPRA Review Team member (CRT), it only took him 30 seconds to say 'yes' and fully support both ideas.
The Benefits for Me
In the nine years I have been doing visits, I have learned a lot (for FREE!). Yes — free training and earned CEUs! I loved the idea of traveling to another town/city to see what they were doing well, get new ideas to improve our city, and help another agency through the process along the way. The process has gotten easier and easier to complete. I understand the standards better and exactly what CAPRA is looking for. I love meeting new professionals in the field and hearing their stories. We all have ups and downs in our profession and it's nice to hear about others and how they navigated to where they are.
A Look Back
2013 was the very first year our agency was accredited, and we had a huge learning curve in understanding the process. We missed one required standard that we thought we had done when the visitors came to our agency. When I went as a visitor the first time — one week after our own CAPRA visit — I quickly realized what we had done wrong. There was a terminology barrier where our state called a document by a different name than what the visitors were looking for. I didn't have a clear enough understanding at the time to argue the point. Once I returned from the visit, we quickly were able to submit what we had to the CAPRA commission, who ruled that it was in fact the correct document. From then on, I knew this was a role I wanted to continue in as long as possible.
As Rewarding As Ever
Currently, I am still a CAPRA visitor, a CAPRA Mentor and serve on the Certification Committee. I have been able to travel to all different parts of the country, meet some outstanding professionals in our field, learn hundreds of new ways to accomplish our goals, and help other agencies through the process that I value so much. It has been extremely rewarding.
How Do You Become a CAPRA Visitor?
Are you ready to become a visitor? Interested a little?
The first step is to make sure you meet these qualifications:
Are you currently employed full time in the field of recreation, park resources and leisure services (or retired from the field)?
Have you completed five years of full-time professional experience in the field?
Are you a member of NRPA or a related professional organization?
If the answer is yes, complete the application form!
There is free training and plenty of support in the process. You will always be with a team of professionals to help guide you in decision-making and what to do.
Recommendation: TRY IT!
The commitment for a CAPRA Review Team member is one visit per year. If you decide it is not for you, you can choose not to go on a visit in the following year. Dates are sent out in November and the CAPRA Commission assigns team members based on the availability you submit. The agency where I work pays me for the time I spend as a CRT and considers it education they don't have to pay for. Check with your own agency on what they are willing to do.
Questions? Let me know! Feel free to email me at sbousquet@newlondonct.org.
Ready to get involved and serve as a CAPRA volunteer? Click here to learn more and sign up today!
Sharon Bousquet (she/her), CPRE, CPSI, is the Assistant Director of Recreation for the City of New London in Connecticut.